Public bicycles once regarded shared bicycles as "you or me" competitors, and they also learned from the experience of shared bicycles and tried to change.
Since this year, public bicycle services have been discontinued in many places. In April this year, public bicycles in Wuxi, Jiangsu Province were officially suspended. Wuxi became the third city in Jiangsu Province to stop operating public bicycles after Yangzhou and Huai'an. In May, the public bicycle project in Baoshan District, Shanghai expired and was terminated. Previously, public bicycle projects in Shanghai's Minhang, Fengxian, Qingpu and other districts have announced their withdrawal after their contracts expired.
On the other hand, shared travel continues to advance rapidly. The "Sharing Economy Blue Book - China Shared Travel Development Report (2022-2023)" shows that shared bicycles and motorcycles are entering a stage of steady development and gradually becoming the main force in the market. Among them, Hello Bike, Hello Moped and related derivative scenario comprehensive businesses have been established in more than 460 cities, covering more than 500 million users. Currently, Haro has achieved positive gross profit.
Public bicycles refer to bicycles with a public service nature that are put into operation by relevant municipal management departments or state-owned enterprises. They generally have fixed pickup and return points; shared bicycles are mostly put on the market by private enterprises and can be scanned with mobile phones. A bicycle that can be used.
The information and data at the beginning of this article seems to be a story of public bicycles and shared bicycles retreating and then advancing, with one party exiting and the other taking up its place.
However, reporters found that in some cities in the Yangtze River Delta, public bicycles have quietly "transformed", solving many "inconvenient" pain points, and have become popular again.
For example, in Shaoxing, Jiaxing, Taizhou and other places in Zhejiang, lightweight and compact dockless bicycles are becoming increasingly popular. You don't have to park at docks and you can ride by scanning the code, which eliminates the previous trouble of applying for and returning cards, and supports cross-administrative regions. return car. In Lin'an, Hangzhou, the integrated travel mode of "public bicycles + public electric bicycles" has also appeared. Even on a scorching summer afternoon, many people riding public bicycles can be seen on the streets of the ancient city of Shaoxing. On a breezy night, on Ziyang Street in Linhai, Taizhou, a group of public bicycles were rented out as soon as they arrived at the stop, and then dispersed and disappeared into the night.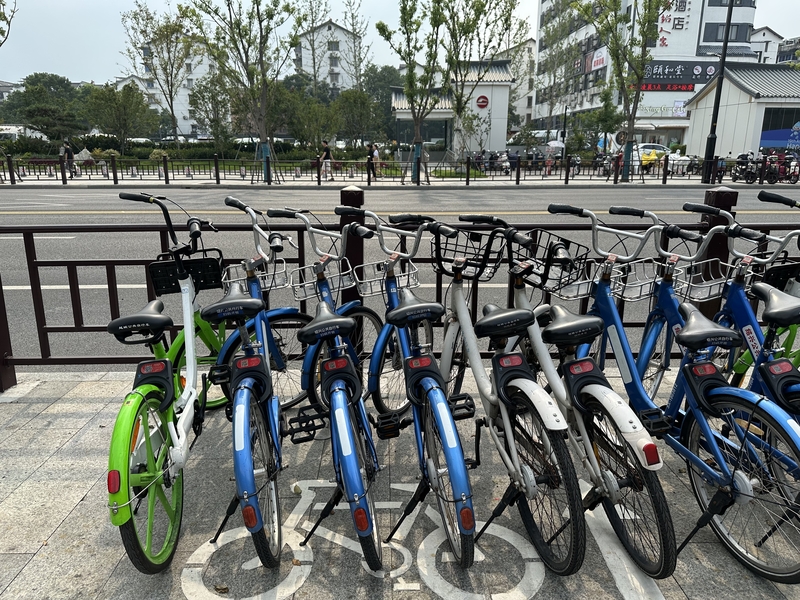 After the dockless transformation of public bicycles in Yuecheng District, Shaoxing, the car rental experience is no different from that of shared bicycles. 
Along the way over the years, public bicycles have had their moments of glory, but they have also encountered difficulties and obstacles. They once regarded shared bicycles as "you or me" competitors, but they also learned from the experience of shared bicycles and tried to change. During the interview, many practitioners lamented that public bicycles are still experiencing a cold winter. But after the ebb and flow, they still look forward to a new spring for the industry.
Outdated
The concept of public bicycles originated in Europe and focuses on promoting bicycle sharing. In 1965, in Amsterdam, the Netherlands, uniformly painted, unlocked bicycles were placed in public areas with the expectation that people could use them for free for a long time. This was the earliest attempt at public bicycles. In 1995, the first batch of "systematic" public bicycles appeared in Copenhagen, Denmark. These bicycles had specific deposit and withdrawal locations and used coins as vouchers. By the turn of the century, the promotion of public bicycles was relatively mature in France and other countries.
The earliest public bicycles in China appeared in Hangzhou. As early as 2008, Hangzhou launched the first batch of "little red cars". Citizens can rent a car for free at a rental and return point with their citizen card, and then return the car to another nearby rental and return point after use. The first 61 service points formed the initial road map of the little red car.
At that time, in Hangzhou, the subway had not yet been built, and the elevated network was not yet connected. For local residents, it was unrealistic to simply walk. Public transportation was very crowded, and it was difficult to take a taxi. Parking by car was inconvenient and expensive. If you want to go to a place that is not far or near, choosing the mode of travel becomes quite confusing. The emergence of public bicycles has changed this situation, and cycling has become a trend.
Since 2008, the rental volume of public bicycles in Hangzhou has increased year by year, with the number of rentals exceeding 100 million times for many consecutive years. In 2009, a couple in Hangzhou held a public bicycle wedding. The welcoming team consisted of 30 little red cars, which stole the show. Red once became the representative color of public bicycles. The first batch of public bicycles in Wuxi, Shaoxing and other cities were painted in red. By 2014, more than 237 cities in China had built public bicycle systems, with more than 750,000 vehicles in operation.
But the good times did not last long. Within a few years, the craze for shared bicycles swept across, bringing a huge impact to public bicycles. Taking Hangzhou as an example, according to data from Hangzhou Public Bicycle Transportation Service Development Co., Ltd., Hangzhou's public bicycles experienced a big turn in 2017. In 2016, Hangzhou's public bicycles were rented 115.41 million times a year, which dropped to 101.25 million times in 2017 and continued to shrink to 87.08 million times in 2018.
"Before 2016, we were developing relatively fast, and this was considered a new thing. But after the arrival of shared bicycles, our public bicycles suddenly became old antiques and were about to be eliminated." Tian, ​​the person in charge of Nanjing's public bicycles Feng clearly remembers the psychological gap during those years. Nanjing's public bicycles began pilot development in 2012 and were rolled out across the city in 2014. However, in the second half of 2017, the number of daily users of public bicycles dropped sharply, and the number of refunds also increased rapidly. At that time, there was a discussion in Nanjing about whether public bicycles should continue to develop.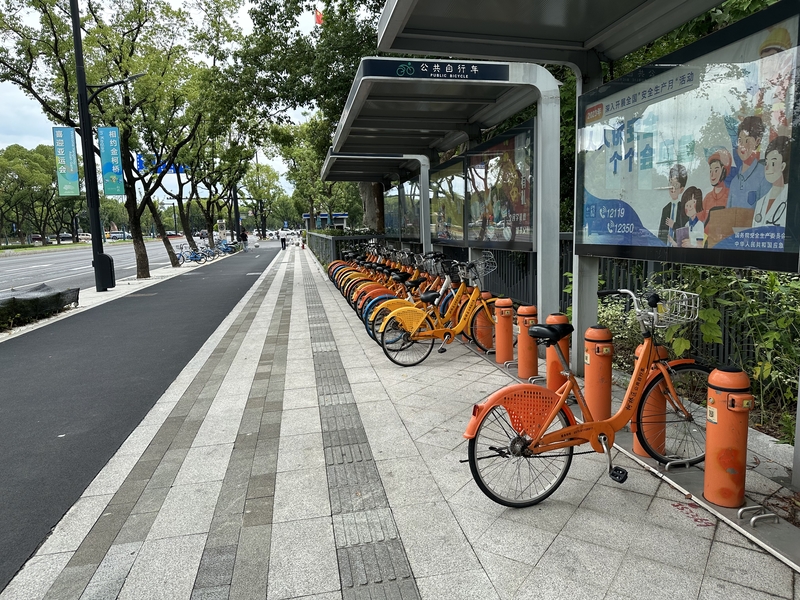 Similar entanglements have appeared in cities such as Shaoxing and Jiaxing. Most of the traditional urban public bicycles have fixed piles, and they also have the characteristics of renting by card and renting and returning at fixed points. Although they are conducive to management and maintenance, they cause many inconveniences in daily use. Compared with shared bicycles, where you scan the QR code to ride and push the bicycle and go, public bicycles are bulky and cumbersome. "It's completely a dimensionality reduction attack." Wang Weidong, general manager of the Bicycle Company of Jiaxing Jiatong Group Bus Company, recalled, sighing and keeping his brows furrowed.
It is worth mentioning that the original inspiration for the birth of shared bicycles was public bicycles. Hu Weiwei, the founder of Mobike, has said more than once that in 2014, she was planning to rent a public bicycle on Hupao Road in Hangzhou, but the small booth for applying for the card was closed. She also experienced this frustration in Gothenburg, Sweden. In addition, "Qibei", the first shared bicycle brand to appear on the streets of Hangzhou, was once one of the partners of Hangzhou's public bicycles.
counterattack
For public bicycles, 2017 can be described as the darkest moment. Since that year, some cities have announced that they will no longer add new public bicycle projects or even stop them. For cities that continue to operate, their focus has shifted from promotion to optimization. At that time, the pain points of public bicycles were mainly "inconvenience", such as their fixed pile positions, not supporting the return of bicycles across administrative areas, the trouble of applying for and returning cards, etc.
We were overwhelmed by the overwhelming number of shared bicycles." Tian Feng told reporters that in 2017 alone, 8 shared bicycle brand companies entered Nanjing, and shared bicycles of various colors almost filled the entrances of large and small residential areas in Nanjing. , bus stations and subway stations and other areas.
However, he soon discovered that many shared bicycle companies at that time were launching regardless of cost, but their management could not keep up, and there were more and more broken-down bicycles.
Compared with shared bicycles, urban public bicycles have their own advantages. The biggest advantage is that they are operational and free. For example, among the vehicles currently in circulation in Nanjing's public bicycles, the earliest batch of them was launched around 2016. Apart from looking a bit older, the condition of the vehicles is generally good. A Nanjing high school student told reporters that he commutes to school every day by subway and public bicycle. Because he cannot bring his mobile phone to school, public bicycles that can be unlocked by swiping a card are the best solution. After that, he pointed out to the reporter the rental card processing point not far away. Some residents of Nanjing also made economic calculations for reporters: "Shared bicycles often increase in price, but public bicycles are free to ride within 2 hours, which is basically free of charge."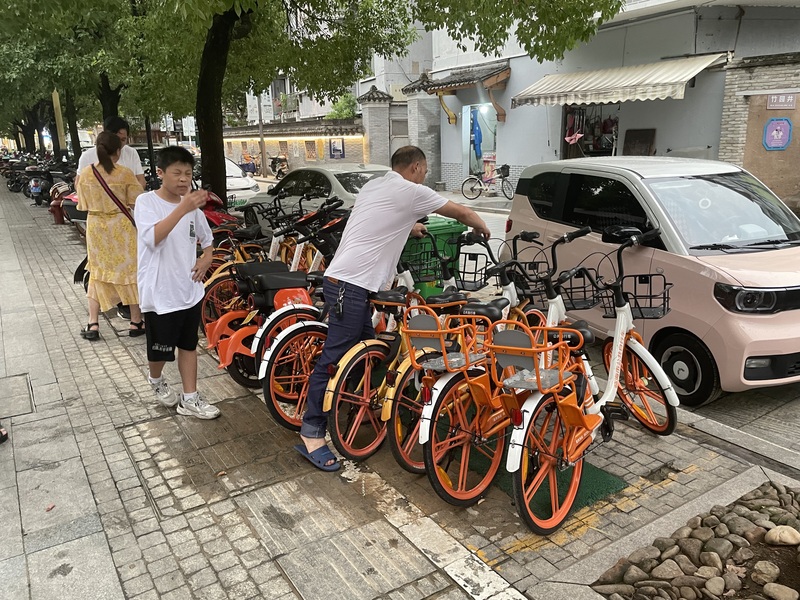 The dockless public bicycles and parent-child bicycles in Linhai, Taizhou are very popular among local citizens. 
Finding the advantage, public bicycles try to regain their footing and wait for an opportunity to counterattack. More and more public bicycles choose to take the road of technological transformation. For example, in Yuecheng District, Shaoxing City, the earliest public bicycles generally required a credit card to rent a car. In order to deal with the threat of shared bicycles, public bicycles added a code-scanning function and completed the renovation of nearly 600 stations in less than a year. Subsequently, the public bicycles in Yuecheng District have been continuously upgraded several times. In addition to scanning the QR code to rent a car, it also added functions such as overnight return and off-peak transfer. After the opening of the Shaoxing Metro, the exchanges between Yuecheng District and Keqiao District became more frequent, and the public bicycle systems in the two places were also opened to support the borrowing and returning of vehicles across districts.
For public bicycles, the most important upgrade is undoubtedly the dockless transformation. In Nanjing, pileless transformation has been proposed many years ago, but it has been difficult to advance due to funding constraints. In 2019, the first batch of dockless public bicycles was launched in Yuecheng District, Shaoxing City, becoming one of the first areas to launch dockless public bicycles. Zhang Xiaofeng, deputy manager of Yuecheng District Public Bicycle Rental Co., Ltd., explained to reporters: "Except for the need to borrow and return vehicles within the specified area, there is no difference from shared bicycles." According to the plan, before the end of this year, Yuecheng District will dismantle all docked outlets and Complete vehicle replacement. In Jiaxing, all local public bicycles have completed the dockless transformation. In May this year, Jiaxing also launched a batch of 3,000 new public bicycles in the urban area.
During the interview, the reporter experienced public bicycles in Shaoxing and Jiaxing. Because the vehicles were recently put into use, they were in good condition. They were light and comfortable to ride and easy to borrow and return. In Yuecheng District, Shaoxing City, unlocked vehicles will also emit a beep within the specified area to remind people to lock them in time. However, in terms of management, since the return area is relatively open, sometimes it is inevitable that social vehicles and shared bicycles will park in the area, which may cause problems in returning public bicycles. In addition, the coexistence of different colors and models of bicycles in the current transitional stage also dazzled reporters looking for public bicycles in the two places for the first time.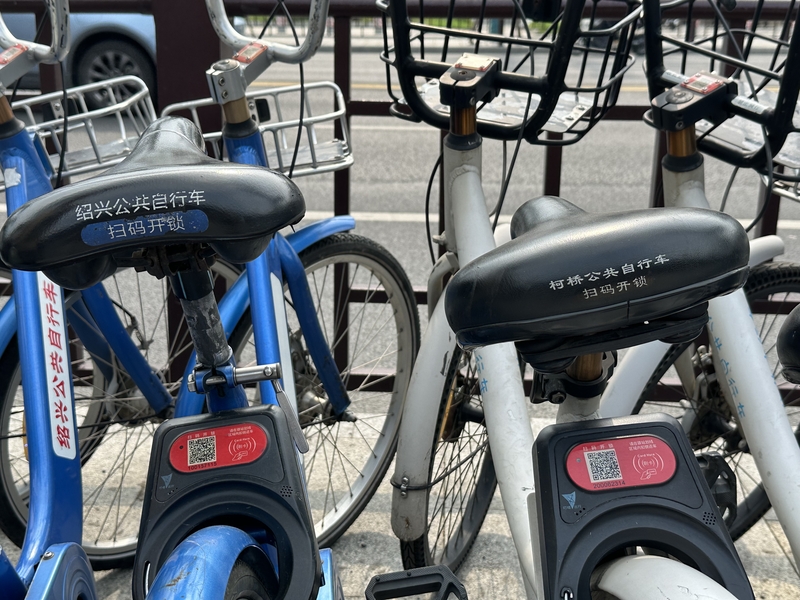 The cross-regional barrier for public bicycles has been opened between Yuecheng District and Keqiao District in Shaoxing. 
As a result of the advancement and retreat, the number of shared bicycles in some cities has dropped significantly. On the contrary, the data of public bicycles are gradually recovering. Starting from the second half of 2018, Nanjing's public bicycles have slowly returned to a situation where the number of card applications is greater than the number of refunds. The number of rides has increased from less than 100,000 per day to 150,000 at the peak. In recent years, it has basically stabilized at About 100,000 people visit every day. On the day of the reporter's interview, Jiaxing's public bicycles experienced a peak passenger flow, with more than 7,000 people riding in a single day, setting a new high in recent years. Wang Weidong told reporters excitedly: "Confidence is back, and public bicycles still have room for survival."
opponent
Even if the relevant data picks up, on a larger scale, public bicycles are still having a hard time.
In 2019, a reporter went to Nanjing for an interview. Tian Feng optimistically said that public bicycles have ushered in a new spring. Four years later, when the reporter saw him again, he scratched his sparse and unkempt hair and spoke more cautiously: "Our industry is still going through a cold winter." An interesting evidence is that before, their company was located in the urban area. Near Nanjing Railway Station, it has now been moved to the more remote Yuhuatai District, and the team has also been streamlined. Qin Yang, chairman of Linhai Public Bicycle Development Co., Ltd., also complained to reporters: "The biggest difficulty is funding. Financial allocations have been reduced year by year, and construction funds have stopped being allocated. The salary system is not unified, recruitment is difficult, and the team stability is poor."
After years of development, the industry has reached a consensus: "Public bicycles cannot be profitable." Generally speaking, public bicycles are constructed and subsidized by local finance. In recent years, as shared bicycles have gradually developed in an orderly and healthy manner, their management and operations have also become more refined. At the same time, calls for "letting the market solve this public travel problem" are gradually becoming louder, and more and more management departments are inclined to transform from providers of "last mile" public services to regulators.
"It's like two forks in the road." Wang Weidong told reporters. On the one hand, the government gradually withdrew and after the public bicycle project was cancelled, it encouraged and guided shared bicycle companies to increase their investment in areas where the original volume was small, and at the same time carried out comprehensive rectification of shared bicycles. On the other hand, the government continues to play it safe, further strengthening the public welfare nature of public bicycles, and focusing on facilitating citizens and improving user experience.
Wang Weidong has always been very confident in public bicycles, and his confidence comes from its public service positioning and public welfare nature. He explained that after the dockless transformation, the construction and operating costs of public bicycles have dropped significantly, but more people are served, and the social benefits are also obvious. In his vision, public bicycles should become part of the future public transportation infrastructure. For example, public bicycles should be matched with infrastructure construction such as buses and subways. Wherever the subway is built, public bicycles will be placed.
In the early years, public bicycles regarded shared bicycles as competitors. In April 2019, Nanjing Public Bicycle Co., Ltd. and Qingju Bicycle, a subsidiary of Didi, began a comprehensive cooperation. This is also the first case of cooperation between a public bicycle and an Internet bicycle company in the country. "Many colleagues have called me, thinking that we have rebelled and that we are undermining public bicycles. In their eyes, public bicycles and shared bicycles are opposites and cannot coexist, and they are in a state of 'life or death'. This is something I don't agree with," Tian Feng said.
Today, the cooperation between the two parties has long been suspended, but more public bicycle practitioners are increasingly aware that public bicycles and shared bicycles are not completely competitive. There is room for integration and integrated development, with the purpose of providing citizens with more travel options. Zhang Xiaofeng pointed out that the target groups of public bicycles and shared bicycles do not overlap, and correspond to citizens of different ages and different application scenarios. For example, one of the typical application scenarios of public bicycles in Yuecheng District is that elderly people who cycle to buy groceries are not accustomed to using smartphones. Their movement trajectories and range of activities are relatively fixed, and they value the free nature of public bicycles more.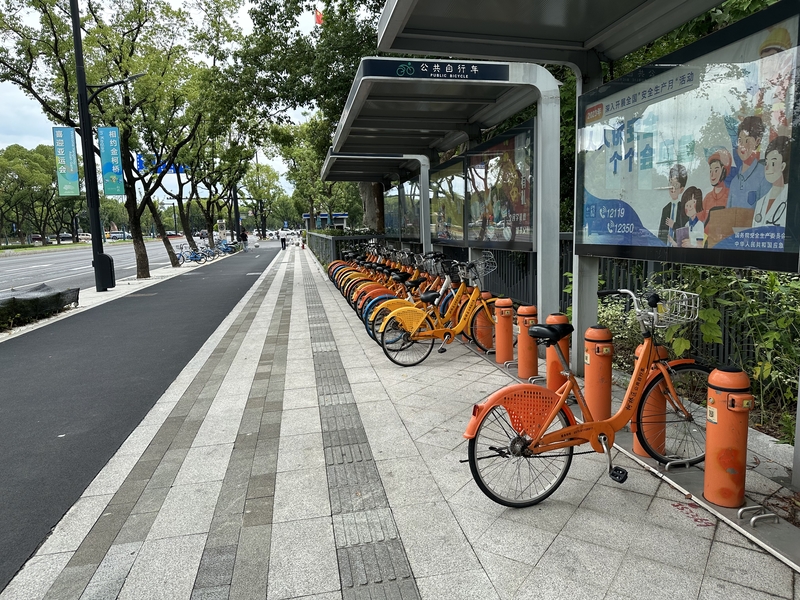 In the short term, public bicycles will not be completely replaced by shared bicycles. 
In Zhang Xiaofeng's view, public bicycles and shared bicycles should be more complementary than competitive in short-distance travel and subway and bus connections throughout the city, but at present there is no in-depth cooperation project. Qin Yang believes that shared bicycles are more suitable for commuting scenarios, while public bicycles have certain experience in group use and parent-child use. For example, in recent years, many social groups have collectively rented public bicycles to hold team-building activities. Next, Qin Yang plans to expand the layout to suitable towns and villages while increasing the number of vehicles, and explore cooperation models such as tourist bicycles.
Zhang Rong, Shanghai head of the Hello Brand Public Relations Department, believes that the relationship between public bicycles and shared bicycles is not a simple competition, but the product of two different stages. For public rental bicycles of a certain scale, the operation and maintenance expenses plus depreciation are a huge cost, and the operating model of relying solely on the government's "blood transfusion" is unsustainable. "In the long run, the emergence of new things is a change, not a confrontation between the old and the new." Zhang Rong said that what shared bicycles need to do is how to take over and fill the gap after the public bicycles withdraw.
However, it may be too early for shared bicycles to completely replace public bicycles. Some experts pointed out that under the new situation, two-wheeled electric vehicles are becoming a new variable affecting public travel data. In July this year, the "Carbon" two-wheeled micro-transit and urban two-wheeled public transportation industry development seminar was held in Hangzhou. Among them, the "public bicycle + public electric bicycle" integrated travel service model received focus. Industry insiders believe that at present, the scope of urban short-distance travel has expanded from the "last mile" to the outside. With a wider range of two-wheel travel services, the emergence of public electric bicycles may provide new opportunities to promote the sustainable development of public bicycles. ideas. At the same time, low-charge public electric bicycles and public welfare public bicycles complement each other, thereby achieving sustainable operations while benefiting the people.
This is a place for show life about china, If these articles help you life better in china, Welcome to share this website to your friends, Or you can post questions about china life in FAQ, We will help you to find the right answer.