It is difficult to buy train tickets during the National Day holiday this year.
This year's National Day Golden Week coincides with the Mid-Autumn Festival and the National Day, so there are a lot of people traveling and demand is huge. According to predictions from the railway department, this year's National Day Golden Week railway transportation will start on September 27 and end on October 8, a 12-day period. The country's railways are expected to carry 190 million passengers, and the average daily passenger seat capacity is expected to increase by 18.5% compared with the same period in 2019. %. Recently, the number of daily visits to the 12306 system has reached 53.2 billion, which is equivalent to an average of more than 616,000 people grabbing tickets every second.
Many netizens left messages on the Jiefang Daily·Shangguan News interactive message board saying that it was difficult to buy train tickets during the National Day holiday this year. In addition to complaining, some netizens also raised questions about the purchase regulations and fares of train tickets, hoping to get answers.
Can train tickets be pre-sold some time in advance like air tickets, without being subject to the 15-day time limit?
At present, the ticket sales time for railway lines and offline is the same, 15 days in advance. According to industry insiders, the railway department did not set a longer pre-sale period to prevent people from buying tickets in advance to occupy seats, resulting in passengers who really need it not being able to buy tickets. It is relatively fair to buy tickets 15 days in advance. Previously, the pre-sale period for railway tickets was 30 days. Later, due to the epidemic and the increased uncertainty in travel, it was later changed to 15 days, then 5 days, and now it has returned to 15 days.
However, the sales start time of each station is different. For example, Beijing West Railway Station and Nanjing South Railway Station are at 8:00, Guangzhou South Railway Station is at 10:00, Shanghai Hongqiao Station is at 13:30, and Shanghai Railway Station is at 14:30. Passengers can use the "sales starting time" query function in the "Railway 12306" official APP to check the sales starting time at designated stations.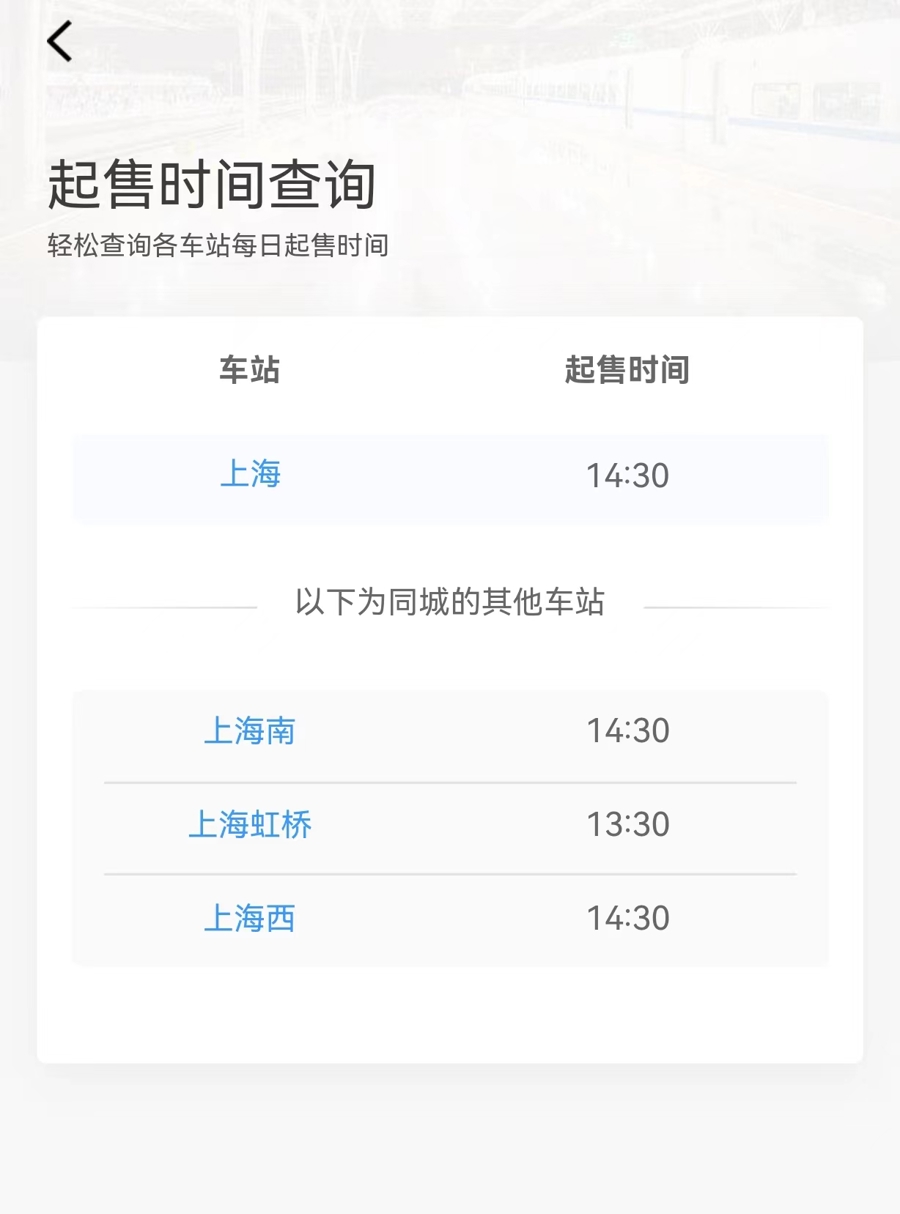 In the "Start Sales Time" in the "Railway 12306" official APP, you can check the start time of ticket sales at various railway stations in Shanghai.
Why did train ticket prices increase during the National Day holiday this year?
In fact, it is a common practice to implement floating fares during holidays, and China Railway has implemented it for many years. The railway department mainly based on the market supply and demand relationship and passenger flow rules, used the published fare as the maximum price, and implemented a multi-grade, high and low fare floating strategy based on time periods, seats, and sections.
During this year's National Day holiday, high-speed rail still implements differentiated fares. For example, the EMU train fare between Beijing and Shanghai is as high as 667 yuan and as low as 404 yuan for a second-class seat. Passengers can check the published fares of all trains through the "Information Query" column of the 12306 website.
When will the additional trains run during the National Day holiday this year?
According to the latest response from China Railway Group, the railway department has arranged to open more than 100 additional passenger trains during the National Day holiday. These trains will run on September 28, and tickets will go on sale on September 18. These additional trains can increase passenger capacity by more than 70,000 seats per day. The main directions are Nanchang to Guangzhou, Wuhan to Guangzhou, Changsha to Nanchang, Nanchang to Shanghai, Xiamen to Shanghai, Shenzhen to Changsha, etc. In the future, the railway department will continue to open additional passenger trains in popular directions and hot time periods based on train ticket pre-sale, waitlist ticket purchase data and railway transportation capacity.
Can I choose an acceleration package from a third-party platform to grab tickets?
Railway 12306 has never authorized any third-party platform to sell train tickets, and it is impossible to give third-party platforms the so-called "priority to purchase tickets." Third-party platforms will retain user information during the ticket purchase process of passengers and friends. Not only do they have traps such as surcharges, acceleration packages, and bundled sales services, but they may also risk personal information leakage.
How to increase the chance of successful ticket purchase on the waiting list?
12306 can reserve up to 20 trains at the same time, and the success rate of reserve redemption is over 75%. In terms of specific operations, each user can have 2 waiting orders, each order can choose 2 dates, and each date has 5 different trains. Passengers can submit multiple "dates, trains, and seats" combinations For waitlisted orders, the waitlist redemption time is extended and the waitlist success rate is increased; secondly, the success rate of accepting tickets without seats is higher.
What should I do if I can't buy a direct ticket during peak passenger flow?
If direct tickets cannot be purchased during peak passenger flow periods, it is recommended to purchase connecting tickets and take the train in sections to meet travel needs. Railway 12306 will intelligently recommend transfer plans with remaining tickets based on passenger travel needs and remaining tickets. , for travelers to choose from.
This is a place for show life about china, If these articles help you life better in china, Welcome to share this website to your friends, Or you can post questions about china life in FAQ, We will help you to find the right answer.