You will encounter an extraordinary city with a unique mixture of Western lifestyle and Eastern flair. Staring at a map of Shanghai before arriving can be an intimidating excersice for even the most steely-nerved of us. However, there are really only a few areas of the city that most expats live in, and finding housing in one of these areas is a straightforward affair that is limited only by one's budget.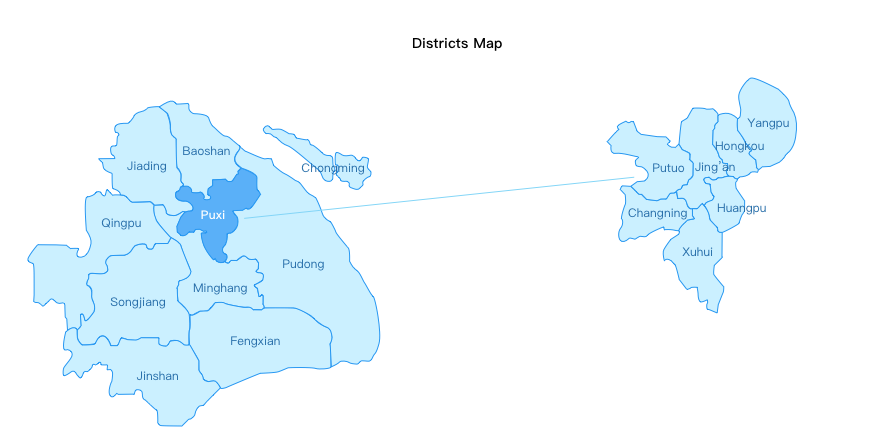 To make it easier for you we have written this guide with a complete list of Shanghai's districts and main areas where expatriates (expats) live.
Pudong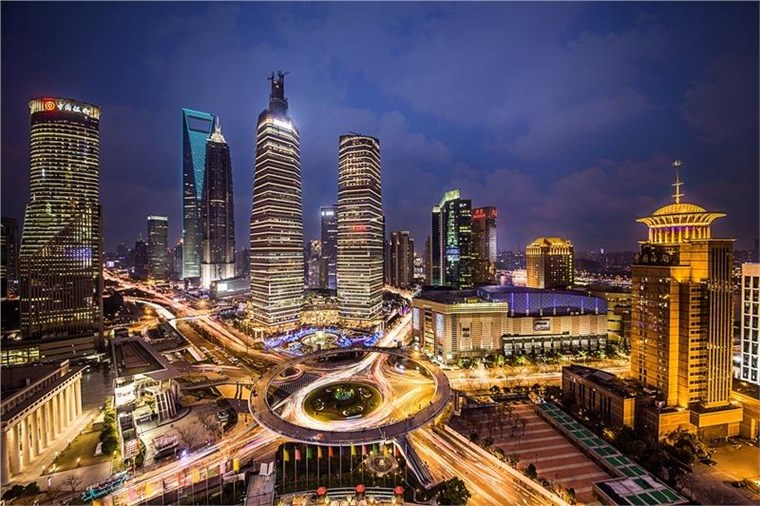 East of the Huangpu River and extending to the East China sea is Pudong, one of Shanghai's largest and most iconic districts. Formerly an agrarian region of the city, Pudong has developed rapidly into a diverse neighborhood with a mix of spacious villas and modern high-rises.
Central Pudong, across from Shanghai's famous Bund area, is home to the Shanghai Stock Exchange, Shanghai Tower (the 2nd tallest building on Earth), Shanghai Pearl Tower (a symbolic structureon the Shanghai skyline) and a number of luxury hotels including the Four Seasons.
At the center of this futuristic neighborhood is Lujiazui, which is filled with brand-new luxury skyscrapers and is the financial center of the city. These high rises have incredible views of the historic Bund and great access to downtown and the Shanghai Pudong Airport.
Outside of being home to many businesses, Lujiazui offers plenty of entertainment and dining options. There are large shopping malls in the area that have a variety of brands, including international luxury and designer brands. Lujiazui is a perfect place for living for those who desire a luxurious home near their working place in Pudong area.
A typical executive working on Shanghai might live full time in a 2 bedroom within a high-rise which would rent for around 17,000 to 21,000 per month or opt for a 1 bedroom full-service pied-a-terre that can be used when in town for business for around 14,000 RMB per month.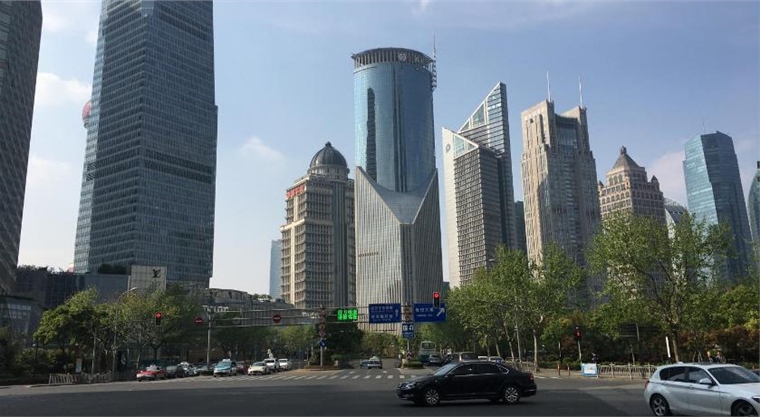 Pudong isn't all skyscrapers though! Outside of the financial hub, one can find the Jiuduansha Wetland Nature Reserved and Shanghai Disneyland. Pudong is a fantastic combination of natural open spaces and hyper-modern architecture. Typically, local executives and succesful expatriates choose to live in the Lujiazui, Century Park, Jinqiao and Kangqiao.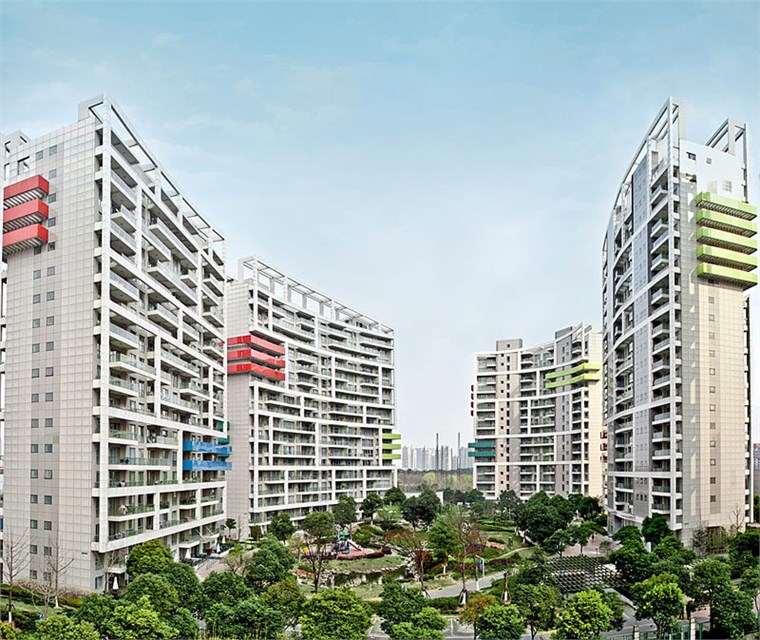 Century Park, the largest park in Shanghai located just outside Lujiazui, is a highly sought after neighborhood surrounded by some of Shanghai's most spectacular parks. Century Park is filled with high-rise developments that take advantage of incredible park views. This area has also a strong sense of community and a friendly atmosphere because of the large expatriate population and number of families.
Jinqiao is perhaps the most popular neighborhood in Shanghai for expat families because of its wide roads, green spaces and proximity to world class education. These lush and spacious areas are filled with exclusive villas in secure developments. From Green villa to Greenhills, Jinqiao offers first-class villa compounds to many expatriate families. A high-end villa in a gated community in Jinqiao would rent for around 35,000 to 40,000 RMB per month. The Green City neighborhood is famous for its luxury compounds such as the Shanghai Racquet Club and Forest Manor in addition to international hospitals like Parkway Health.
International schools in Jinqiao area include Dulwich College, Yew Chung International School and Concordia International School.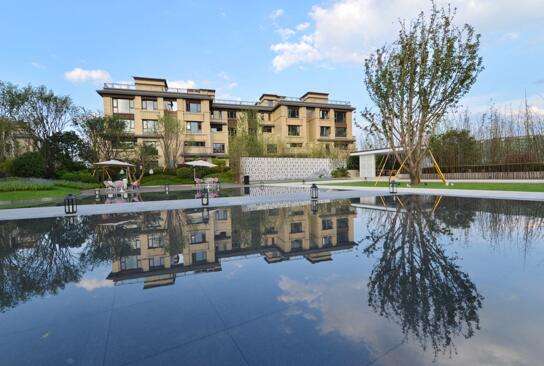 Kangqiao is about 30 minutes Northeast of downtown Shanghai, is another standout neighborhood in the Pudong district that is home to Shanghai Disneyland and an IKEA. The Kangqiao Riviera development is filled with international cuisine and trendy local eateries. While this area is less International and more locally focused, the proximity to education and a handful of luxury gated communities make it an attractive option as well. International schools in the area include The British International School of Shanghai's Pudong Campus, Wellington College and the Shanghai Community International School.
Jing'an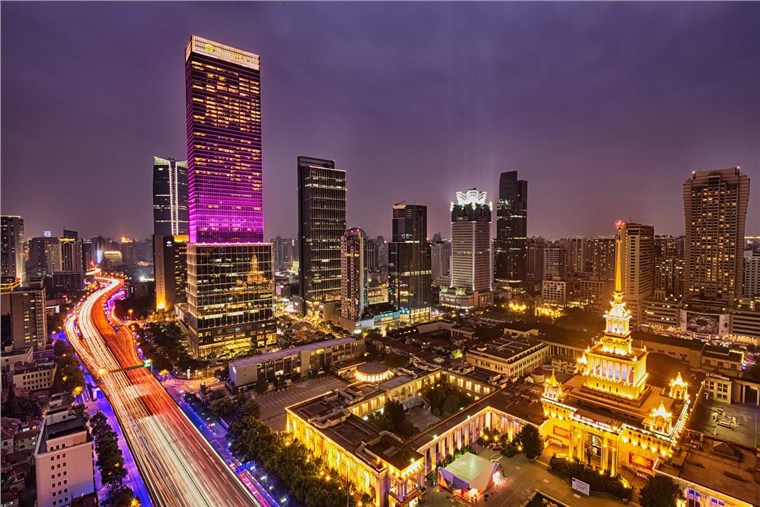 Luxury shopping malls, landmark temples and incredible parks — Jing'an is one of Shanghai's most established neighborhoods for well-heeled locals and successful expats. From Hermes to Balenciaga, Jing'an is filled with the glittering flagship boutiques of luxury brands from around the world. Especially Nanjing West Road area has plenty of stores selling Western and luxury goods. Jing'an is one of the main downtown neighborhoods of Shanghai and is named after the famous Jing'an Temple that it surrounds.
The most popular combounds for expats
* One Park Avenue            * 8 Park Avenue
* Jing'an Residence           * Jing'an Kerry Residence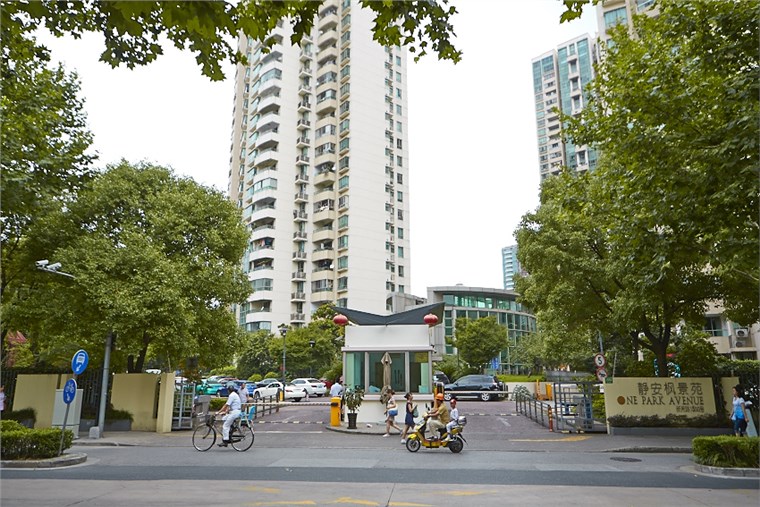 The area has been continuously inhabited since the 3rd Century and is now one of Shanghai's densest residential neighborhoods. While its glittering facade may make one assume that everything here is a luxury high-rise, there are many charming apartments to be found closer to street level. Old lane houses between 5 and 6 stories in height and built between 1950 and 1970 might look old on the outside but they often times beautifully renovated to modern standards and surrounded by warm communities that look out for each other. Because of its central location, Jing'an is very walkable and very dynamic. New restaurants, stores and bars constantly open their doors in Jing'an and everything is within a 15 minute walk.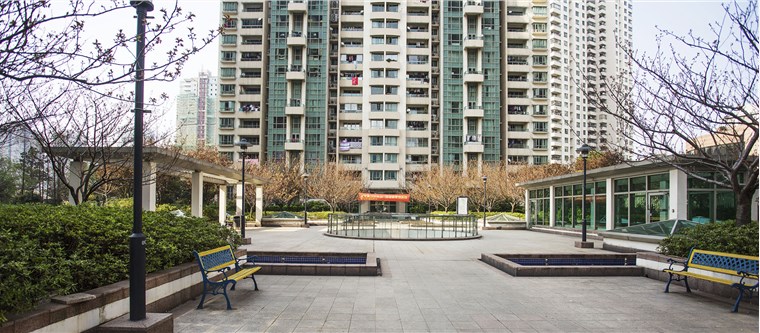 Jing'an is particularly popular with singles and couples but safety and beautiful public spaces make it attractive for families as well. A number of bilingual private schools can be found in the area in addition to a few international preschools and kindergartens in Jing'an. A renovated 2 bedroom old lane house in Jing'an will typically rent for around 17,000 to 20,000 RMB while a high-rise two bedroom will rent for around 23,000 RMB.
Former French Concession (FFC)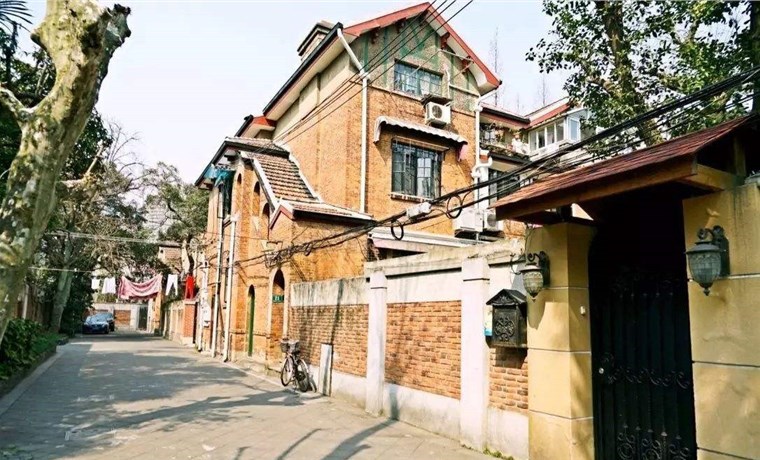 Shared between the Xuhui district and neighboring Huangpu district is the Former French Concession (FFC). The FFC is a gorgeous historic neighborhood built by during the French occupation of Shanghai. Leafy, peaceful, architecturally significant and filled with amazing restaurants; the Former French Concession is one of Shanghai's most sought after neighborhoods. Beautiful boulevards covered in foliage set the tone for this gorgeous area and a mix of local and Western businesses make it a very comfortable place for expats to settle down.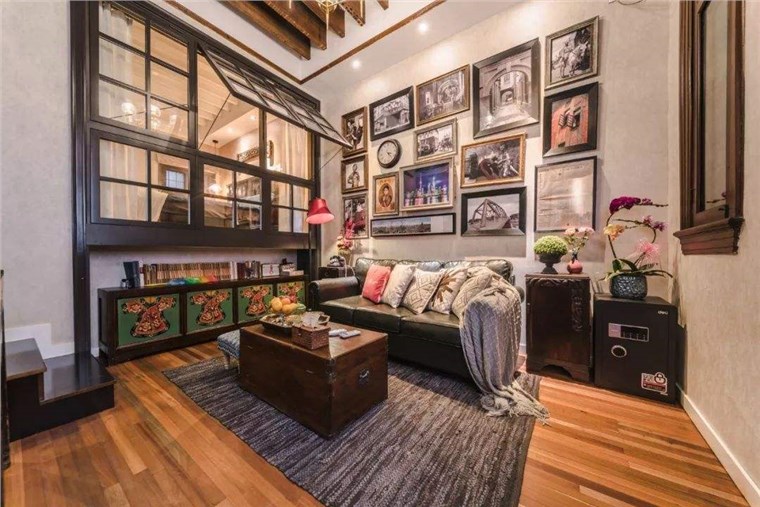 Accommodations here are eclectic and mixed because of the many historic structures. Residences are typically luxury renovated historic mid-rise buildings and newer high-rises but the most iconic FFC residences are the charming lane houses tucked behind the main boulevards. Often times outfitted with a small courtyard or garden, Former French Concession lane houses are the perfect spot for families or couples looking for a peaceful getaway in the bustling metropolis that is Shanghai.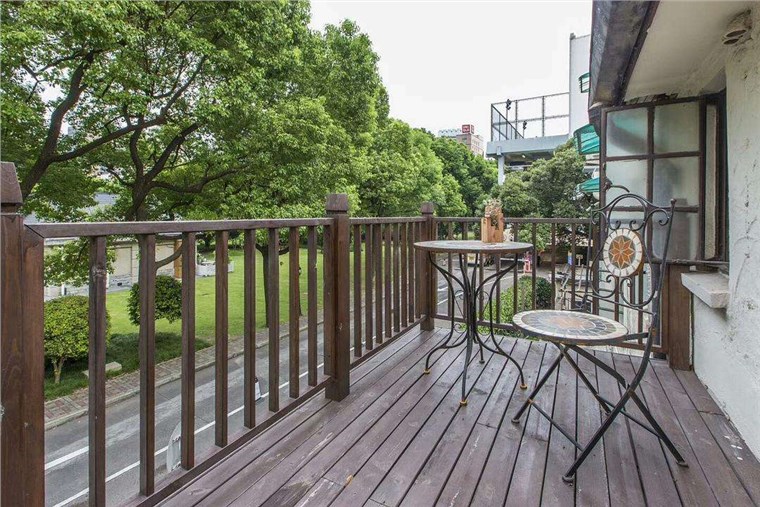 Middle Huaihai road, one of Shanghai's most bustling commercial streets is filled with shops, restaurants, bars and nightlife venues and an unbelievable shopping mall with a high end movie theater. Hengshan Road has many old buildings that have been converted into bars and clubs, making it a top area for nightlife in Shanghai.
Huangpu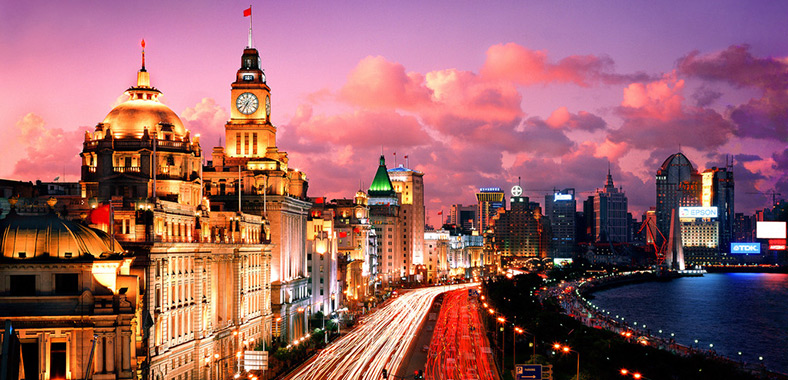 Huangpu is Shanghai's geographic center and is one of the busiest and most fascinating districts in the city. Included in Huangpu the historic old town (a formerly walled city), Peoples Square, The Bund, Xintiandi, and Nanshi. Life in Huangpu means access to urban Shanghai at its best. Major tourist attractions and some of the city's best restaurants make it a hot spot for visitors but living here full time is just as interesting.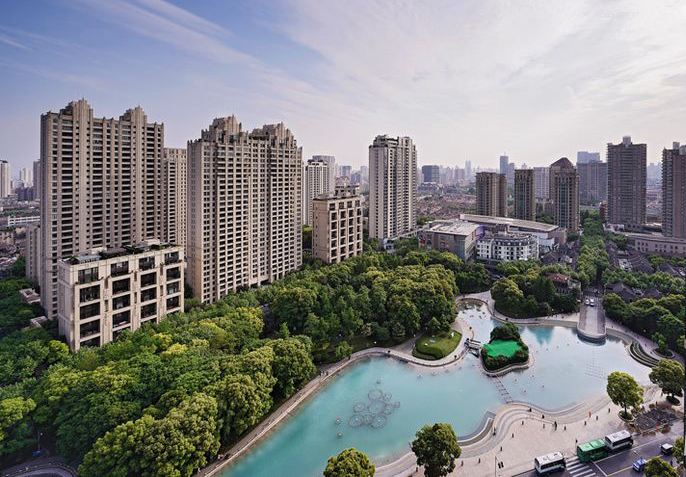 Xintiandi is Perhaps Huangpu's most charming and livable area. Filled with historic stone buildings that house luxury shopping and restaurants and with high-end hotels like the Langham and the Andaz scattered throughout, Xintiandi is a very pedestrian friendly neighborhood in its large city and is particularly comfortable for expats and expat families in Shanghai. Public transport from Xintiandi is very convenient to the rest of the city and from Xintiandi, one can easily walk to the Bund or People's Square. A four bedroom apartment in the ultra-exclusive Rich Gate development, a stunning complex in the heart of Xintiandi, typically rents for 80,000 RMB. It is one of the most expensive areas to live in Shanghai.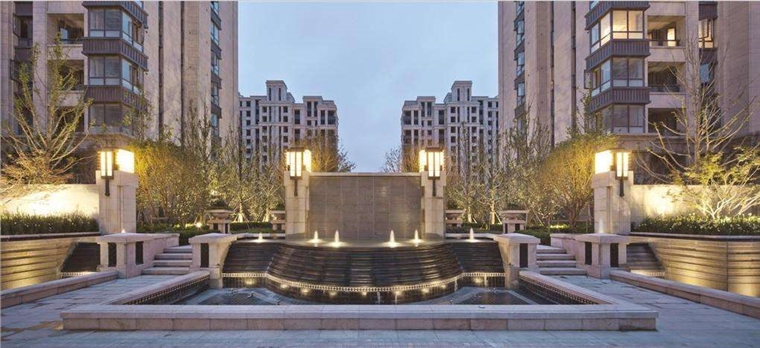 The Bund itself is an iconic avenue filled with some of the most beautiful examples of European architecture that exist in Asia today. Stunningly lit up at night with views of the futuristic Pudong skyline, the rooftop bars and luxury hotels along the Bund are a fantastic spot to spend an evening or grab a drink on a sunny day. The Waldorf Hotel and the Peninsula Hotel are two of Shanghai's best and are located directly on the Bund, serviced apartments in the Peninsula are available and command unparalleled views of the city's skyline. Luxury restaurants tucked inside these stunning buildings are some of the best in the city and the neighborhood is conveniently connected to Lujiazui in Pudong.
The Nanshi neighborhood is home to Yu Garden and the City God Temple (both are must sees on every Shanghai visitors bucket list!). Historically, this is the most well preserved remnant of traditional living in downtown Shanghai. The Yu Garden is an ancient property owned by a Ming dynasty official is the only Ming garden in the northern part of the Old City. Built in 1559, the 2-hectare garden has been around for over four centuries, and welcomes masses of tourists who want to enjoy the beauty of the Old City.
The Bund is mostly a sightseeing area but it can also be great place for living for those who are looking for more historical area.
Changning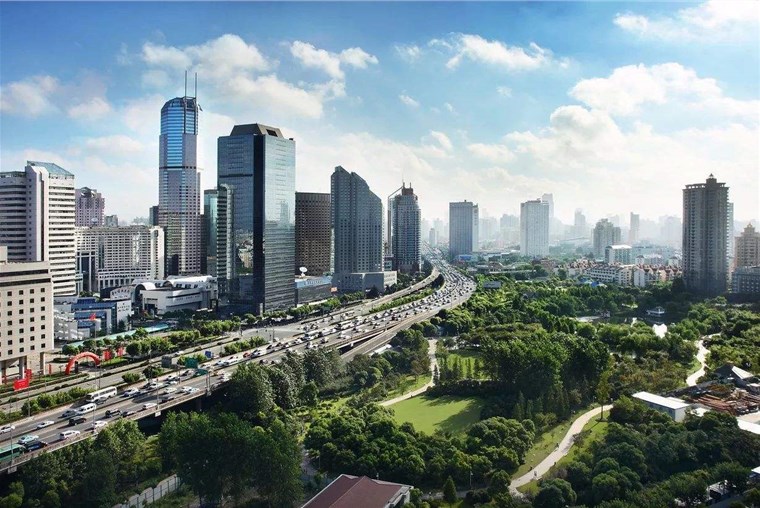 Changning, centrally located, next to Jingan and Xuhui districts, is a home to a large number of expats in Shanghai. There are several international schools as well as few good local schools. It has also good transport facilities and infrastructure. This area is not far from downtown, subway lines offer a good and fast transit to other districts. It is also close to the city centre and has plenty of green spaces, places for cultural or family excursions including the Shanghai Zoo and Zhongshan Park. Changning has a decent amount of shops within the district such as The Cloud 9 shopping mall in Zhongshan Park. In this district we can also find a few International Hospitals with English speaking staff. Changning district is a popular choice for both office and residential life. With a strong expat community, affordable housing options this area attracts mainly young professionals and families.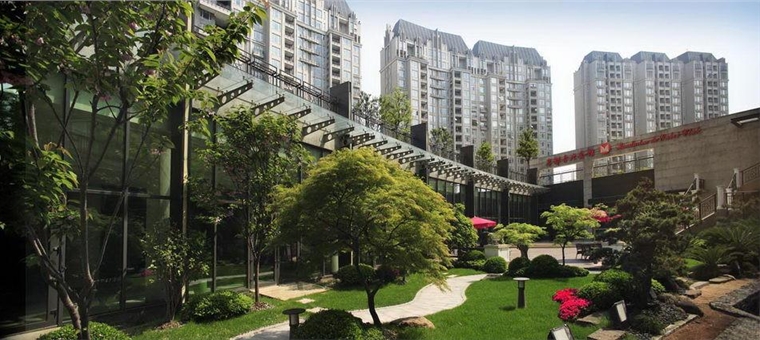 Gubei is an area in the district that is home to many expats especially other East Asian expats. Here one can find a wide range of dining options including Korean and Japanese food.
Minhang & Qingpu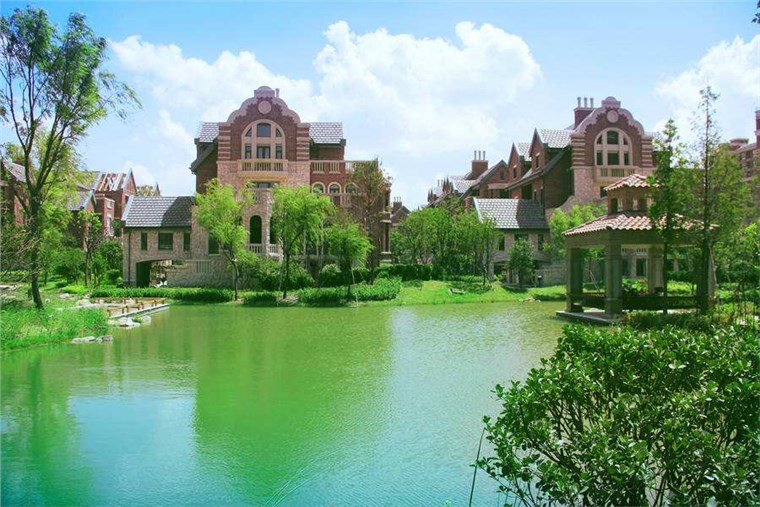 Minhang, which is located south of Shanghai's city center, is an area that has essentially been developed to serve expatriate families. This neighborhood has many detached homes, grocery stores, restaurants and a variety of recreational facilities. The accommodation options in the area include luxury apartments, townhouses and large villas. Minhang's popularity with expats is partially due to its fantastic proximity to the best international schools in Shanghai, including the Shanghai American School – the largest international school in the city. Additionally, its distance from the city center actually benefits the families that live there. It is much less congested than downtown Shanghai and the beautiful landscapes and foliage make the air quality and scenery very pleasant. The rent in this district would be around 25,000 RMB to 50,000 RMB.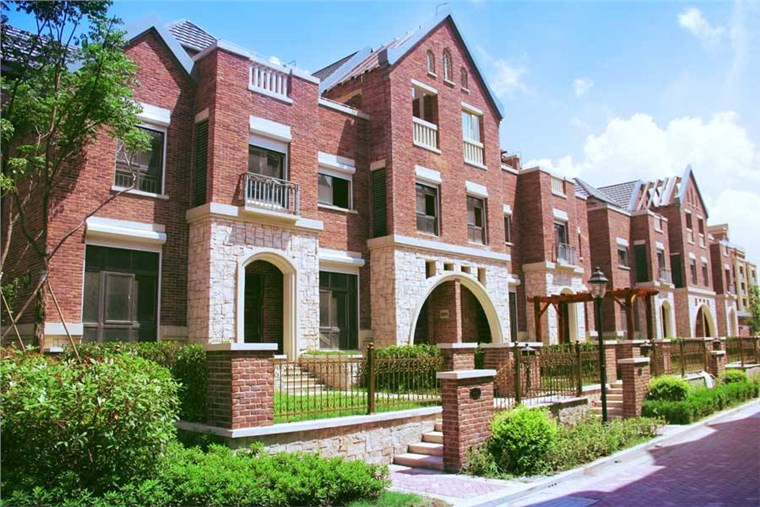 Qibao, beautiful ancient water town, is also in Minhang. Qibao is the only ancient town within greater Shanghai and it is a must visit for anyone who is interested in discovering traditional China without a voyage to a different provence.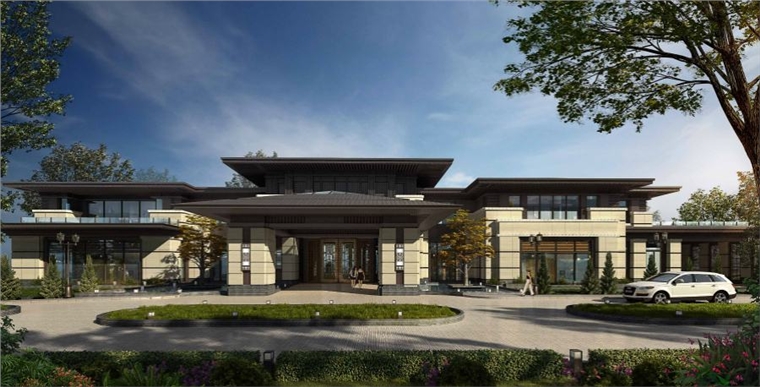 Suburban Industrial area in Shanghai, mostly home for textile companies. In Qingpu district we can find a lot of international schools like Shanghai French School and the Shanghai German School. One of the biggest attractions of this district is Zhujiajiao Water Town, the best preserved among ancient towns near Shanghai. Perfect place to take a stroll along the street to see the ancient buildings, sample some local snacks and relax. Its peaceful environment and slower pace of life make it perfect for families.
Yangpu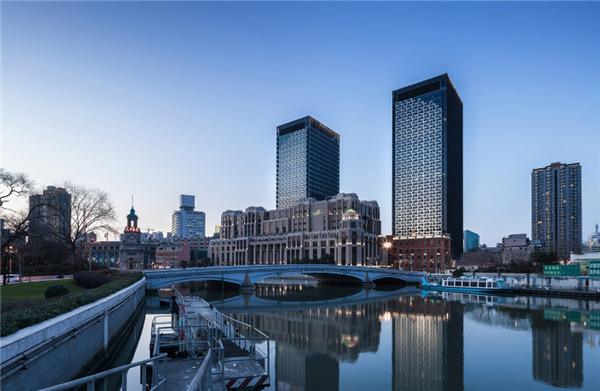 Yangpu is a district in northeastern Shanghai and in the past two decades, has transformed from a primarily industrial neighborhood into a commercial, technological and educational hub.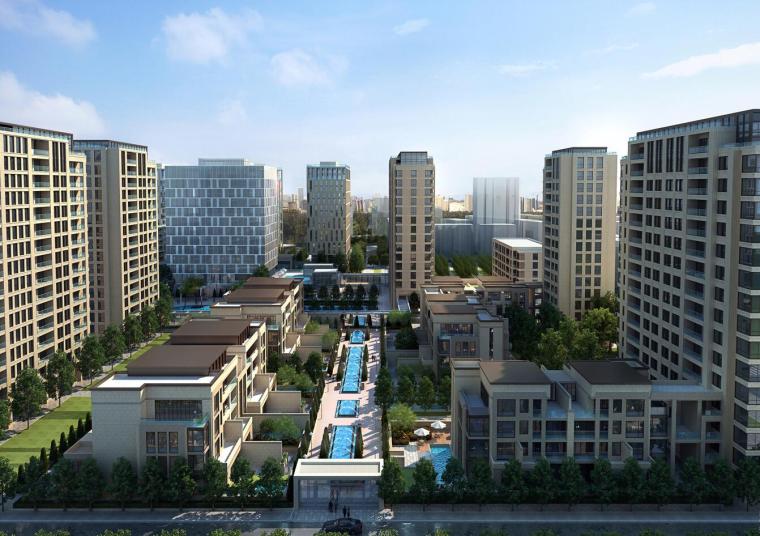 Yangpu is home to two of China's most prestigious universities — Fudan University and Tongji University. In Wujiaochang, a neighborhood close to the districts Innovation Hub development, enormous malls with well-known brands and a variety of restaurants can be found. A short walk from here is Daxue Lu or "University Road", a bustling street filled with trendy cafes, restaurants and boutiques popular with well-heeled university students and professionals from companies like Deloitte and IBM who have large offices just a few blocks away. Nearby, one of can find many luxury developments with rentals available at relatively moderate prices. A serviced one bedroom apartment close to Fudan University would rent for around 13,000 RMB a month. Gongqing Forest Park, Shanghai's second largest park, is in Yangpu and offers a selection of activities for the entire family. It is important to note that while Yangpu is home to many famous universities, there are few International schools in the area at this moment but things are changing.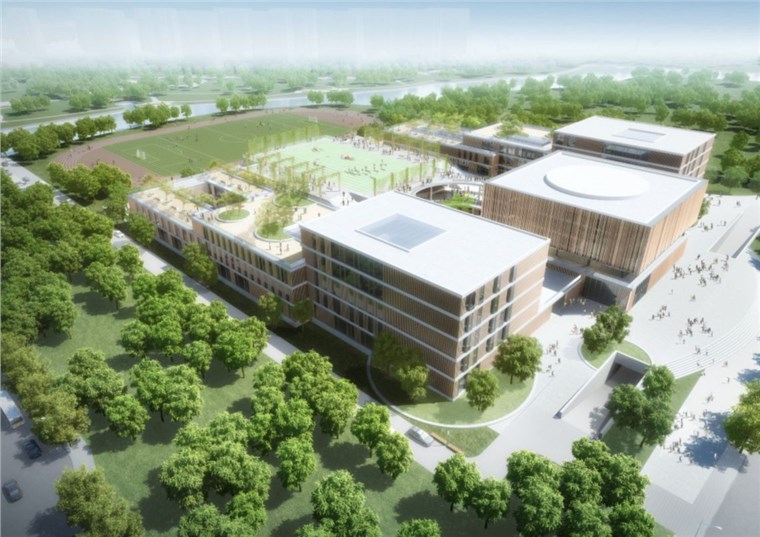 The New Shanghai Eurocampus opened on September 2019 for both the German and French International School.
Putuo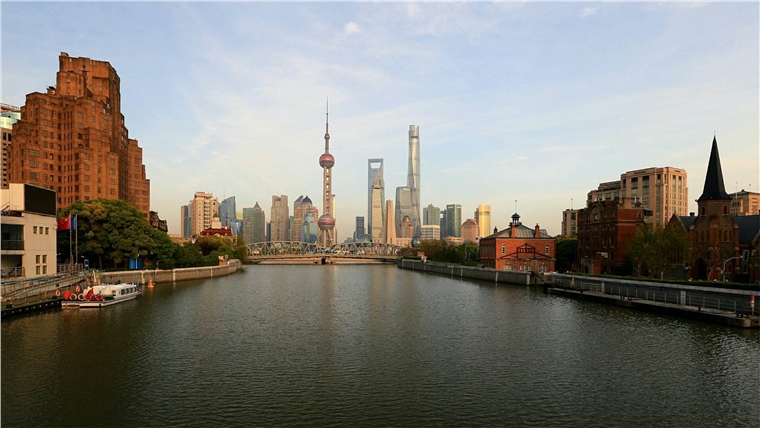 Putuo is the northwestern part of central Shanghai, and has seen a massive transformation in recent years from an industrial area that was home to warehouses into a hipster enclave with a vibrant art scene. Suzhou Creek is one of Putuo's trendiest neighborhoods and within it is the iconic M50 development. M50 is a massive complex of former warehouses that have been converted into large conceptual art galleries and cutting edge boutiques. M50 is comparable to neighborhoods like Wynwood in Miami.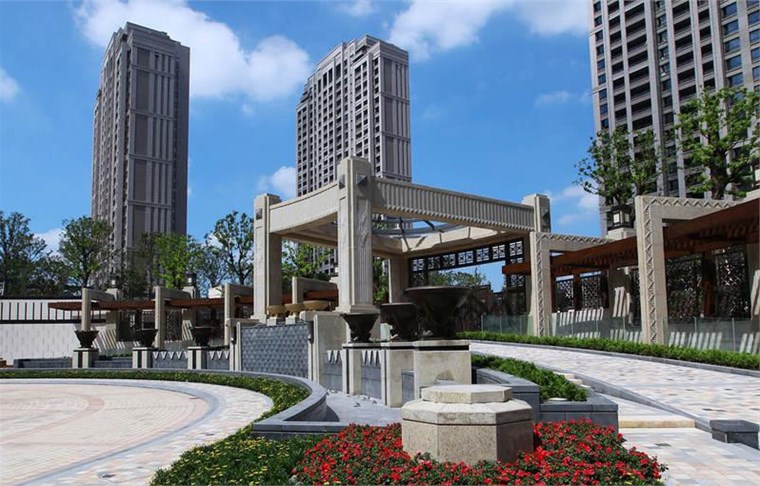 There are many good residential complexes with rentals available in this area in additional to large malls and dining options. Due to its close proximity to Jing'an District and moderate housing prices, Putuo is rapidly becoming a hot spot for young professionals, expats and artists. There are also a lot of places to visit such as the Zhenru Temple and Changfeng Park (one of the city's largest). Because of the large art and design scene, many apartments in old buildings have been beautifully renovated into spacious and bright residences in a seriously up-and-coming neighborhood.
Hongkou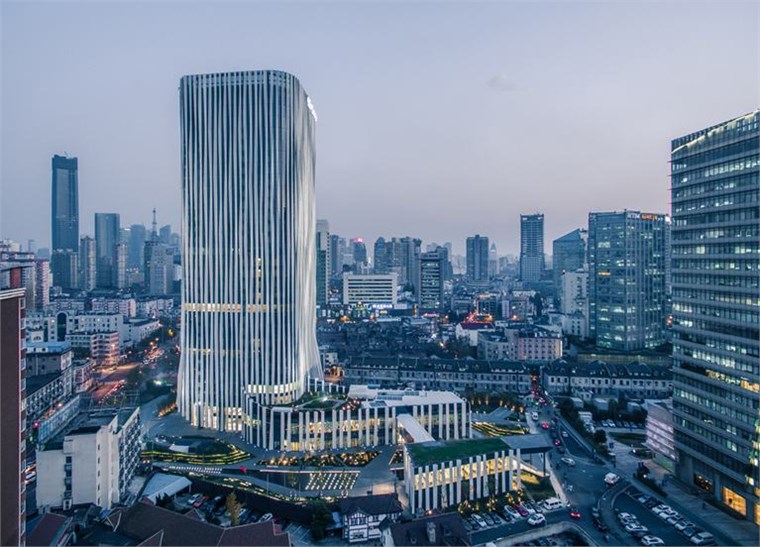 Just next to Putuo, a large residential district with a local population. It has the historical character because it was originally the American Concession before it became part of the International Settlement in colonial days. Today, it's a developing neighborhood but despite residential buildings Hongkou is plenty of cultural sites such as, Lu Xun Park which was named after one of the most popular Chinese writer. The district is very close to the city center and it's a great place for singles and couples. The 2 Bedroom apartment in this area should be around 18,000 RMB.
This is a place for show life about china, If these articles help you life better in china, Welcome to share this website to your friends, Or you can post questions about china life in FAQ, We will help you to find the right answer.