Anyone can spend a few hundred kuai on a tattoo kit on Taobao and start a business. And anyone has. Shanghai has over a thousand tattoo studios.



So what's special about getting a tattoo here? In less than twenty years, Shanghai has gone from nearly tattoo-free to a booming ink economy, with exceptional tattoo artists who have sizeable portfolios and can think outside of the box. They are often more expressive than tattoo artists in north China. All kinds of mainstream styles are available here, with a good mix of traditional Chinese and Japanese influences. However, great artistic ability doesn't always come with great artistic understanding. So we picked out a few.



First, two misconceptions: 1. hygiene isn't really an issue. The business relies on reputation and single-use tattoo equipment is inexpensive (made in China); 2. it's not bad etiquette to bargain a little with your tattoo artist, unlike other parts of the world. Everyone here knows pricing in Shanghai is a little inflated.



The Well Established
Han Tattoo (汉刺青)
No. 1, Lane 148 Ruijin Yi Lu, near Huaihai Zhong Lu View ListingTaxi Printout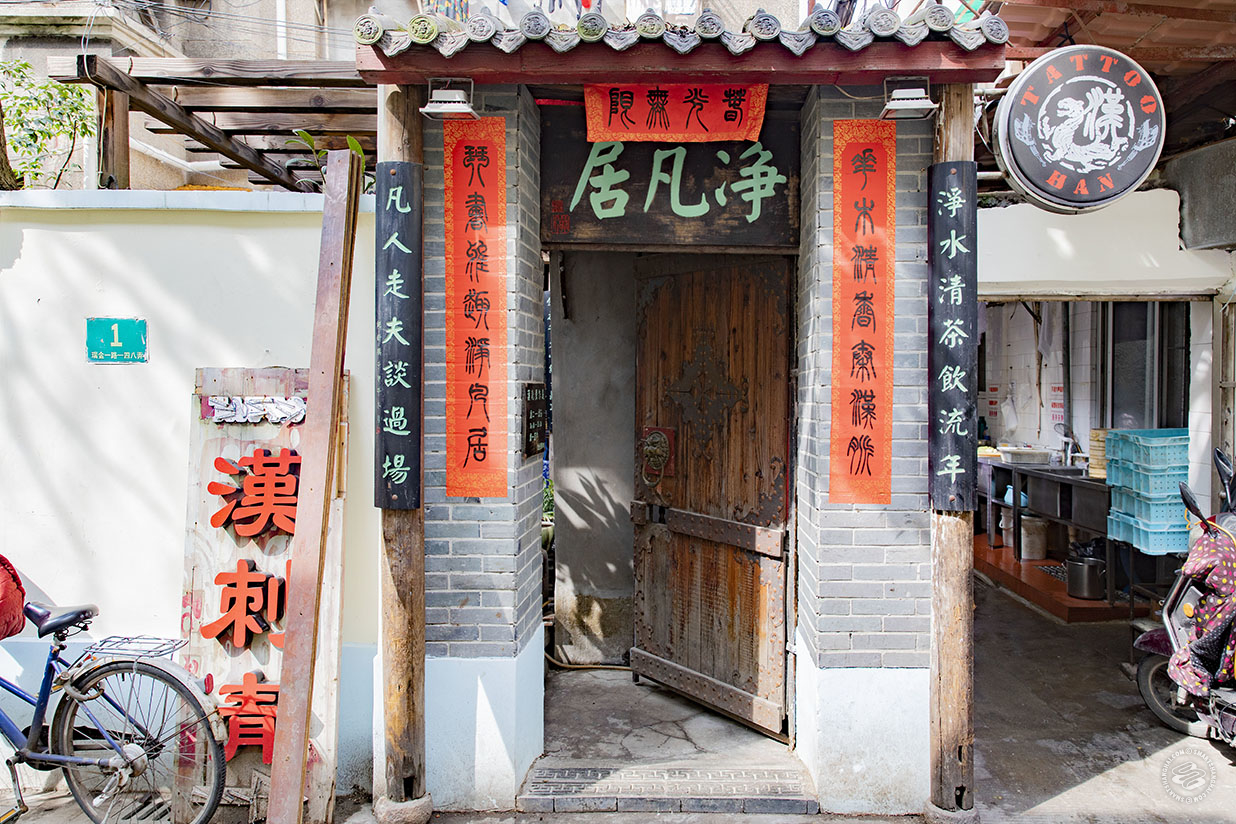 Main Artist: A Liang (阿良)

Rate: 5cmx5cm (or less) is 600rmb minimum

WeChat: hanciqing, Reservation: han-tattoo



Han Tattoo is a hidden gem. It's in a short longtang on Ruijin Yi Lu, looking like a Chinese tea house. It's quiet, rustic, with plants in the garden. In fact, they do have a small tea pavilion. Getting a tattoo here seems to be an experience like a tea ceremony (minus the pain); it's slow, relaxing, and you learn a great deal from your host.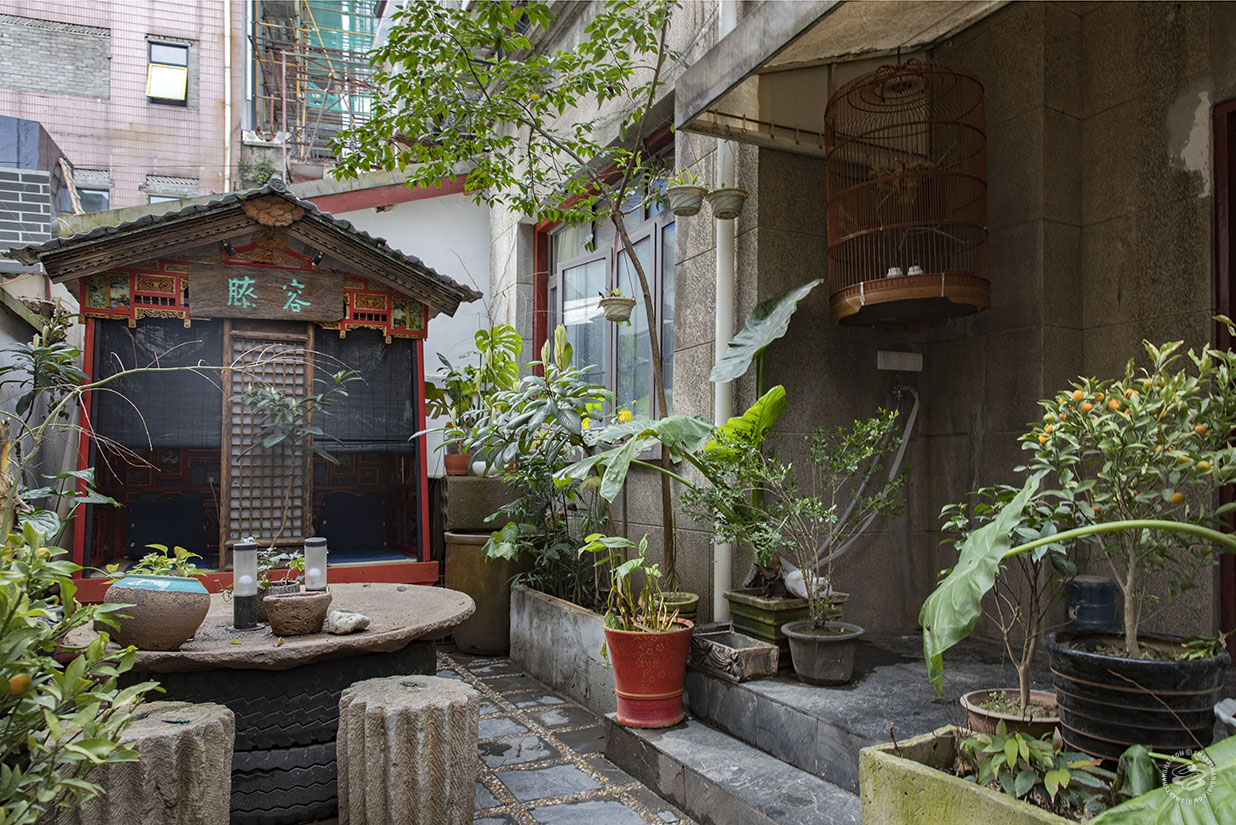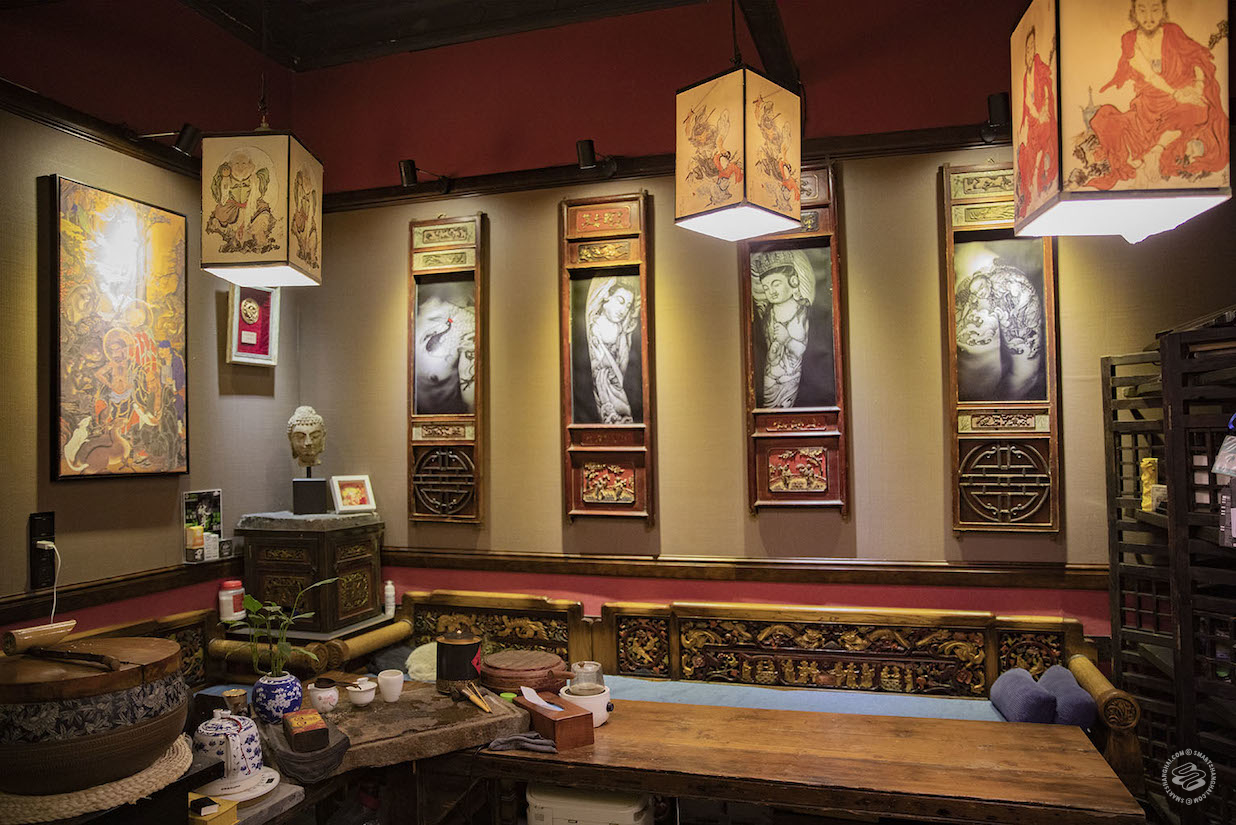 The conversation here might be longer than the tattooing process itself. That's A Liang's style. He is the founder of Han Tattoo and one of only two tattoo artists here. A studious and very down to earth guy, he opened Han Tattoo 15 years ago, specializing in traditional-style Chinese tattoos. He's also a main force behind Chinese tattoo culture, authoring many books on Chinese tattoo history. Most impressive? His work ethic. Before scheduling a tattoo session with him, he questions the client's idea, temperament, living environment, and most importantly, whether the design can stand the test of time.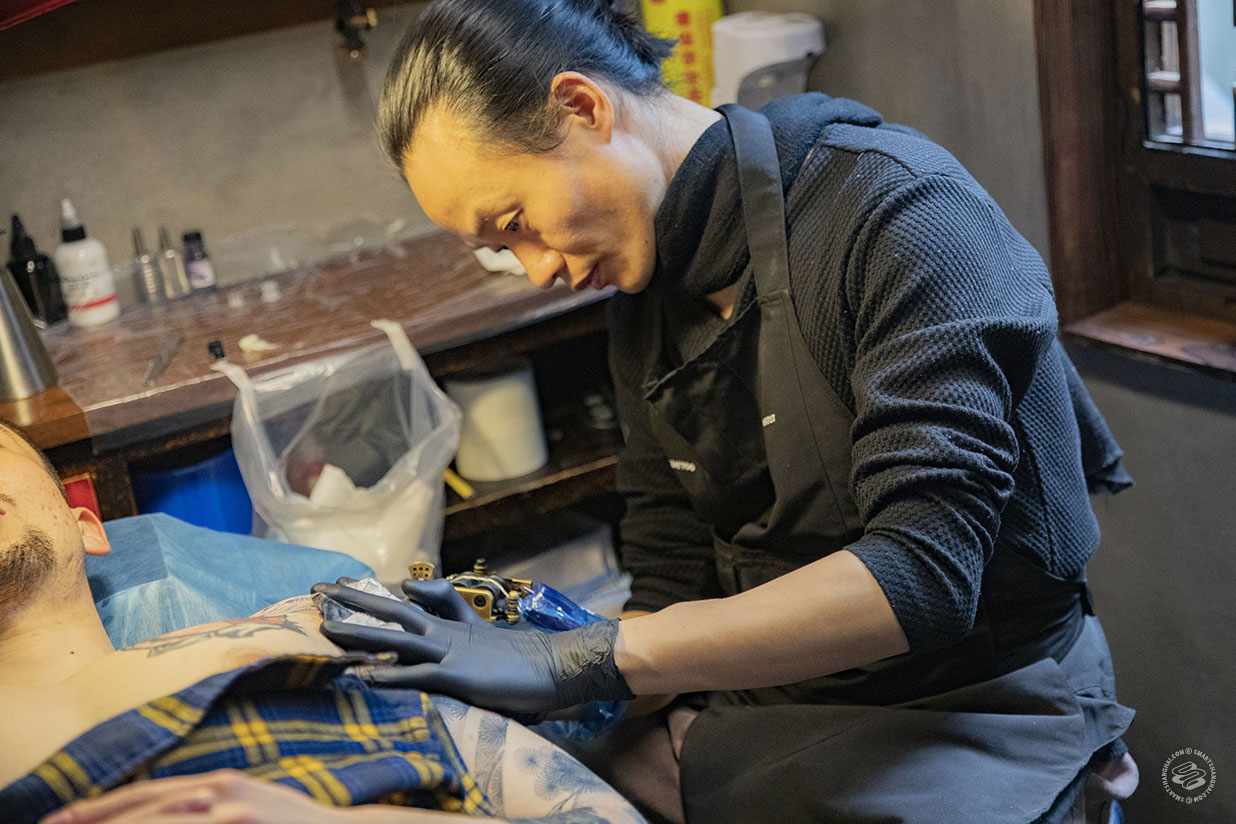 A Liang identifies himself as a craftsman rather than an artist and those craft details are in the space. Leftover concrete, woodware, and cloth became décor. A Liang even makes his own tattoo needles. "We should be very much in awe and cautious about tattoos," he told me, admonishing that "tattoos should not be trendy or fashionable."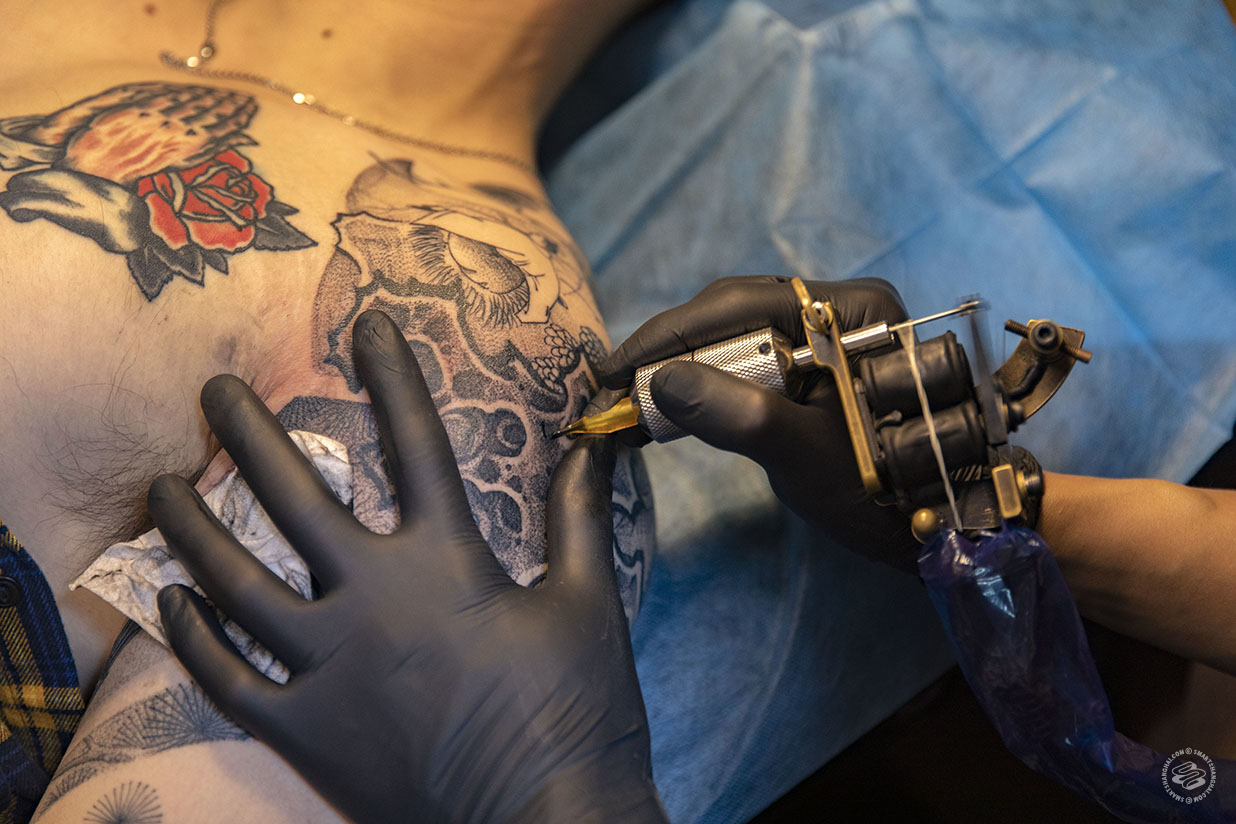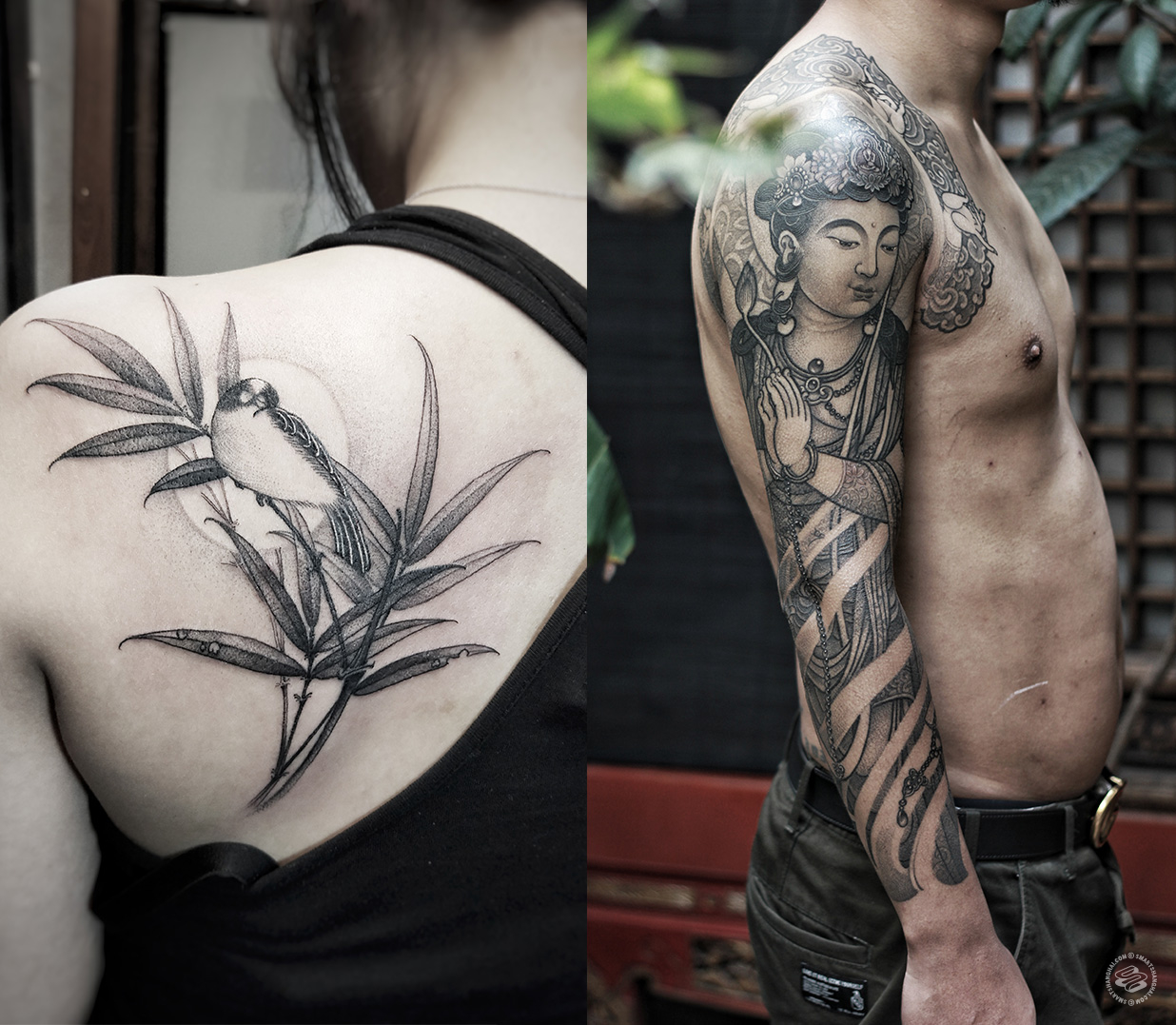 Influenced by the aesthetics of traditional Chinese characters and gongbi painting, A Liang's tattoo designs are elegant and calm. Surprisingly, he doesn't charge by size. If it's a sleeve, for example, the fee is measured by the design and it will be a set price. A Liang likes to take things slow. Alongside the nice tea, beautiful plants, and the traditional instrumental Chinese music, that might make Han Tattoo the most Zen tattoo parlor in Shanghai.



Cang Long Tattoo (苍龙)
425 Yongjia Lu, near Taiyuan Lu View ListingTaxi Printout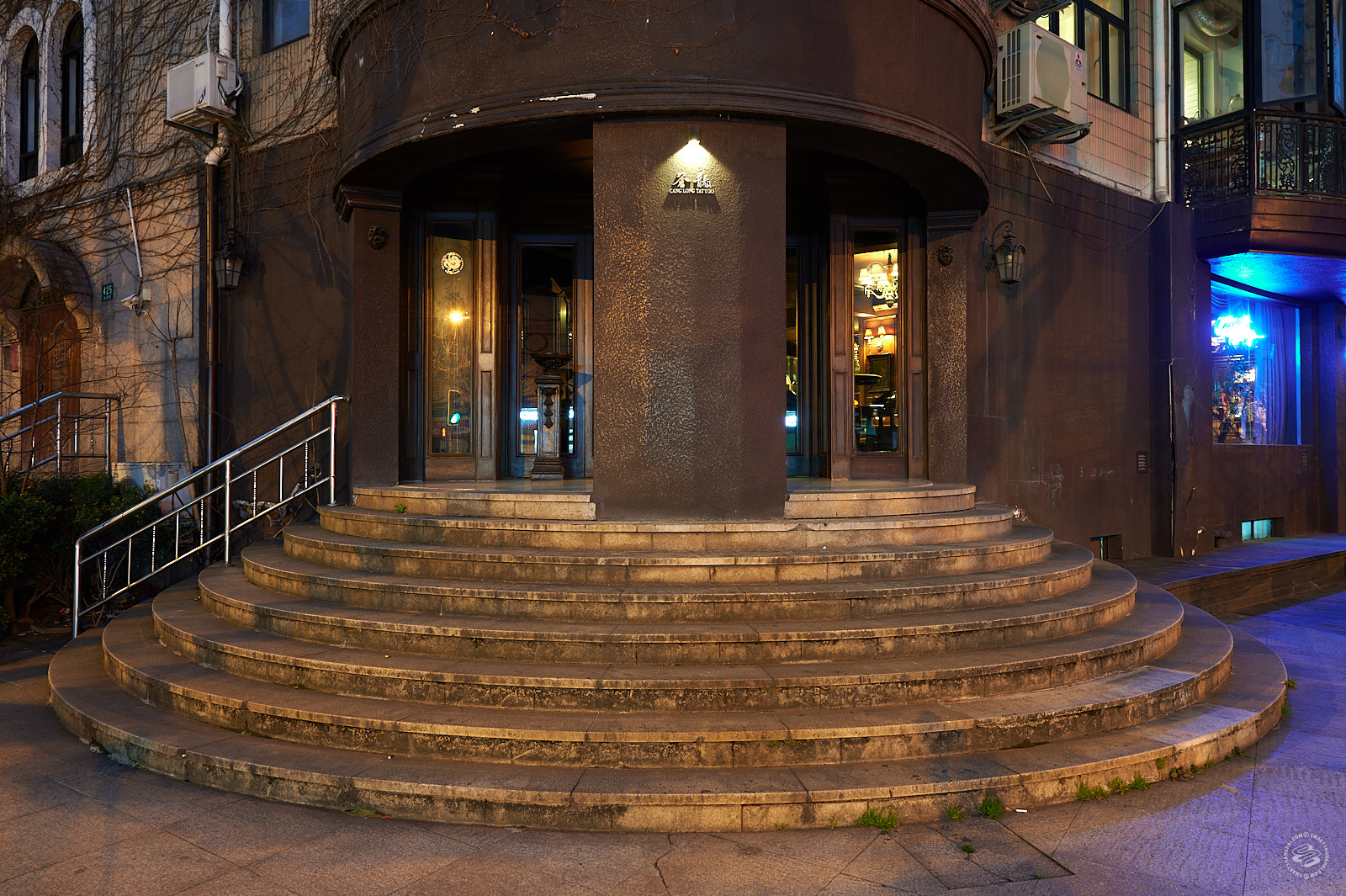 Main Artist: Shen Weiguo (沈卫国)

Rate: 2,400rmb-5,000rmb for a palm-sized tattoo

Instagram: shcanglongtattoo

Wechat: shcanglongtattoo; Reservation: canglongtattoos (Yongjia Lu), canglongtattoo1 (Changle Lu)



This iconic tattoo studio can be easily mistaken for an old-fashioned whiskey bar. Or a place to get your full back tattoo done before you set out to revenge the man who murdered your dog.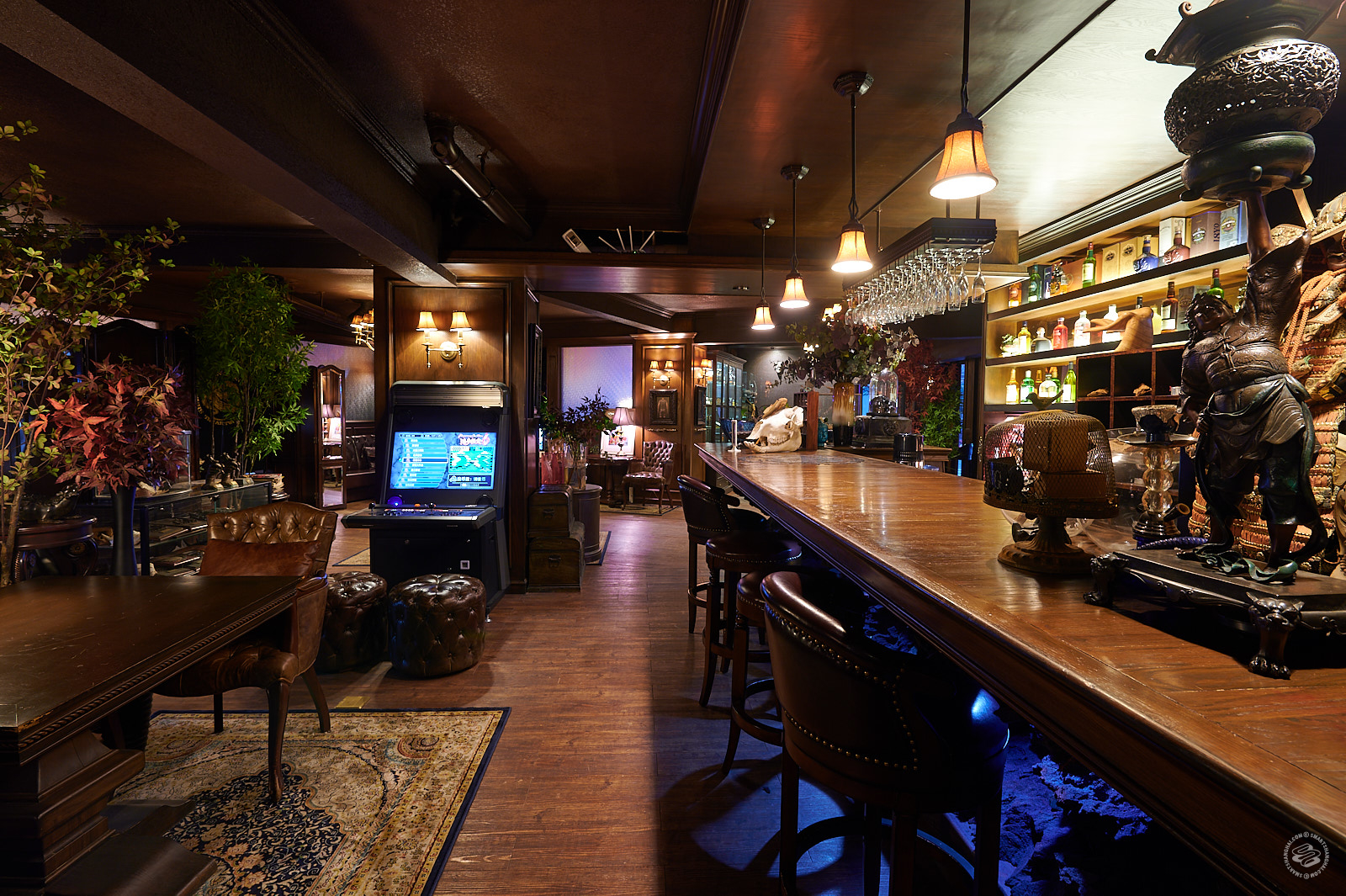 Spacious, dark, with relaxing R&B music in the background, the elegant decor and furniture here are all done by Shen Weiguo, founder of Cang Long (Instagram: canglongtattoo). He is serious-looking, like a frontman of a straight-edge band, but very friendly. Shen has over 20 years of practice under his belt, founding Cang Long in 1998. A household name in the Chinese tattoo world, Shen worked with tattoo master Paul Booth, and has apprentices all over China.








Shen is known for his large-scale, traditional/modern take on oriental tattoo motifs. He takes references from Chinese painting, Japanese woodblock printing, and even manga. He also has a strong attitude against copying and requires every one of his tattoo artists to develop their own style. Shen charges by design (on average, around 70,000rmb - 80,000rmb for a sleeve) and has a minimum charge of 10,000rmb.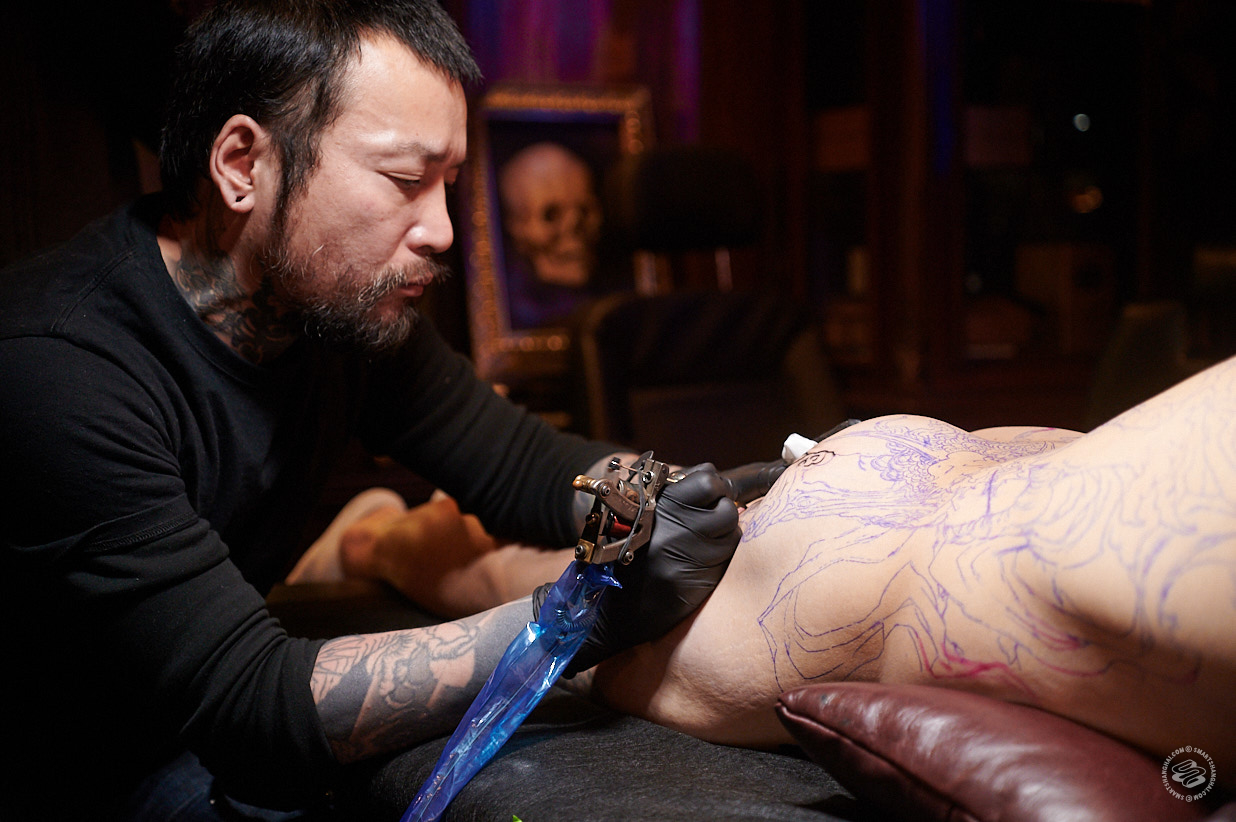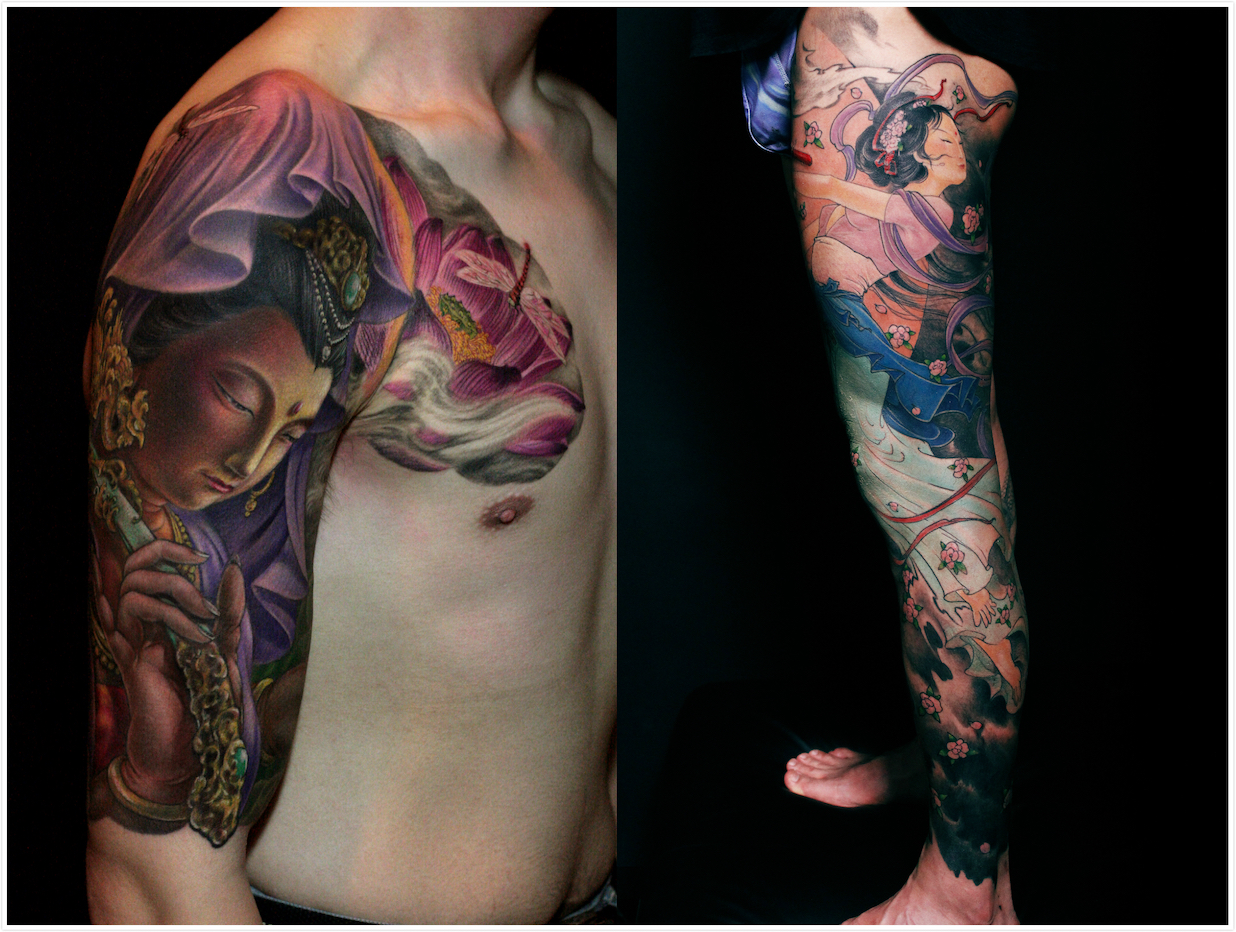 The studio currently has seven tattoo artists. All have more than two years of professional experience. A wide range of styles can be found on the artist page on their WeChat: neo-traditional Chinese, old school, ambigram, realism, and so on. The characteristics and rate often attract more mature clientele.



Zhencang Tattoo (针藏)
416 Xiangyang Nan Lu, near Jianguo Xi Lu View ListingTaxi Printout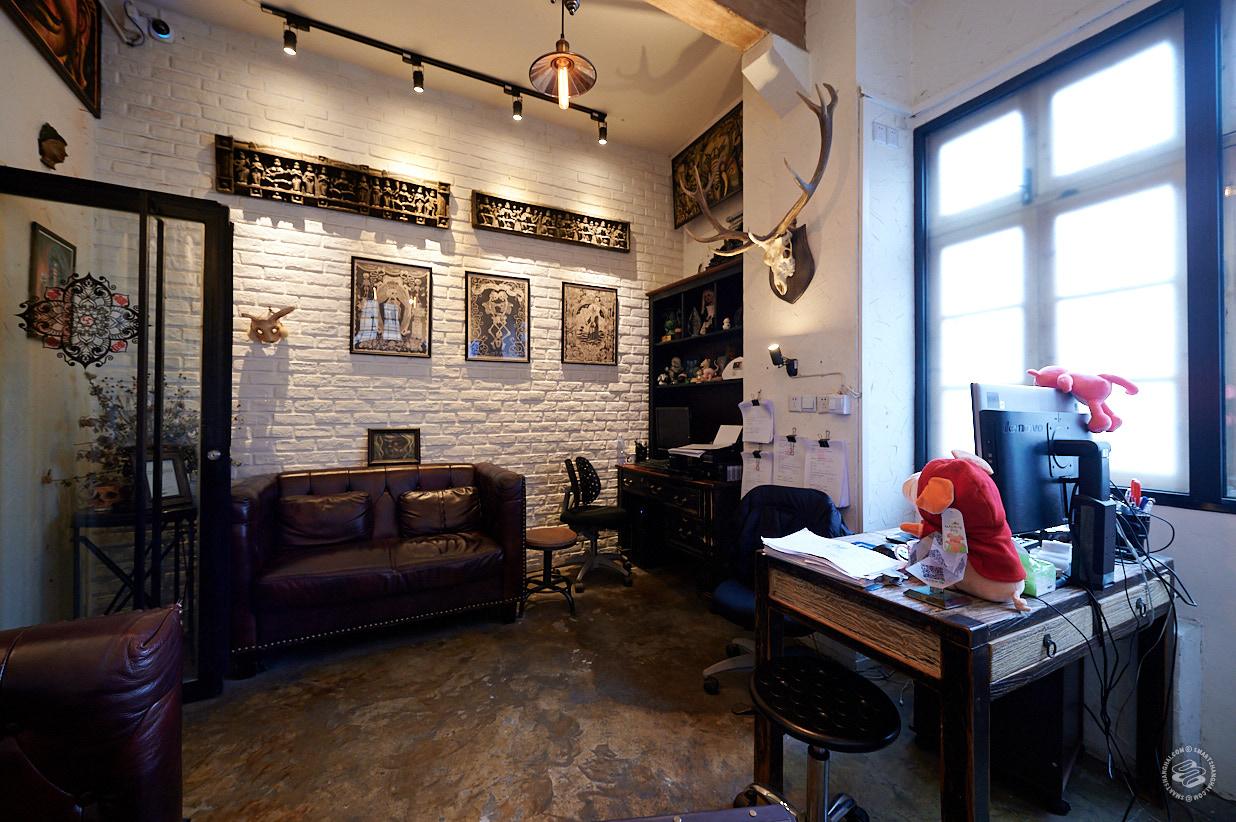 Main Artist: Shao Gang (邵钢)

Rate: around 1200rmb - 1600rmb (design fee: + 15%, deposit: 50%) for resident artists

Instagram: zhencangtattoo

WeChat: zhencangtattoo; Reservation: zhengcang3



Zhencang has been running since 2000, and has five tattoo artists, including the well-known Shao Gang.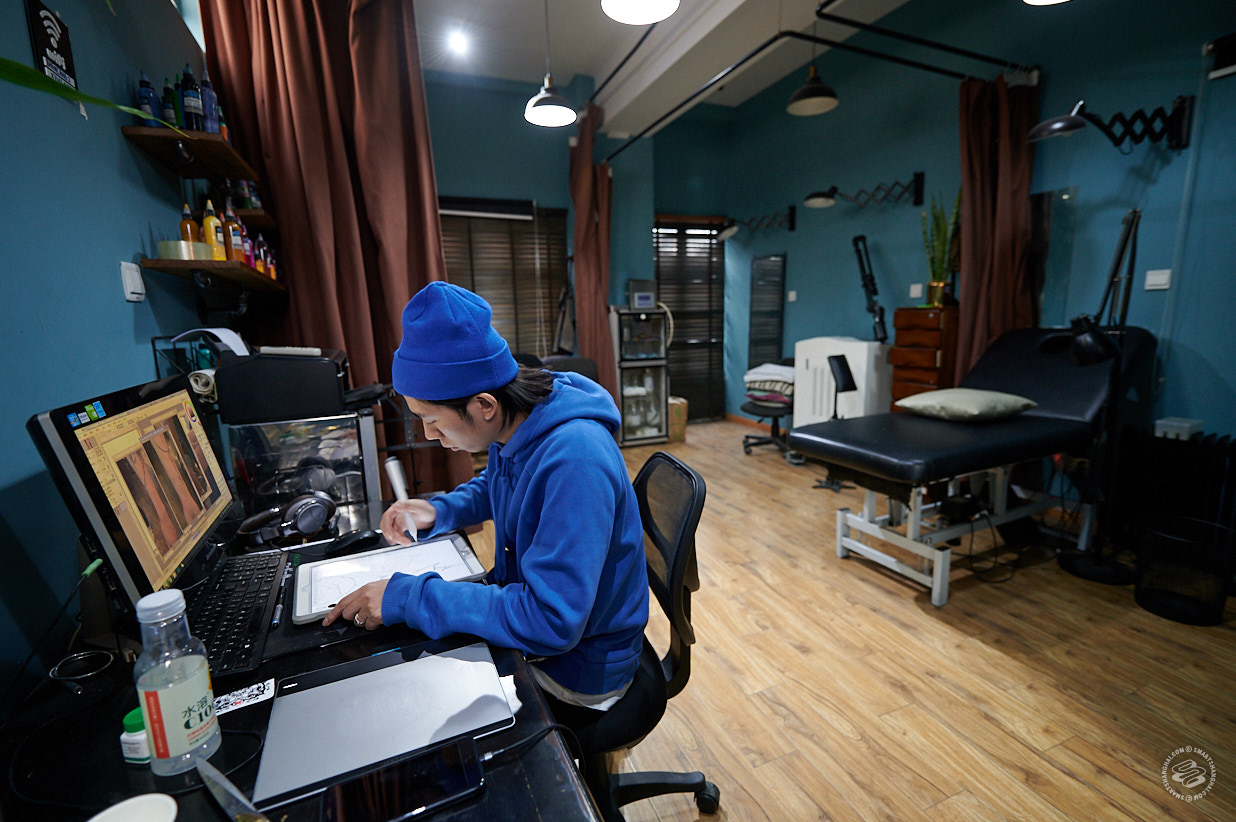 The parlor is adorned with Tibetan souvenirs, Oni masks, and withered-looking oddities. Like Shen Weiguo, Shao Gang is one of the most recognizable faces among the first generation of Chinese tattoo artists. He has been practicing since the early 1990s, traveling frequently to the US to study the techniques and attend conventions.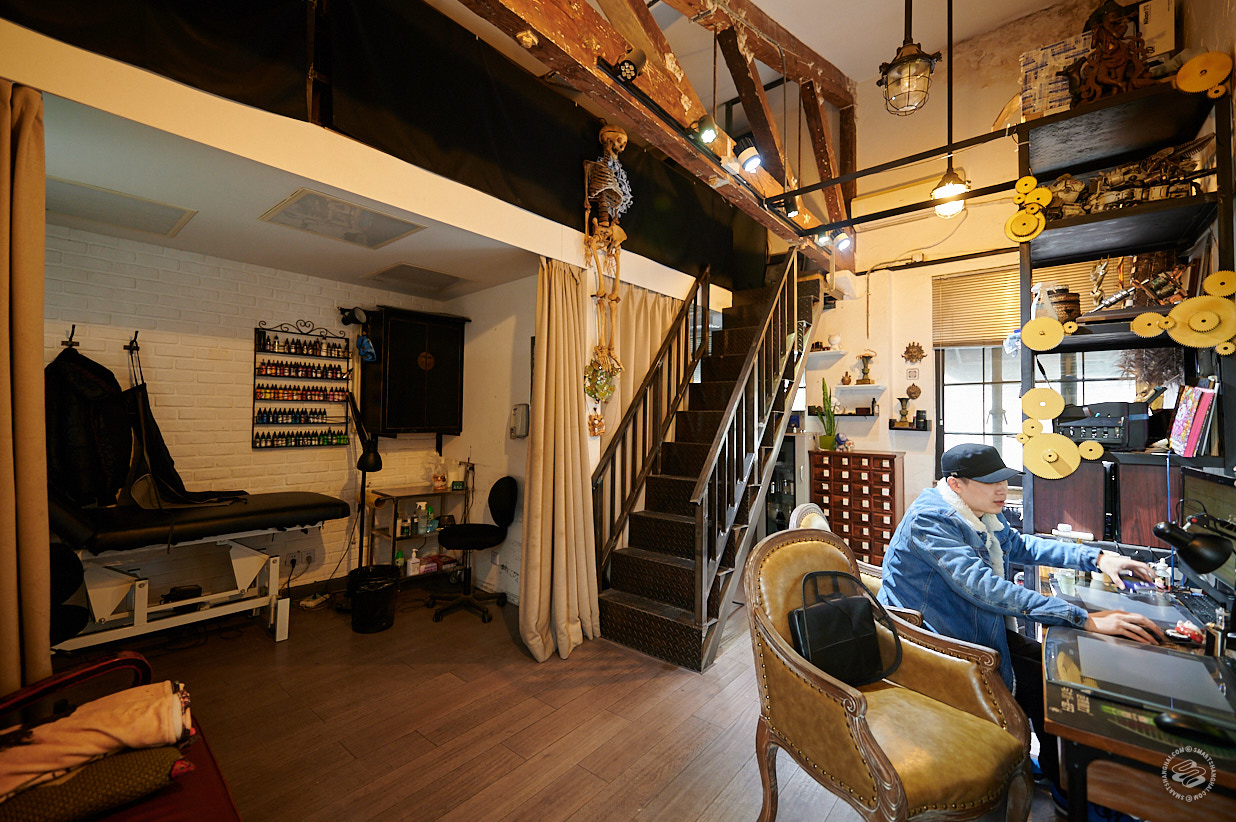 He has also collaborated with tattoo heavyweight Guy Aitchison, whose Biomech style has made a big impact on Shao's artistic style. Despite Shao's punk roots, he's not a fan of "horror" or imitating images but prefers lowbrow art with bright colors and complicated 3D art. Like Mark Ryden.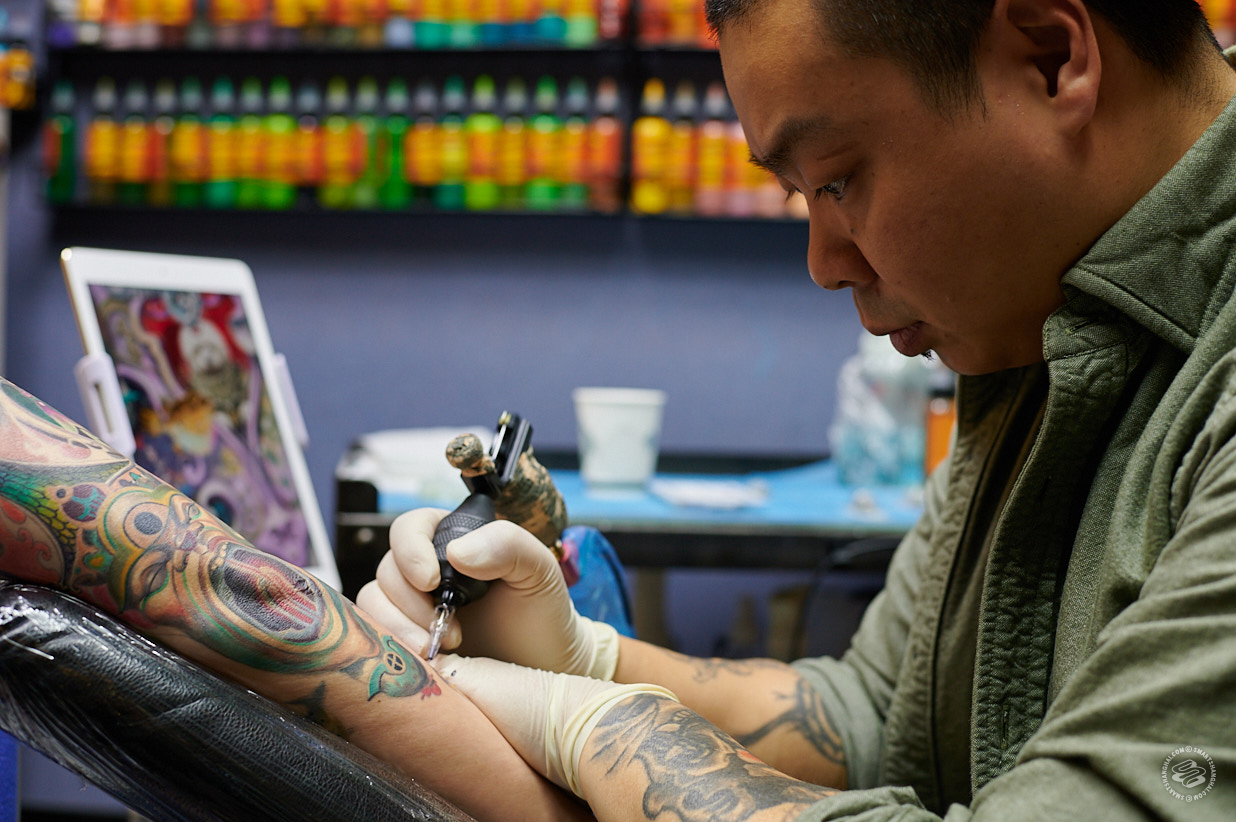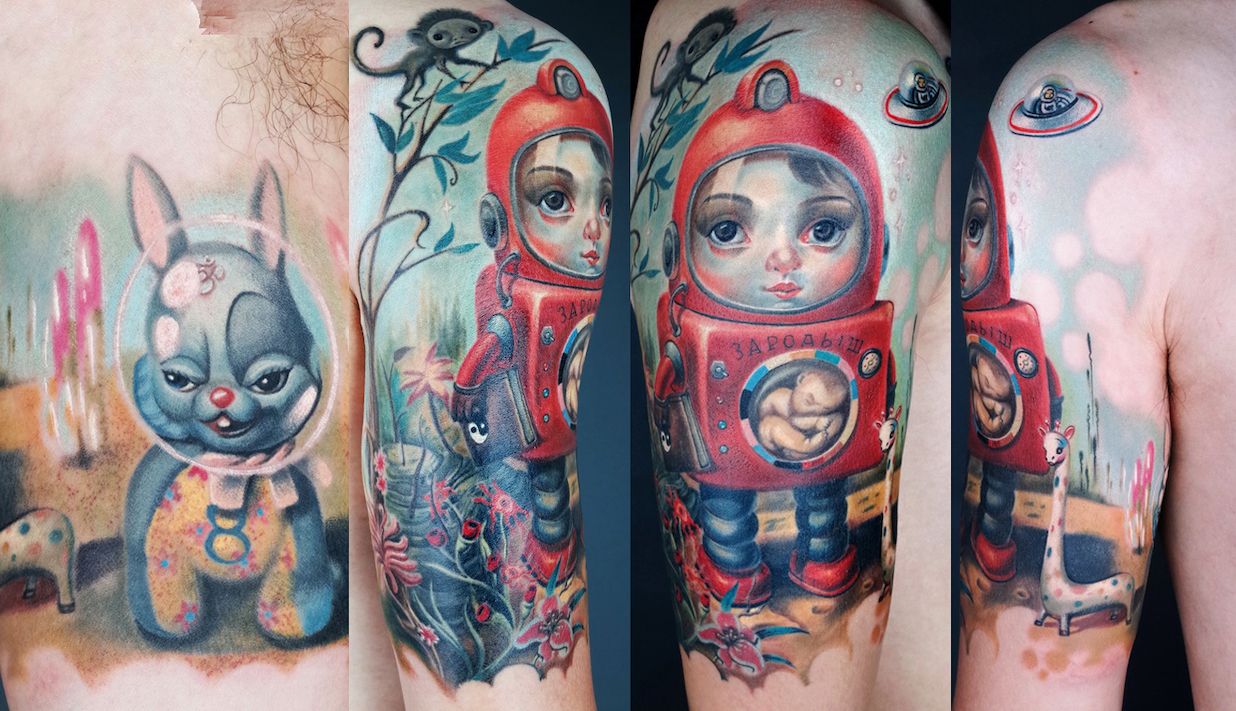 Artists here are encouraged to do original work, not flash art. One downside: Shao is booked up for the next two years. He charges by design and has a 10,000rmb minimum.



Boobies
No. 25, Lane 550 Shaanxi Nan Lu, near Shaoxing Lu View ListingTaxi Printout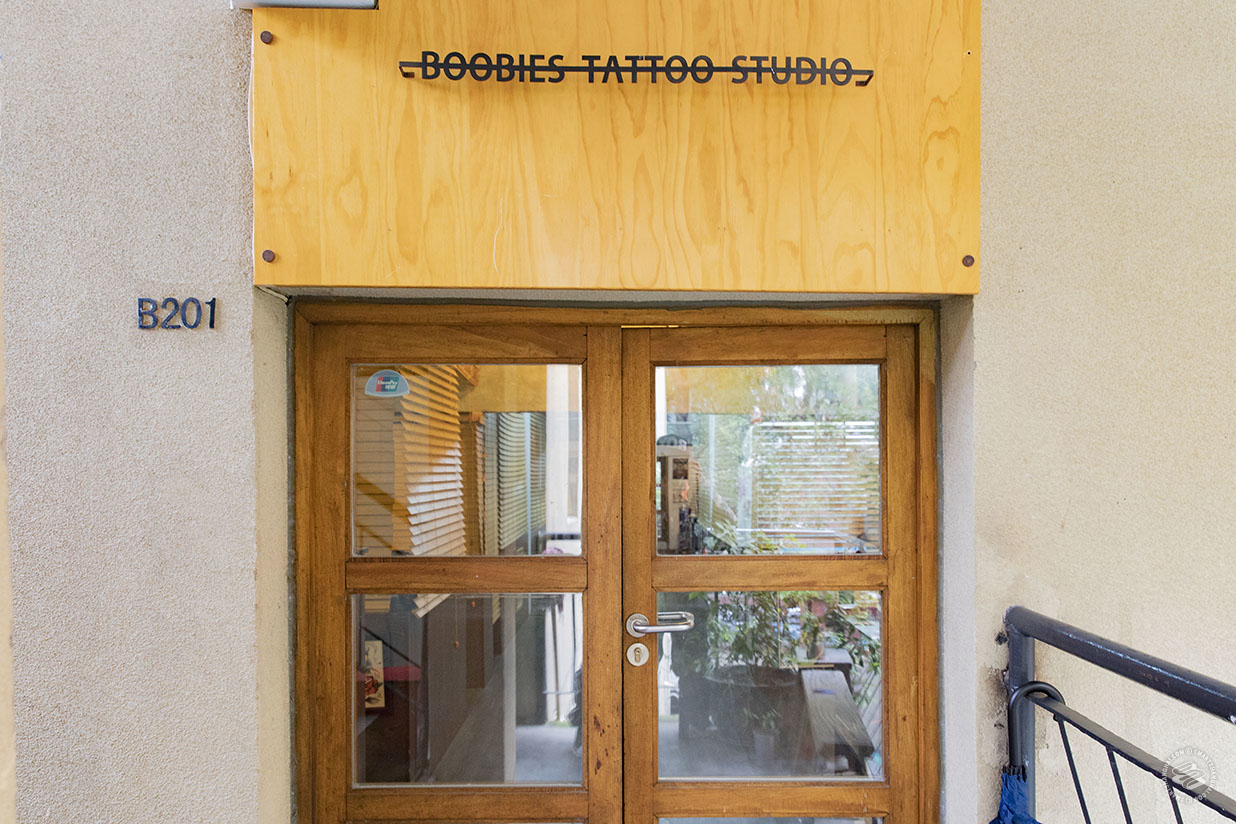 Main Artist: Ming

Rate: coin size 500rmb, CD size: 2,000rmb – 3,200rmb, larger sizes at 1,000rmb/hour

Instagram: boobiestattoo

WeChat: BoobiesTattooShanghai, Reservation: boobiestattoo



Not much has changed since we wrote about Boobies in 2011. People come here mostly through word of mouth, and are attracted by the strict Japanese hygiene standards. Lead artist is Ming, with occasional guest artists. Ming has been tattooing since 2006 and previously studied at Tin-Tin Tatouage in Paris. Ming is also among the earliest local tattooists that brought American Old School style tattoo to Shanghai. Compared with 2011, he said he's not following the rules as rigidly, but now creates "more freely and often takes inspiration from real-life subjects."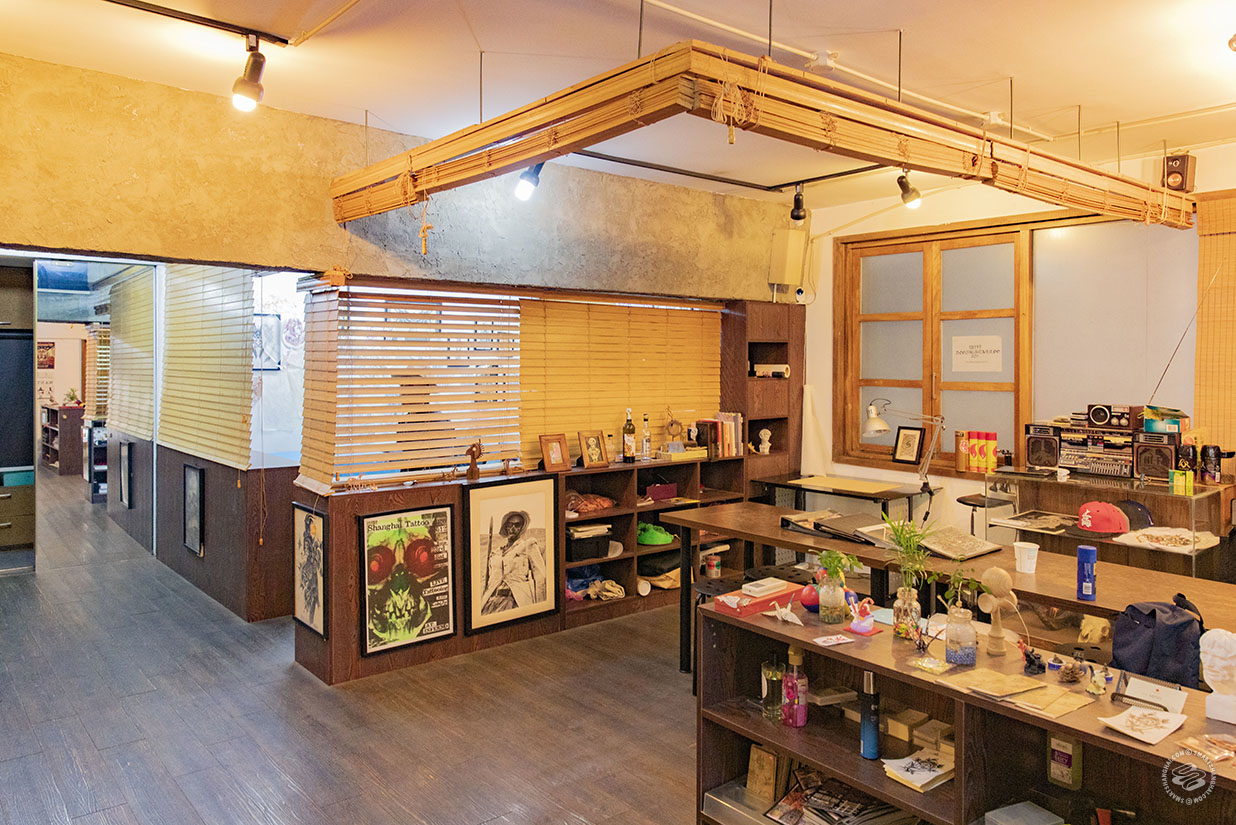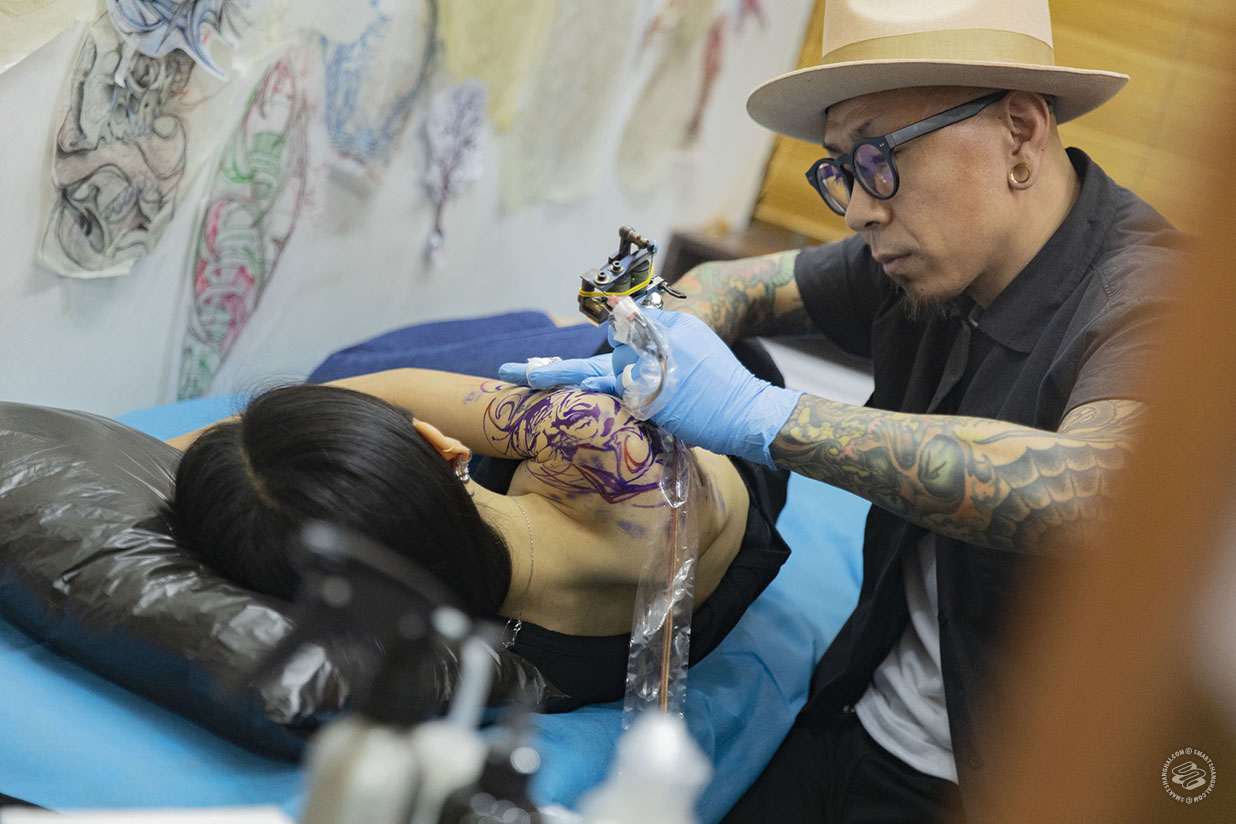 Boobies has a new younger brother: Zero Tattoo on Shaanxi Nan Lu. The main artist here in Ethan, who's known for traditional Japanese-style tattoos. Zero Tattoo has monthly guests, as well as a tattoo removal service (same rate as getting a tattoo).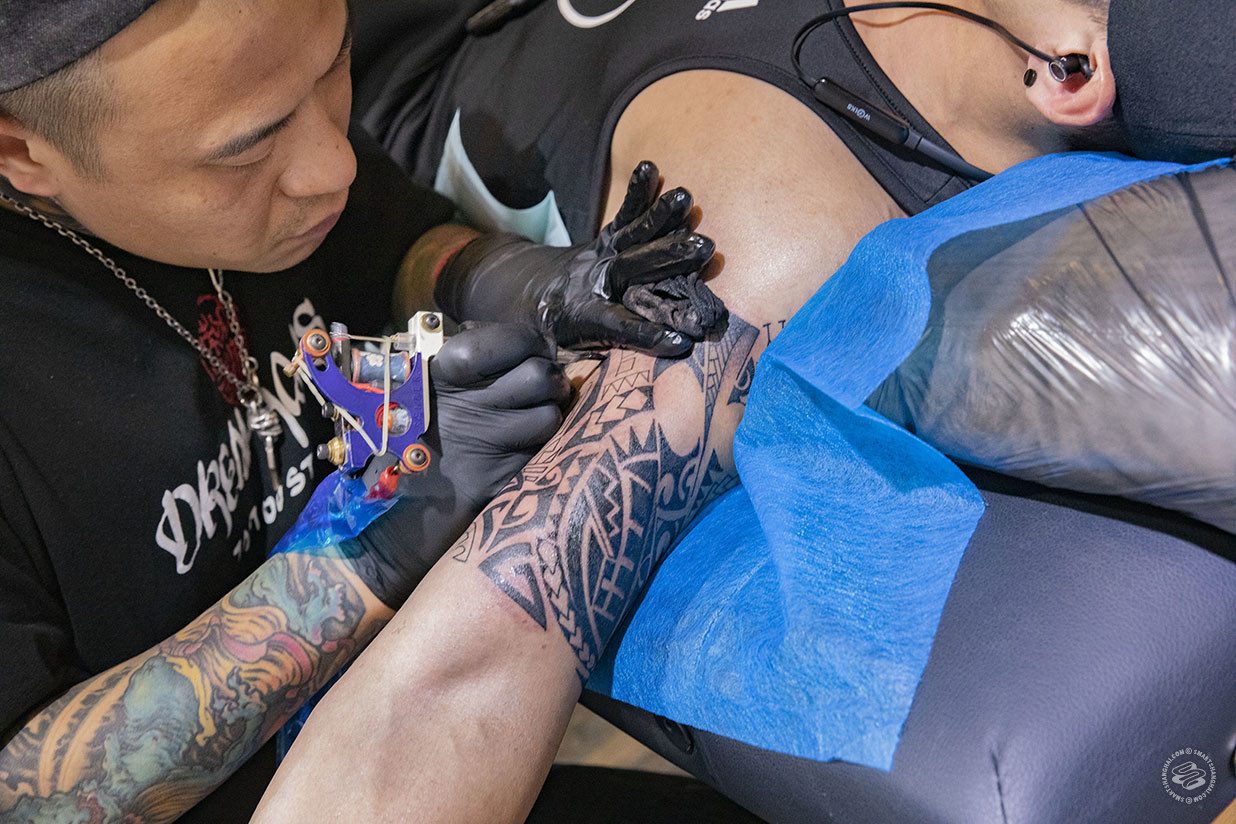 And also…



TZ Tattoo (天尊堂刺青), founded by Du Zewu (杜泽武) in 2000, is a place for traditional Chinese style tattoos, especially if you prefer a more realistic and colorful look. A 9cmx9cm size colored tattoo is 399rmb. Du is a consultant and judge for the China Tattoo Association. See his Weibo for work from his studio.



Yueyu (越域) has been around for 20 years and has three branches. When we visited their flagship store inside the West Bund Creative Park, the manager wasn't too keen on media exposure or pinning down their specialty. They are very transparent about their pricing however: 6cmx6cm size black work is 468rmb.



Yu Tattoo (御刺青) (@yu_tattoo_studio) on Zunyi Lu, right across the street from The Place, is a seven-year-old tattoo salon with a celebrity tattooist, Huang Wu (黄武). You might have seen their old location on Huaihai Zhong Lu. Huang is a regular guest and judge at local tattoo expos, known for neo-traditional Chinese style tattoos. His salon provides piercing, tattoo removal, and training. The rate is around 3,000rmb/hour, including design.



If you don't mind going a bit further, Cui Tattoo (文粹) in Hangzhou is another renowned tattoo studio in China. Founder Liu Wenlong (刘文龙) has been pushing traditional Chinese style forward for over a decade. Jeff Gogue is following him on his Instagram. Maybe you should, too.



For more American style black work and Old School tattoos, href="http://www.smartshanghai.com/venue/16836/sick_rose_yandang_lu" target="_blank">Sick Rose is worth checking out. Rates are more expensive than America, though.



The Young and Upcoming Shuimu Tattoo Studio (水木刺青)
222 Baoshan Lu, near Qiujiang Lu View ListingTaxi Printout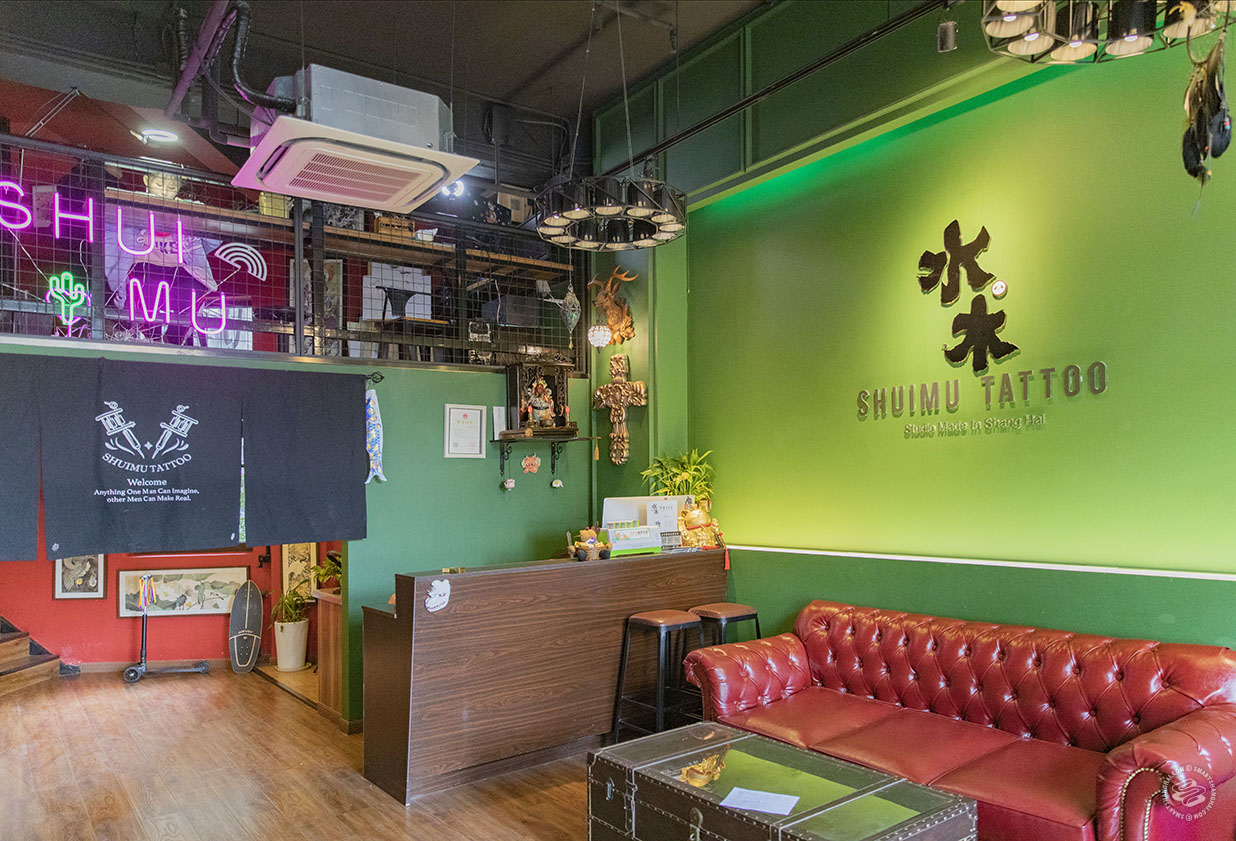 Main Artist: Wen Bin (文斌)

Rate: 500rmb minimum, A4: 150rmb/cm - 250rmb/cm; Larger than A4: 1,000rmb – 1,500rmb/ hour

WeChat: 上海水木刺; Reservation: mizuki-tattoo



Shuimu Tattoo started in 2014 on Huaihai Lu but is now a few minutes walk from the Baoshan Lu metro station. It has six artists, specializing in color realism, Old School, and traditional Chinese tattoos.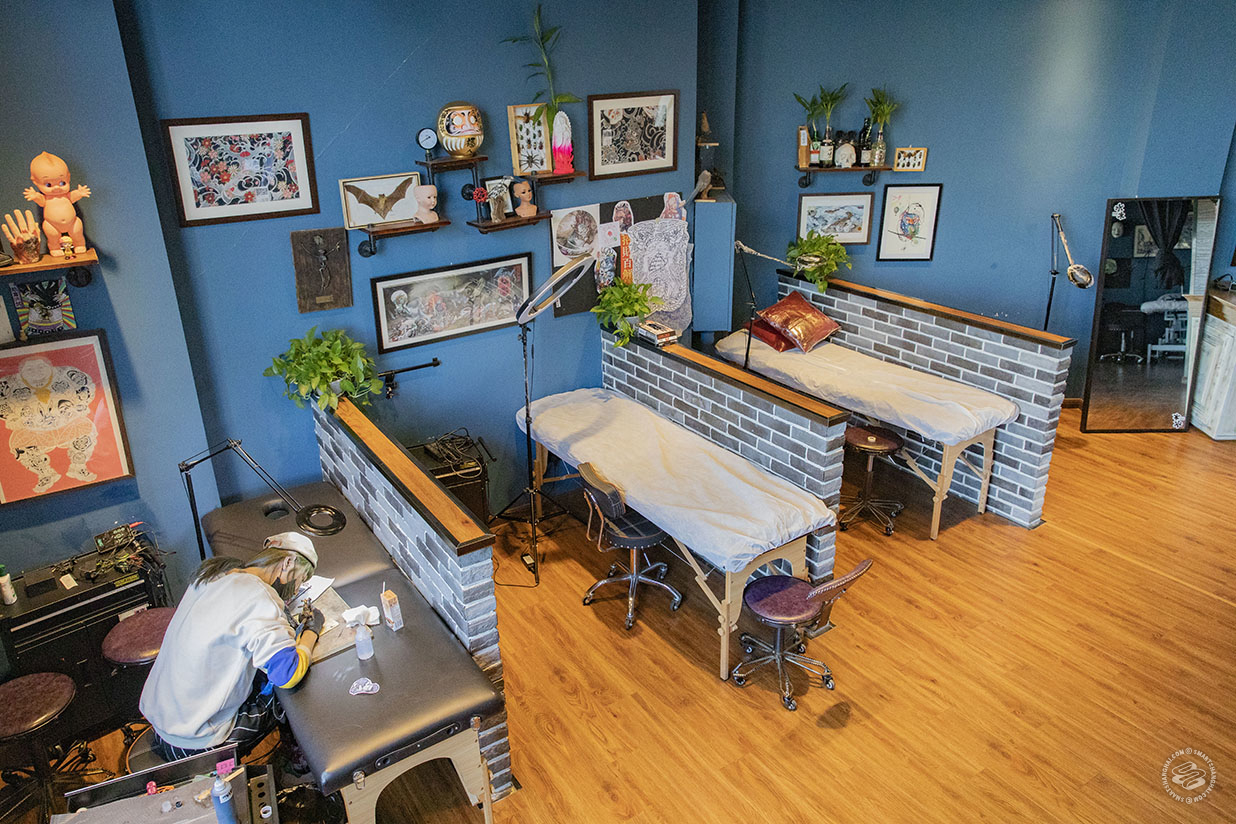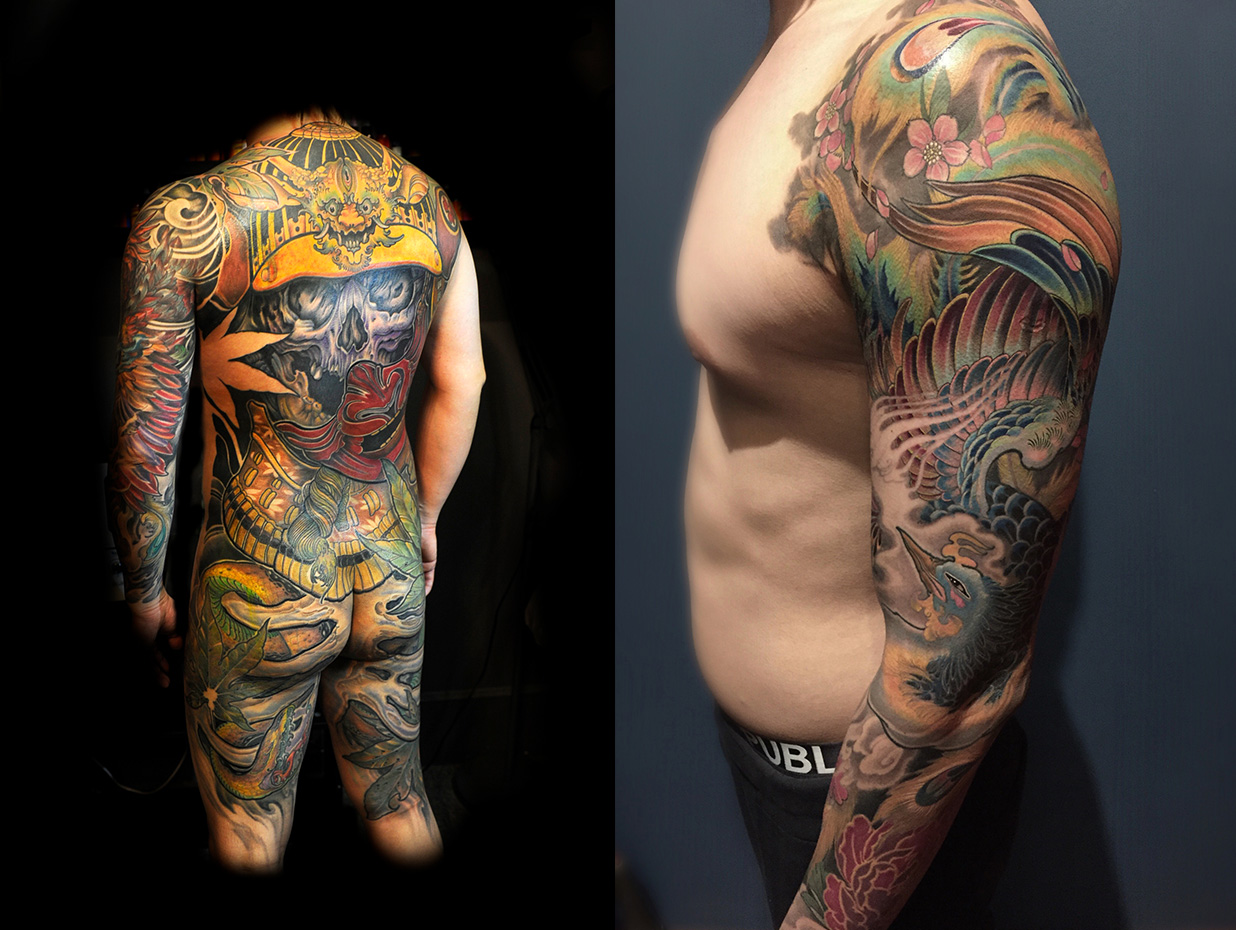 The main tattoo artist here is Wen Bin (Instagram), a self-taught artist with an engineering background. Although covered in tattoos, he's very soft spoken and humble. Wen has about seven years of professional experience and focuses mainly on traditional Chinese and New School styles. On our visit, we also chatted with young artist Yang Cha (羊叉), an ex-punk who's been developing an unconventional style: blending red-black Old School and traditional Chinese together, with local pop culture references.



I-TATTOO
232 Panyu Lu, near Xinhua Lu View ListingTaxi Printout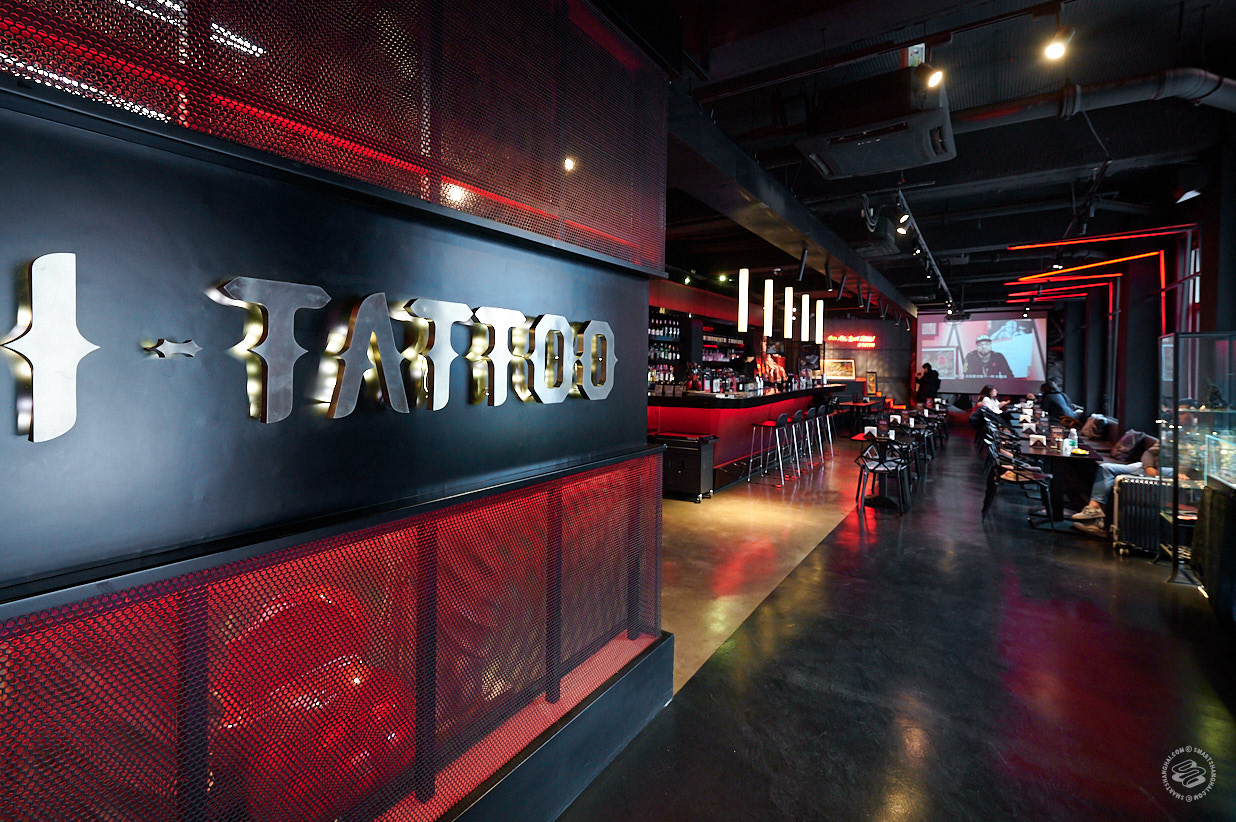 Main Artist: Rou Zhu (肉诸), Mu Genzi (木艮子)

Rate: 5cmx5cm 268rmb, 800rmb minimum per hour rate; piercing: 89rmb (on Dianping)

WeChat: TETUREN



I-TATTOO is big. They have 12 artists in residence plus international guests. The place also has a bistro, a shop, a classroom, and more importantly, for me, a dedicated room for sterilization. It's the full lifestyle experience. You grab a 128rmb foie gras hamburger, shop for a Supreme sweater, stare at the carefully designed tattoo artist bios for a bit, get a tattoo (or a piercing), and then take your tattoo needle away (in a test tube) as a souvenir.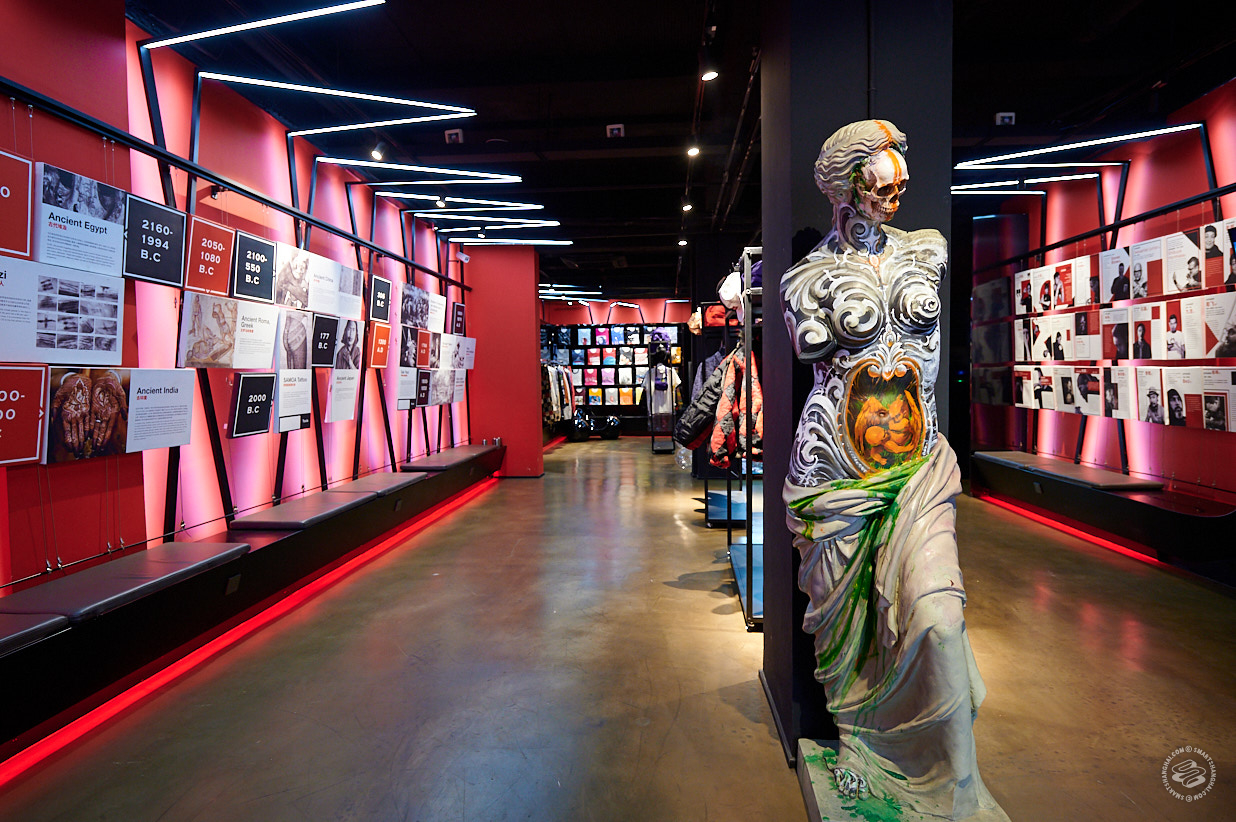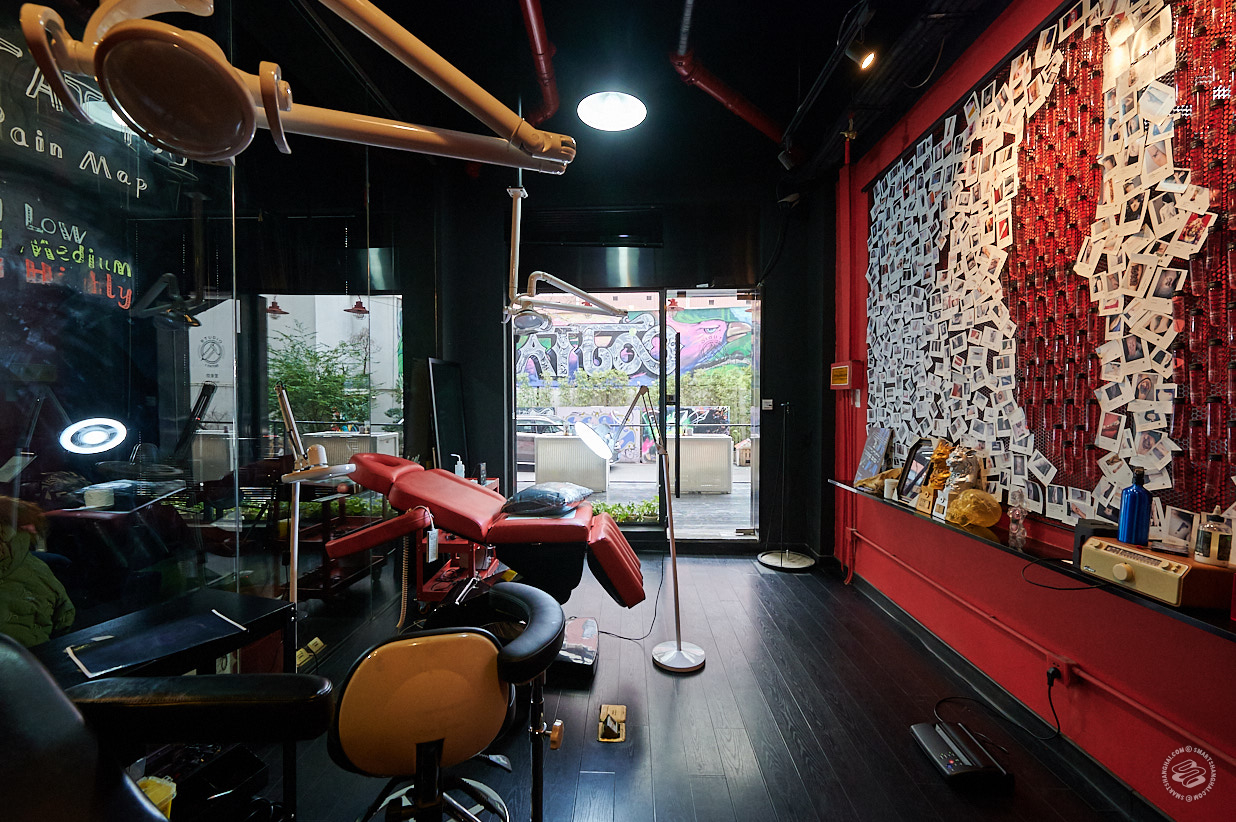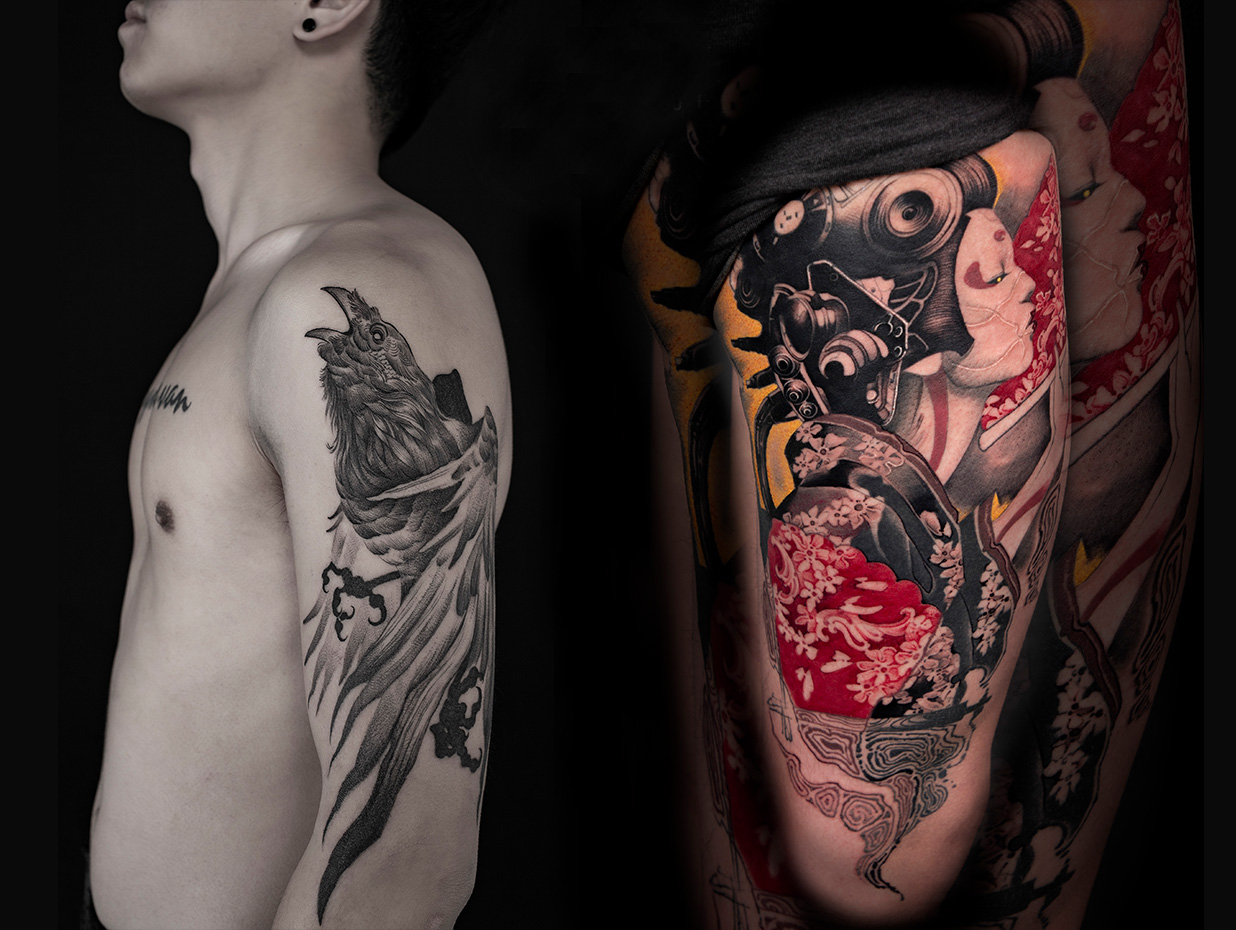 Originally from Chengdu, I-TATTOO came to Shanghai in 2014 and moved to Panyu Lu in 2017 with a mission to promote tattoo culture through a range of training classes. The tattoo artists here are young and eccentric. Mu Genzi, a tattoo artist who doesn't have any tattoos, displays incredible dotwork skills with his realistic, occult-themed work. Rou Zhu, one of the most beloved tattoo artists here, was born in 1995. He's said to be good at "all kinds of styles" and created a unique tattoo language: a hybrid of Old School and abstract. His rate is 1,800rmb/ hour.

This is a place for show life about china, If these articles help you life better in china, Welcome to share this website to your friends, Or you can post questions about china life in FAQ, We will help you to find the right answer.