We're a couple days late for Record Store Day, but better late than never! Here are some places to dive into crates for black discs that are way, way bigger than CDs. Not an exhaustive list by any means, just a couple of downtown spots to get you started.
Uptown Record Store
115 Pingwu Lu, near Xingfu Lu View ListingTaxi Printout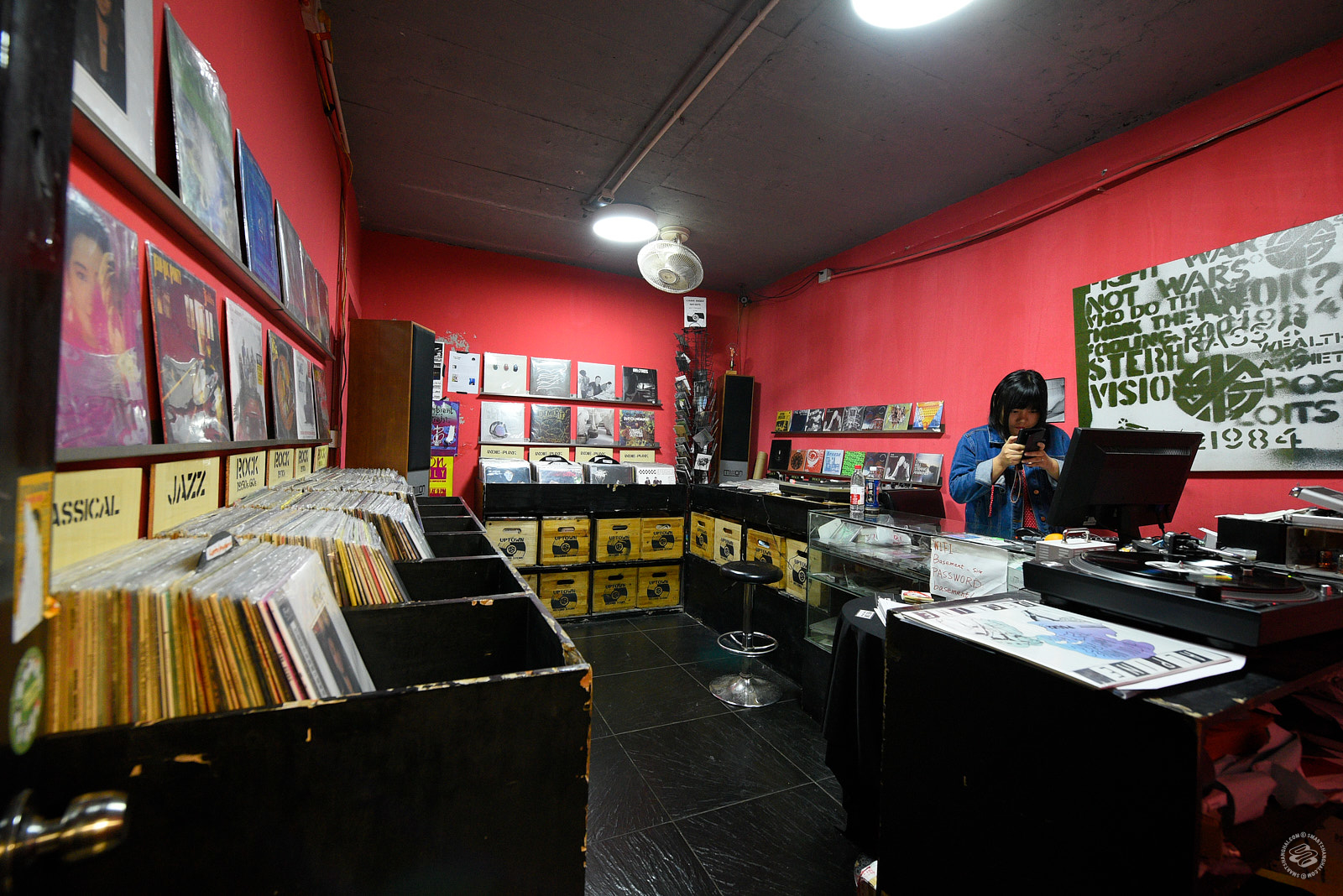 Opening Hours: Daily, 2-8pm
Uptown Record Store (sometimes called Uptown Basement) is a record store in Shanghai, dealing in vinyl, vinyl, vinyl from all genres and from all over the place: rock, punk 7", indie rock, dubstep, house, techno, reggae, and more. It's been around since like 2011: if you're into vinyl, you've probably already been, if you haven't, you should go after you read this. Their map of record shops in Shanghai is a good first resource for vinyl fiends (most of them are on this list). The owners, Sacco and Sophia, do a fair bit of crate-digging themselves overseas, and occasionally *cough* bring back a record or two. It also doubles as a vintage fashion store.
Uptown RnB
131 Yongfu Lu, near Fuxing Lu View ListingTaxi Printout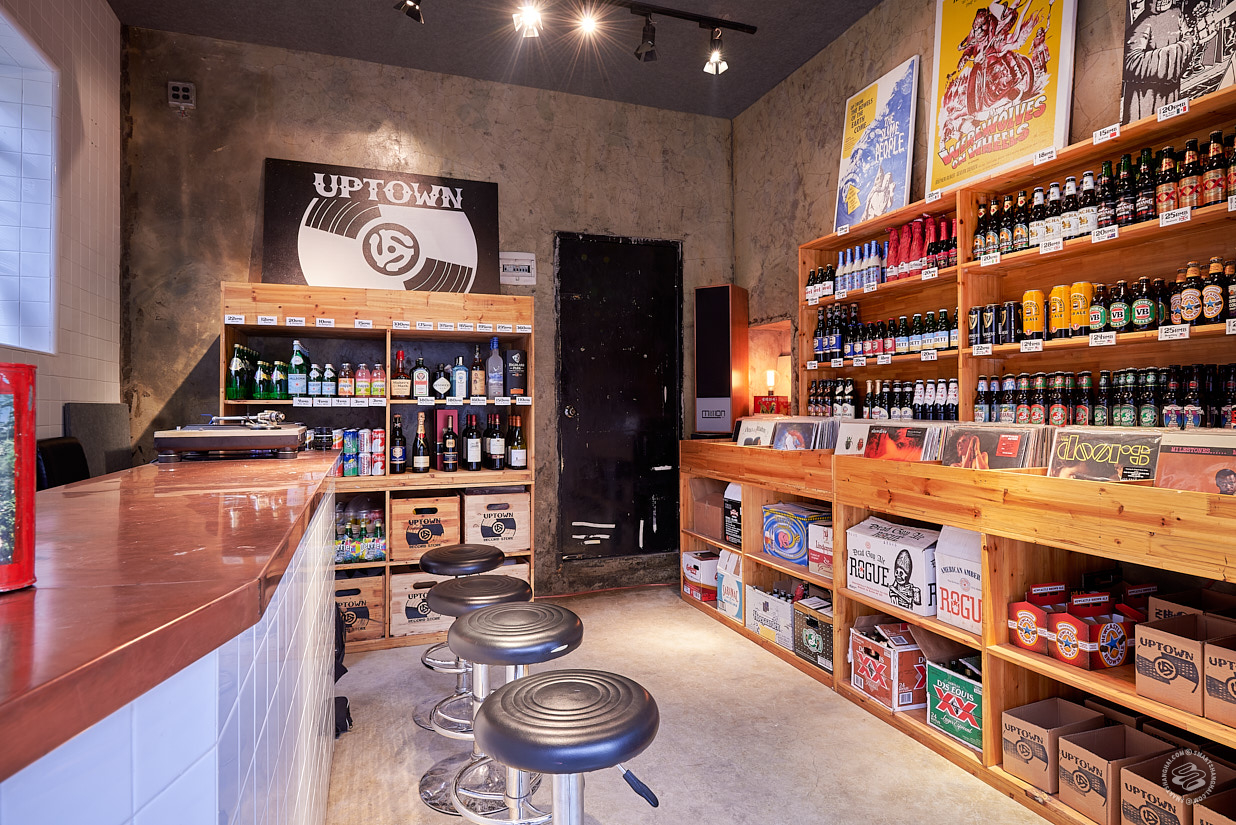 Opening Hours: Daily, 3-11pm
Uptown Records n'Beer is the bodega version. Only a single wall dedicated to shelves and crates means the selection is a little smaller, but they have a turntable on the countertop hooked up to some vintage speakers. If you ask nicely, they'll play any record in the shop for you, so long as it isn't new and unopened. It also doubles as a bottle shop: Brooklyn, Rogue, Boddingtons, and other standards. It's tiny. Room for about 8–10 people: more a place to hang out, but also worth sticking your head in. Dog-friendly, too!
Daily Vinyl
Wanping Nan Lu, near Xietu Lu View ListingTaxi Printout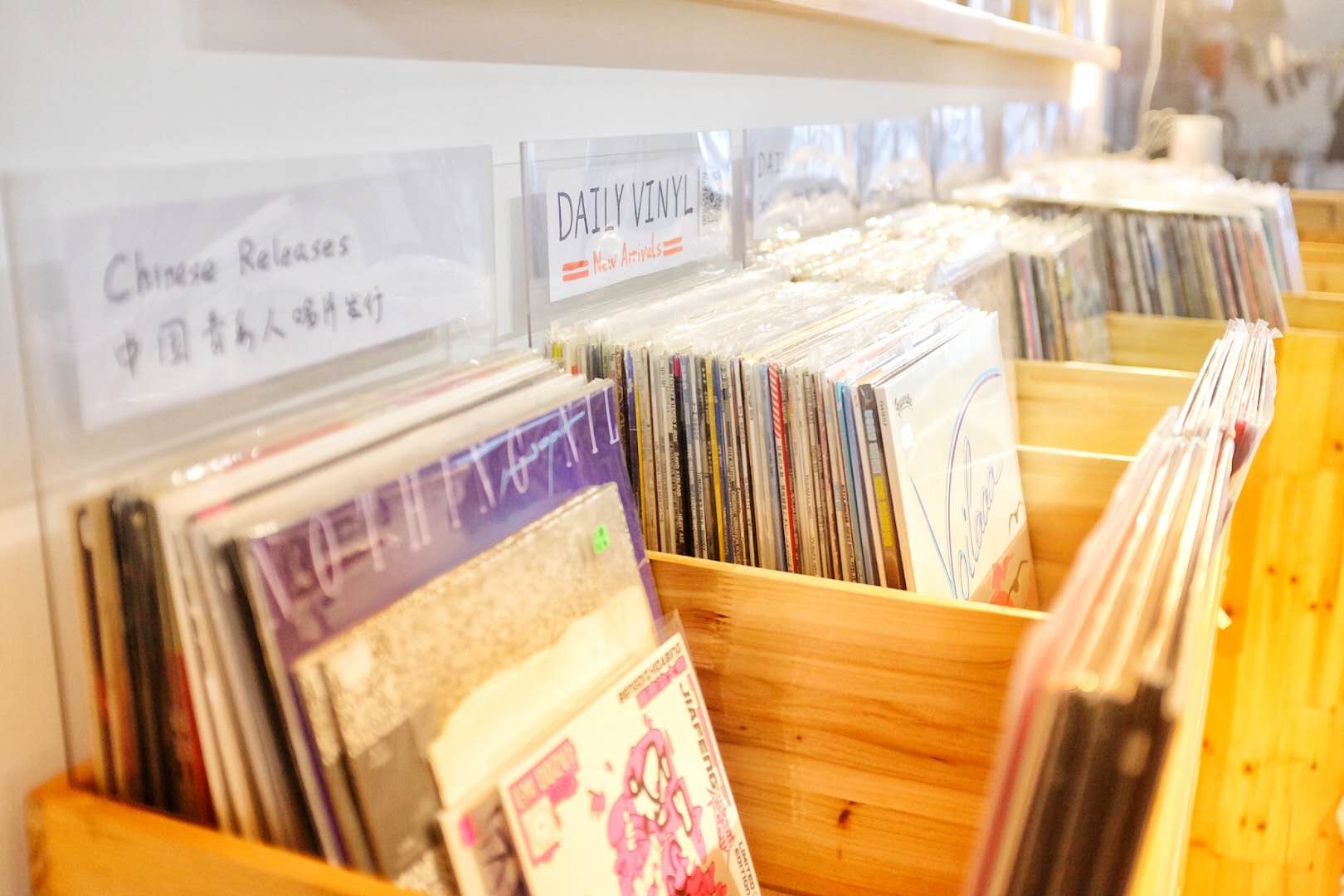 Photo by Tina Yu
Opening Hours: By appointment only
Actually a vinyl-shop-slash guesthouse, it's run by a couple of locals fighting the good fight for obscure music coming out of Asia and beyond. The original was on Dagu Lu, but since September '18, they've been here, somewhere on Wanping Nan Lu. Why the secrecy? Because that makes it hip, maaaan. They don't really accept drop-ins (it'd mess with anyone living in the guest house), but you can call ahead anytime between Mon-Sat, 2-7pm, and have a good thorough browse. They deal in hip hop, soul, funk, disco, "world music", and ambient music from the '50s and '60s on up. It's curated, too: everything in here is liable to be personally recommended. In particular, they've got lots of Chinese and Japanese releases.
Sound Town Record Store
Shimao Festival City, L2/F, 829 Nanjing Dong Lu, near X... View ListingTaxi Printout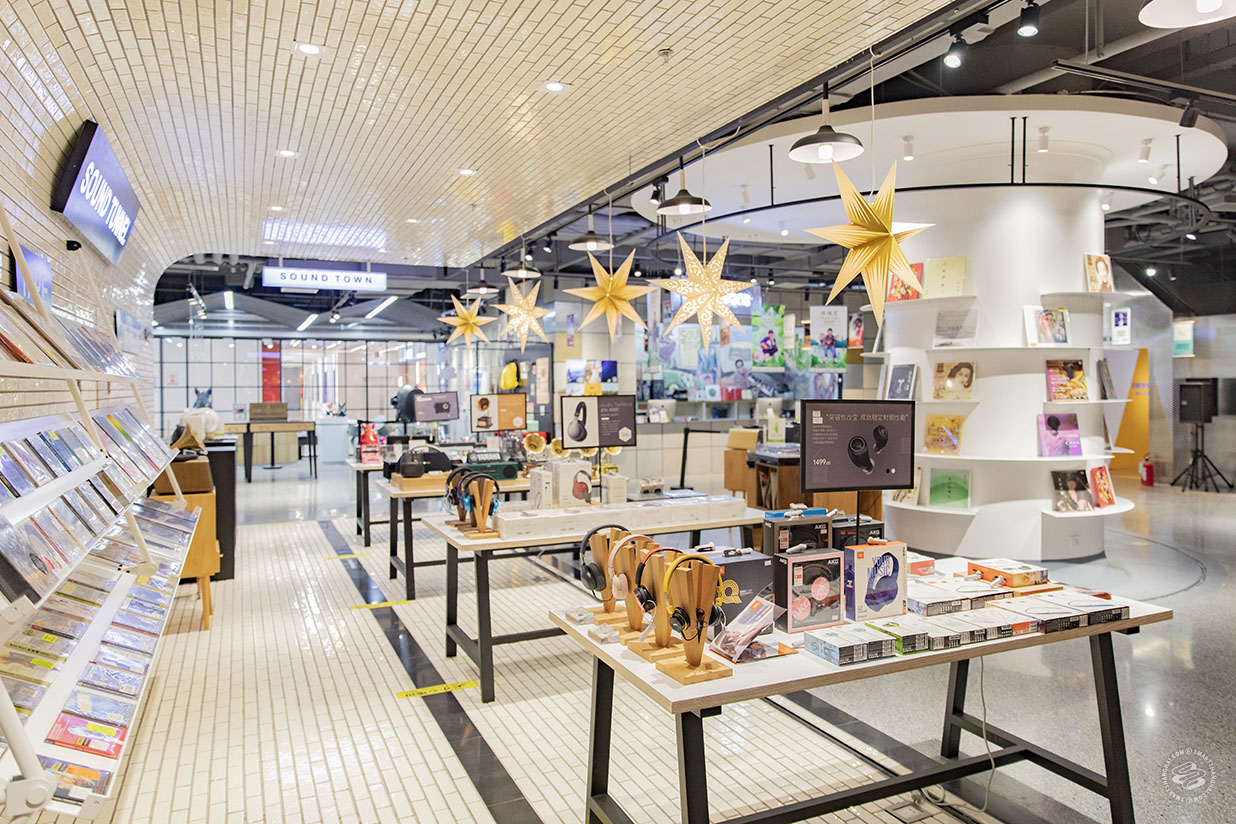 Opening Hours: Daily, 10am-10pm
So corporate, man! Sound Town is exactly that, a small town dedicated to sound on the second floor of Shimao Festival City. Loads of cool headphones and sound systems: Bose, Bang & Olufsen, Sennheiser and Beats all make an appearance. Tucked away in the corner is their "Vinyl Factory" – a small room with a sofa, somewhere between 500-800 records, and a player. 50% is classical and Chinese opera, and the remainder is Mando-pop and Western rock music. Couple of movie soundtracks. Rolling Stones, Patti Smith and Beach Boys for 268rmb and Pink Floyd's "The Wall" for 398rmb. Pretty much zero hip-hop, RnB, jazz or electronica on vinyl (there is a big selection of CDs, I guess).
Guanghai Book Company
No.1 Department Store, 8/F, 830 Nanjing Dong Lu, near X... View ListingTaxi Printout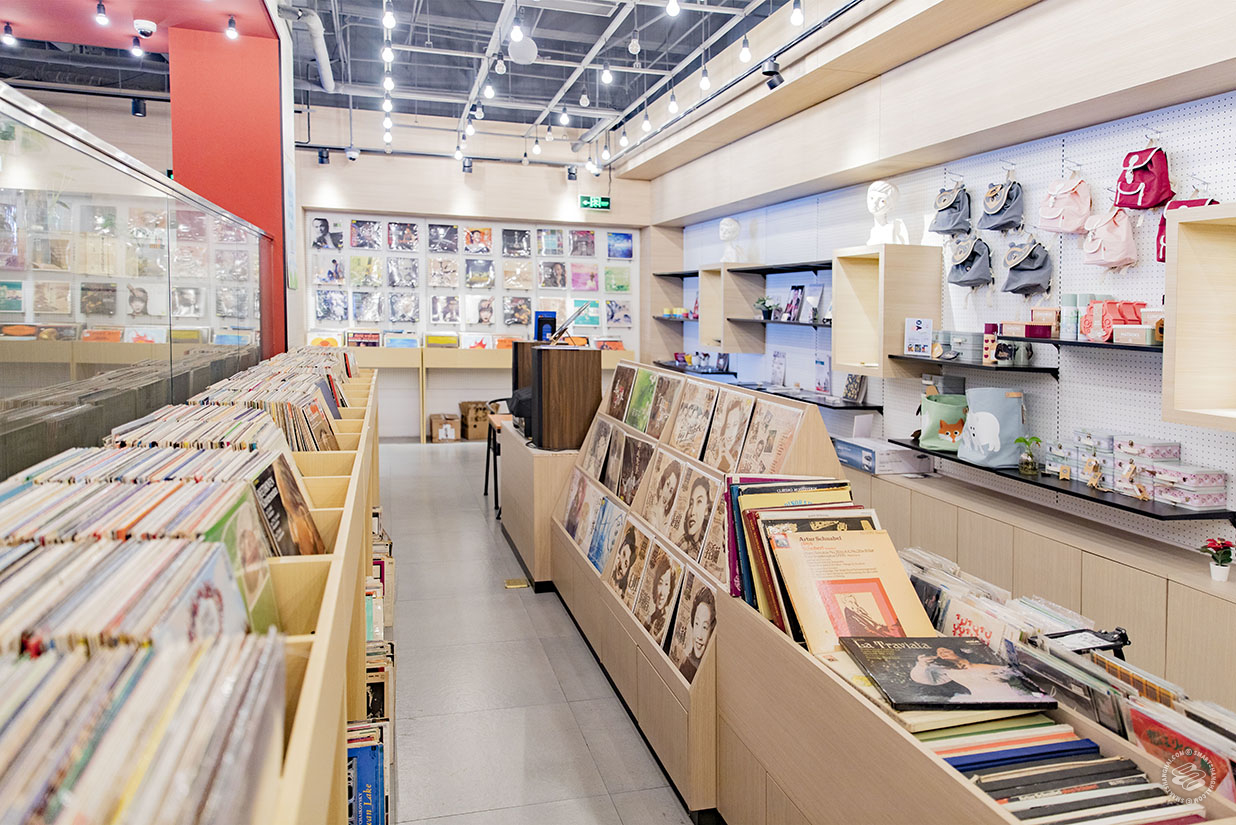 Opening Hours: Daily, 9.30am-10pm
An artsy bookstore with a sizeable collection of vinyl records. Mostly classical: Mozart, Bach, Beethoven, Brahms and Chopin, going for 100-200rmb+, and an intriguing selection of 40s and 50s Mando-pop from Zhou Xuan, Li Xianglan and Yao Li. They're either 158rmb or 265rmb, depending on how successful/well-known the singer was. Other than that, there's the odd jazz record, three copies of Jamie T's "Chaka Demus," and some obscure 90s RnB. A good spot to go digging if you're into classical and digging for obscure samples, but sadly no classic rock music: zero Zeppelin, Hendrix or Sabbath, and diddly squat in the way of electronic.
Deer Music Vinyl Store
1/F, No.30, Lane 222 Panyu Lu, near Fahuazhen Lu View ListingTaxi Printout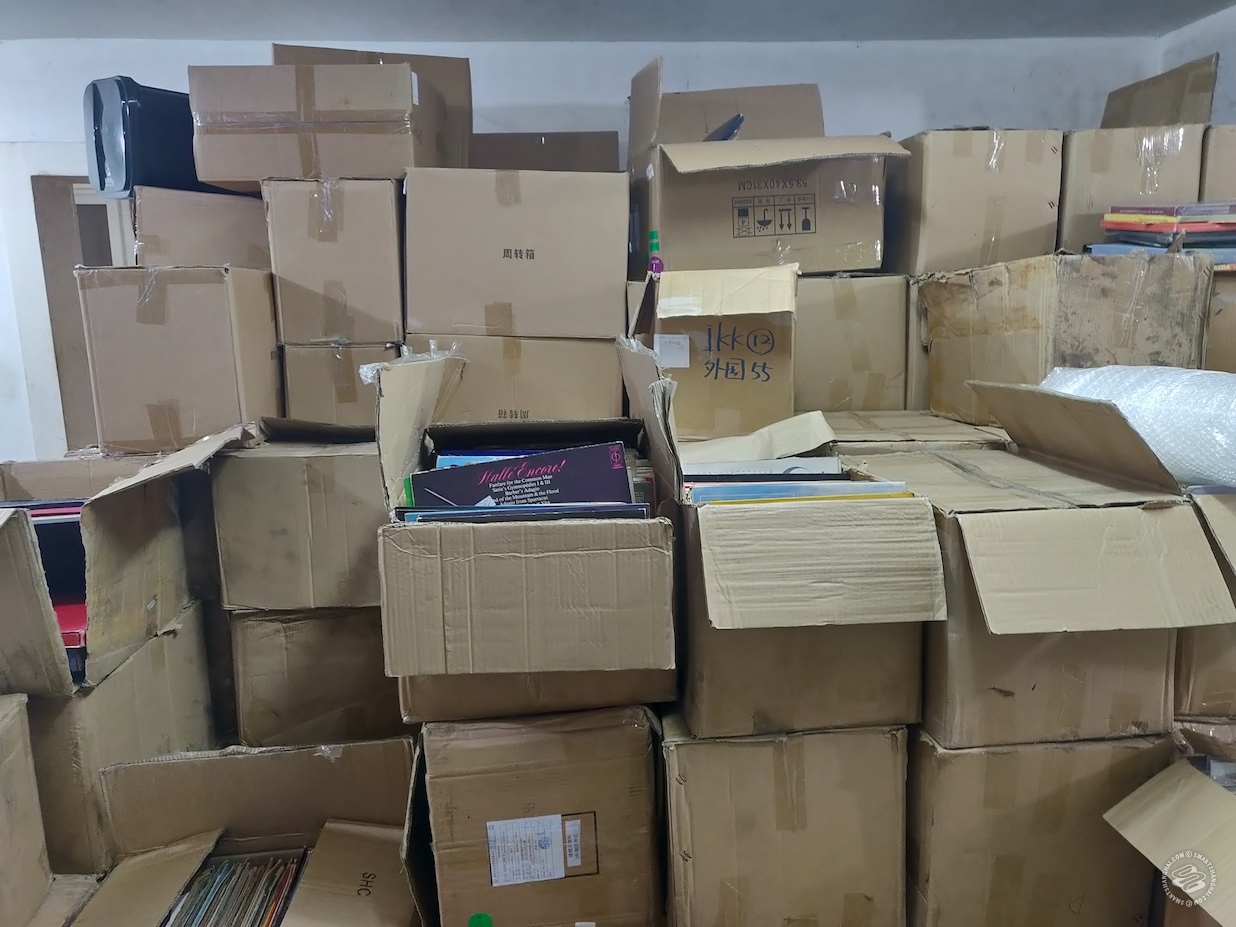 Opening Hours: Daily, 10.30am-6pm
Deer Music (or Xiaolu in Chinese) occupies a ground-floor apartment in an unremarkable apartment block off Panyu Lu. All three fluorescent-lit rooms are packed with cardboard boxes containing an unsorted dumpster heap of vinyl. 80% of the selection is inaccessible unless you risk life and limb by moving things around. On the surface are odd 60s Christmas and Broadway collections, classical compilations, jazz, funk, a little hip-hop, a lot of 80s pop. Mostly second-hand, imported stuff: prices start at 30ish and go up to 200rmb for newer releases. This is a spot for crate diggers who enjoy getting their hands grimy.
The Melting Pot
673 Yongjia Lu, near Anting Lu View ListingTaxi Printout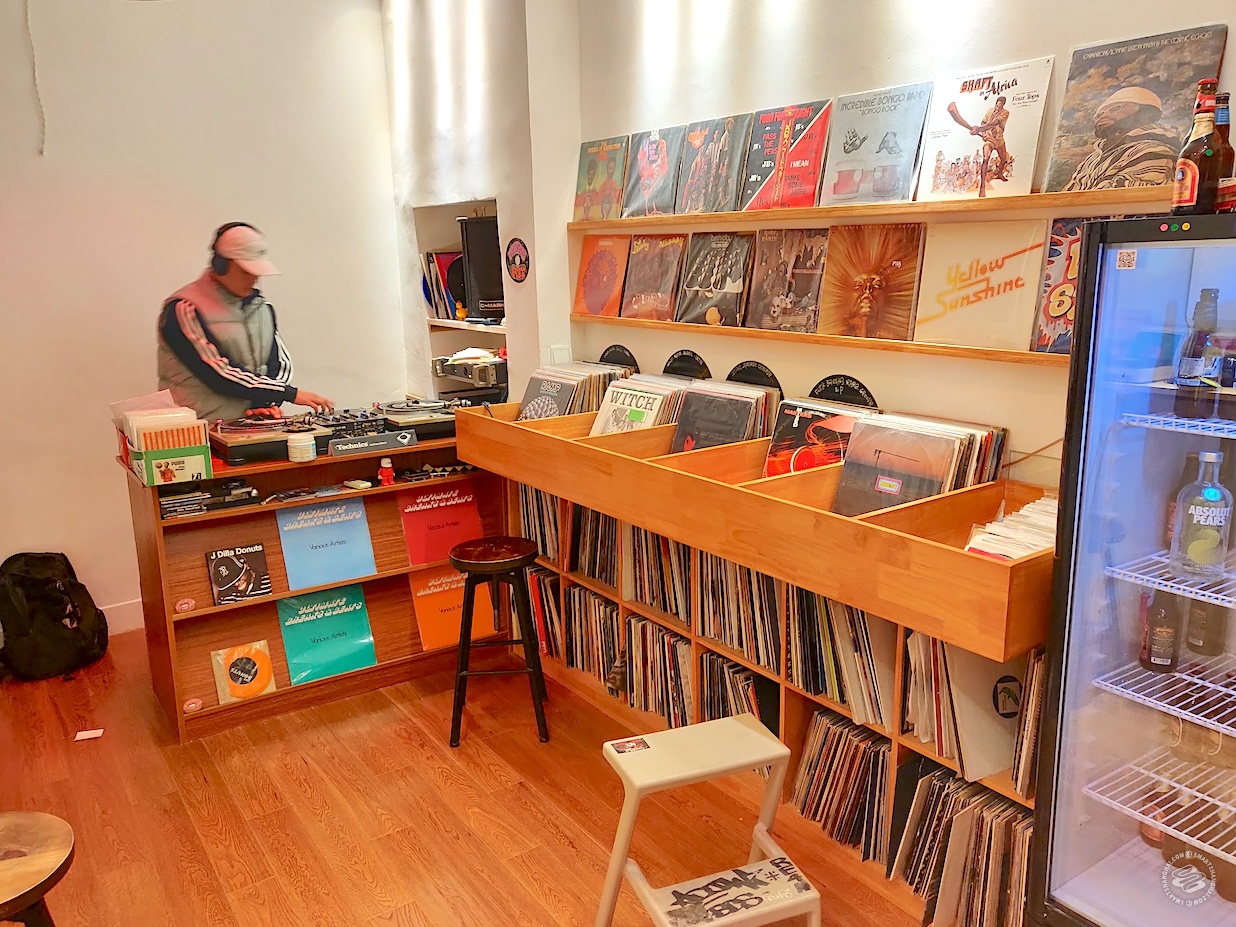 Opening Hours: Daily, 4-10pm
This little street-front shop is only slightly bigger than RnB, but shares the same idea: crates, bottle fridge, and an open turntable. It also isn't technically open until sometime at the end of this month, but you can still walk in. It has a wall with crates and shelves stocking a modest selection of mostly 7" African, Brazilian, and Latin jazz, funk, soul and disco. EPs go for like 20rmb, the rest are 50-300rmb, mostly from other record stores. It's run by a breakdancer who recently got into DJing, and you can often catch him on the turntables practicing. It's as much a place to chill and jam as it is an actual record store, and he's happy to let someone else have a try on the decks. Entrance is via the wooden door immediately to the left of the window.
Vinyl Villa
No. 16, Lane 818 Changshou Lu, near Anyuan Lu View ListingTaxi Printout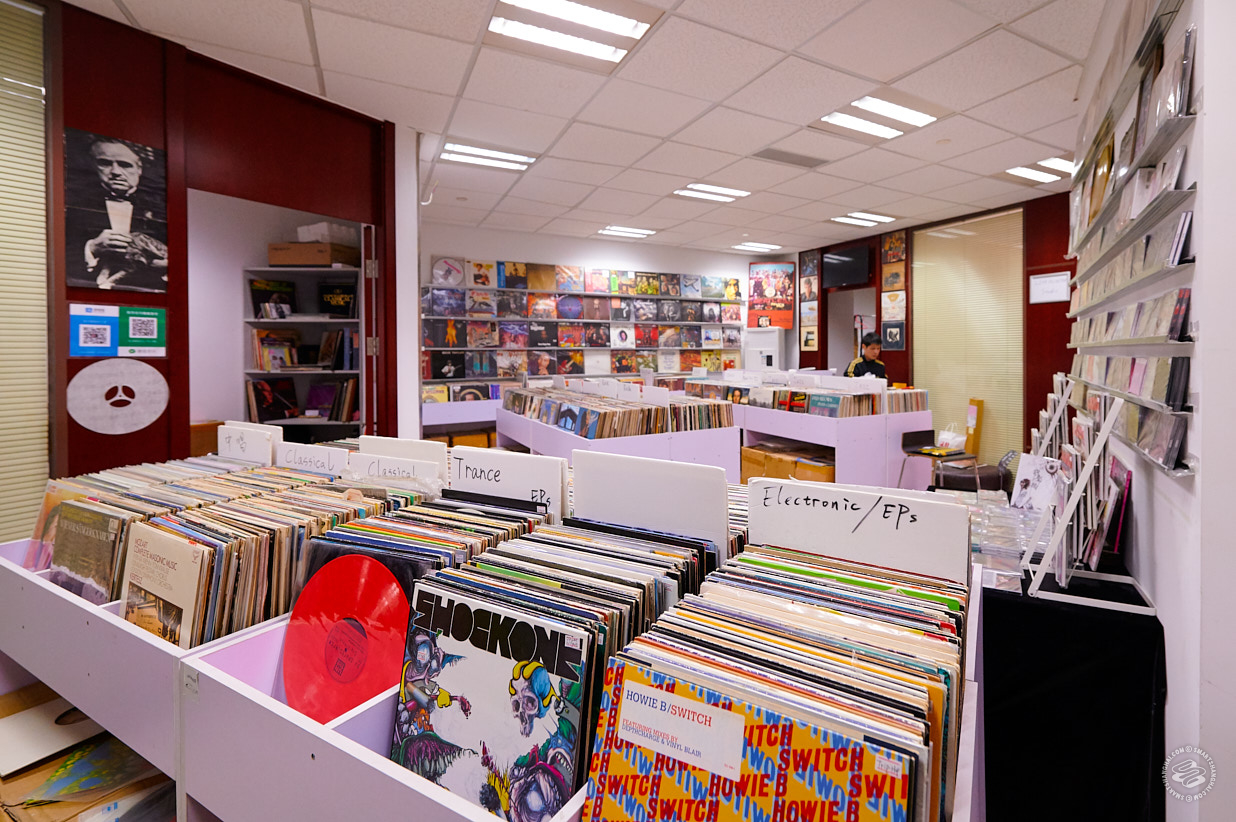 Opening Hours: Daily, 10am-6pm
Vinyl Villa's the oldest store around, opening in 2005. Located on the second floor of an apartment block, the owner says he's been in the biz for 20 years, amassing something like 30,000 vinyl records. Wide range of genres, with crates dedicated to trance, electronica, jazz, rock and rap including some traditional Chinese records, but you'll have to put in the effort to find the good stuff. Big percentage of it is second-hand. They buy a lot of close out records, and they sell at decent prices too: 60-70rmb for classics, 120-220rmb for new ones.
Honorable Mention
isn't really a record store, but it's good place to get record players, needles, speakers and receivers, without which vinyls are just very large coasters.
This is a place for show life about china, If these articles help you life better in china, Welcome to share this website to your friends, Or you can post questions about china life in FAQ, We will help you to find the right answer.