Cash, card, app. There's a lot of ways to ride the metro or the bus these days. Add to that: Apple Pay. Even though not as many people use it in mainland China as Apple might like (estimated at about 3% of iPhone users — trombone fail noise), its few fans are loyal. If you're among them, but don't know how to link ApplePay and the Shanghai Metro network just yet, this is for you.
When it comes to general money moving, Alibaba and Tencent are far superior. But to use the metro with Alipay isn't as easy as it could be, and you need a separate app (Metro Da Du Hui). Da Du Hui can't even be linked with WeChat, so in 2018 Apple Pay seized its opportunity and partnered up with UnionPay and the Shanghai and Beijing public transport systems, cutting down on the number of apps needed to ride the bus or subway in these cities.
Unfortunately, the partnership with UnionPay means that you will not be able to set this up with an international credit or debit card like VISA, Mastercard or American Express, effectively putting this off limits for tourists and short-term visitors who don't have a Chinese bank account.
The Set Up
First things first, you'll need an iPhone 6, 6 Plus, or newer, with iOS 11.3 or later installed. Set your region to mainland China. There is an app already installed for Apple Pay wallet on most iPhones' home page. Otherwise, find it in Settings.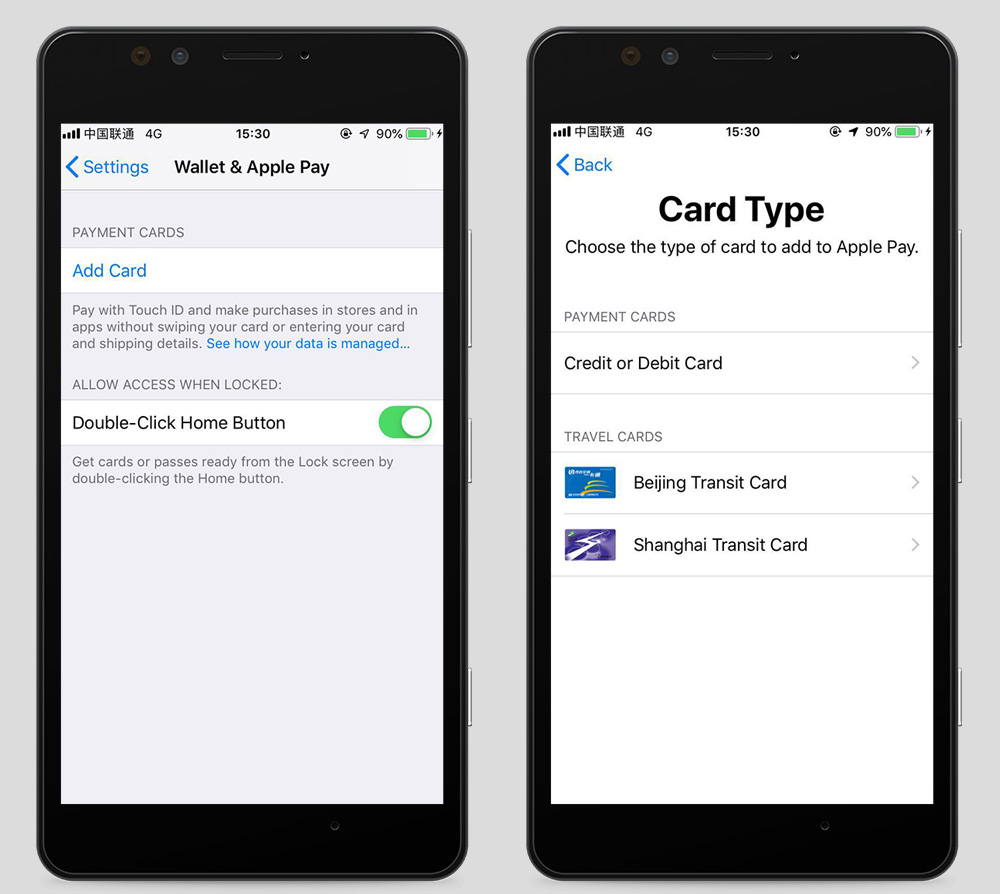 Next, register a credit or debit card. Only UnionPay cards work , so if you don't have one of these, stop reading now and go set up a bank account (a task in itself). You will see that Beijing Transit Card and Shanghai Transit Card are already in the app, but first you'll need to click on payment cards.
To register the card, Apple Pay uses the camera to read it. After this is done and your card has been accepted, you'll receive a verification code to your email or phone number.
You should now have a registered UnionPay card in your Apple Pay wallet.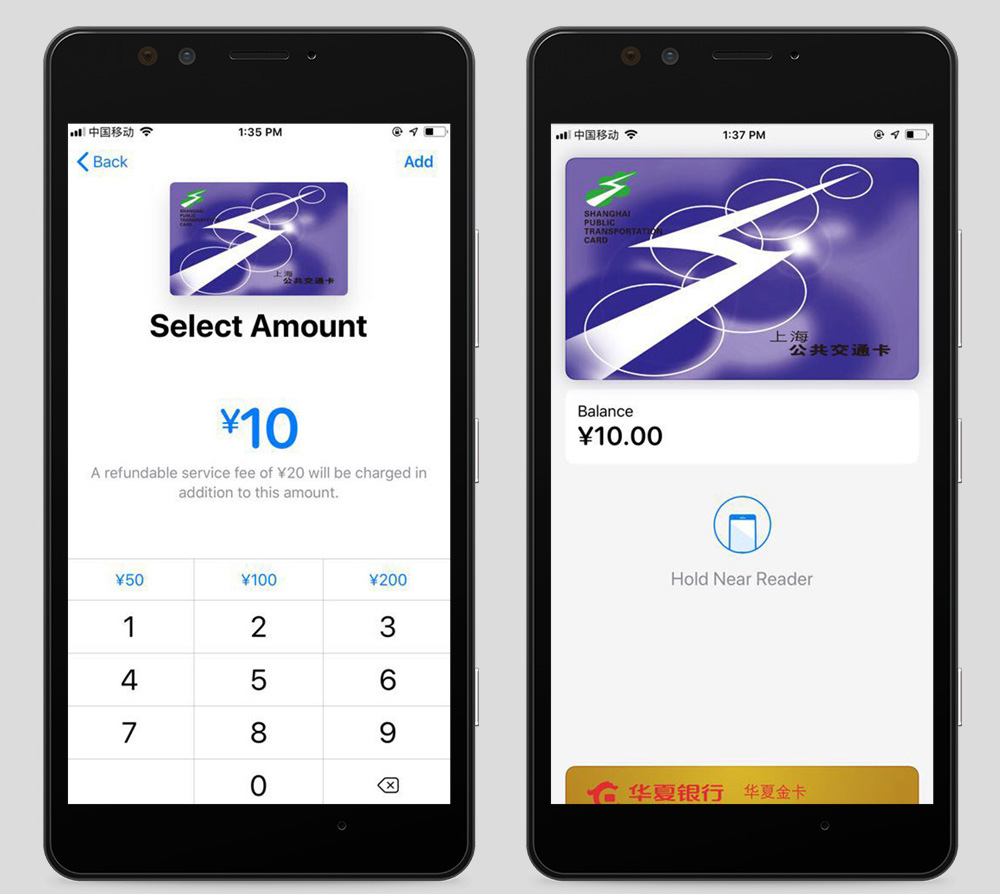 Back to the Metro; the last bit is super easy. Do what you did before when adding a card, but this time select the Shanghai Transit Card. Choose how much you want to add, and boom. The card will be added to your Apple Pay wallet.
If you have an Apple Watch, you'll need Series 1, 2 or later that is paired with your iPhone 6, 6 Plus or later and has WatchOS 4.3 or later. Open the Watch app on your iPhone, then swipe up and tap Wallet & Apple Pay. Tap add card, then continue, then add your Shanghai Transit Card. Use the same instructions for adding a UnionPay card as you would for your iPhone, and you're good to go.
How To Use It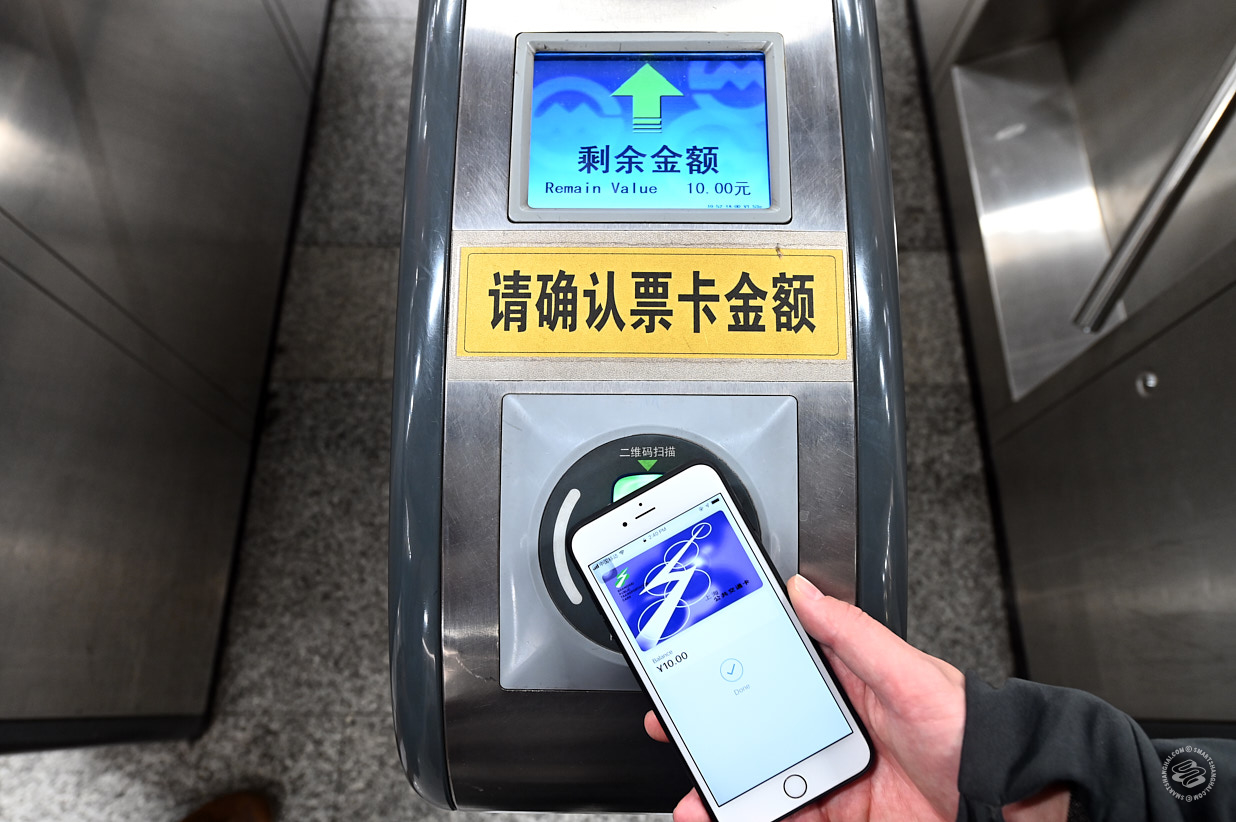 Once it's all set up, this transit card will allow you to pay for the metro, bus, some ferries across the river, and the maglev train to Pudong airport. Due to the iPhone 6 or anything later having NFC (Near Field Communication), you don't even have to unlock your phone to get through the turnstile. Go to Apple Pay & Wallet in settings, then set your default card to the Shanghai Transit Card. This means that all you need to do when entering the metro is hold out the top of your iPhone or the display of your Apple Watch for the machine to scan. Your device needs to be on, but it doesn't have to be connected to a network.
If you have an iPhone 7, 7 Plus or later, you can also use your phone's NFC to add money to your physical plastic transport card, if you have some odd personal nostalgia for it. Head to the Wallet app and tap the plus sign in the top right-hand corner to add a card. Proceed to tap the Shanghai Transit Card, then select the "Transfer Balance from Existing Card" option. Enter the four digits of your card number that it requests, then rest the top of your iPhone on the middle of the transit card until "Card Added" appears. You can now transfer funds through the ether into your physical card. Doing this will also give you your 20rmb deposit back.
This is a place for show life about china, If these articles help you life better in china, Welcome to share this website to your friends, Or you can post questions about china life in FAQ, We will help you to find the right answer.