Deep, deep in wonderful and everlasting love, warm in the embrace of someone who can read your mind, paired with the single matching soul in this vast universe, already happy knowing that the rest of your days will be spent as part of a team of two, in happy and everlasting bliss, until your final loving moments? Great. Stay home and order eleme. Valentine's Day is not for you.



For the rest of us, who need to prove something to our partners and imperfect selves, there's these, a whole galaxy of ways to buy credit in this game called dating: Valentine's Day dinners (and other things to do) in Shanghai.

♥ Being Mr. Big



When size (of the bill) matters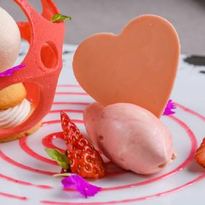 on Thu Feb 14 2019
Romantic Candlelit Dinner
Sir Elly's - The Peninsula, 13/F, 32 Zhongshan Dong Yi ...

Splash out like crazy with dinner at The Peninsula, including an eight-course meal and a photo shoot on the rooftop helipad. 2,338rmb per person not including the hotel's 16.6% surcharge.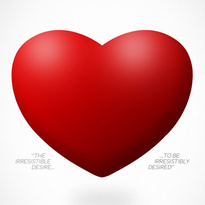 on Thu Feb 14 2019
Valentine's Day
Mr & Mrs Bund - Bund 18, 6/F, 18 Zhongshan Dong Yi Lu, nea...

Rose, candlelight, champagne and love tunes. Plus a 988rmb per person set menu. If you want to go big on the Bund for Valentines Day, this is one of the better options.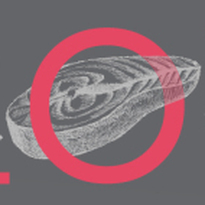 Daily until Feb 14 2019
Valentine's Day Menu
seul&SEUL - HKRI Taikoo Hui 3/F, 789 Nanjing Xi Lu, n...

Seul&SEUL puts on a special Valentine's Day menu (and the day before) for the most romantic night of the year. Click through to the flyer to see the full menu. 788rmb per person on the 13th, and 888rmb per person on the 14th.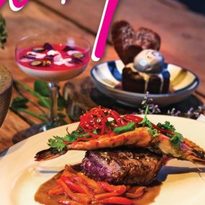 on Thu Feb 14 2019
Be My Valentine
The Cut (IAPM) - IAPM Mall, 6/F, 999 Huaihai Zhong Lu, near...

Do the romantic thing at The Cut for 1,188rmb per couple. Menu starts with a couple of welcome cocktails, entrée dishes include, Shuck My Lip – Fine De Claire No.2 Oysters, Ocean Deep – Red Tuna Tartare with beetroot juice reduction & olive oil, and Amour – Duck Foie Gras Terrine served with red date jelly. Main course is a surf and turf duo, Australian Black Angus Tenderloin & Grilled Jumbo Shrimp topped with spiced red sweet chilli gravy. End the evening on a sweet note with beautiful 'Lady Asia' Panna Cotta for dessert, together with insta-worthy Chocolate Fondant.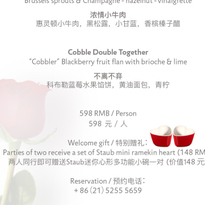 on Thu Feb 14 2019
Valentine's Day Dinner
The Twins - 2/F Zwilling Flagship Store, HKRI Taikoo ...

Have a twosome this Valentine's Day at The Twins, with a menu including foie gras, veal tenderloin, and a blackberry cobbler. 598rmb per person.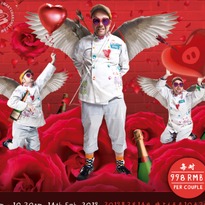 on Thu Feb 14 2019
Valentines Dinner
el Willy - South Bund 22, 5/F, 22 Zhongshan Dong Er ...

Ten courses of sexy, sexy Spanish food from the one-name chef, el Willy, for 998rmb per couple. Click through to the flyer to see the menu in detail.





♥ Leave It To The Hotels



Take it upstairs for dessert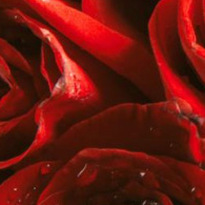 on Thu Feb 14 2019
A Date with My Valentine
Cucina - Grand Hyatt, Jin Mao Tower, 56/F, 88 Centu...

Five-course Valentine's day tasting menu designed by Grand Hyatt Shanghai's culinary team showcasing Cucina's signature dishes and a breathtaking view of Shanghai. 1,388rmb per couple including matching matching wines, a glass of Champagne and a box of chocolates.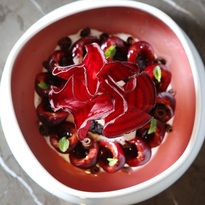 on Thu Feb 14 2019
Valentines Set Menu
HIYA (The Shanghai EDITION) - 27/F, Main Building, 199 Nanjing Dong Lu,...

Go Japanese-not-Japanese at The Shanghai Edition's HIYA restaurant for Valentines, with a selection food including House made snacks, Chef's Selection of Sashimi, Alaskan King Crab Temaco, Roasted Mushroom Miso Soup, Brittany Monkfish Kaarage, Sanchoku Australian Wagyu Shortrib M7, "Black Cherry Forest", Sesame Ganache, Sakura Cherry, Coeur de Guanaja Ice Cream and more. 928rmb per person.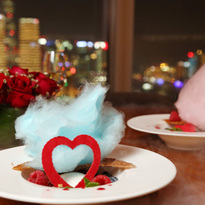 on Thu Feb 14 2019
Valentine's Day Dinner
VUE (Restaurant) - Hyatt on the Bund, 30/F, 199 Huangpu Lu, ...

Get views and a multi-course western set that goes through all kinds of exotic and innovative dishes, including two glass of Champagne and unlimited wine, sparkling and still water, for 1,748rmb per couple.



♥ Do Italians Really Do It Better?



Carb-loading for the midnight marathon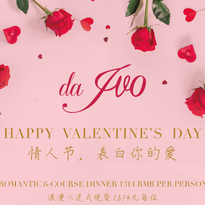 on Thu Feb 14 2019
Valentine's Dinner
Da Ivo - 23/F, 1 Jingling Dong Lu, near Zhongshan D...

Da Ivo restaurant is serving up a six-course dinner, featuring Spanish sardine, New Zealand king salmon with Mexican avocado & kaluga sturgeon caviar, or French pink diamond oyster & fresh kumamoto oyster, signature seasonal pumpkin soup, Spanish red prawn risotto, Australian wagyu m9 beef sirloin with fresh black truffle, or steamed deep sea coral grouper, and pistachio cheese cake with strawberry ice cream. 1,314rmb per person.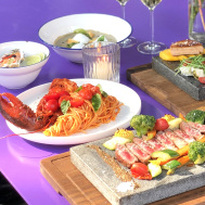 on Thu Feb 14 2019
Valentine's Day Dinner
MOMÉNTI - Xintiandi North Block, No. 3, Bldg 1, 181...

Momenti has a six-course set menu for Valentine's Day for 688rmb. The set includes an amouse bouche and a starter selection of foie gras, buffalo mozzarella, parma ham, arancini, and bruschetta. The entree is a black truffle and porcini soup, and first course is spaghetti lobster, followed by a main course of beef striploin with potatoes and vegetables. Dessert is white chocolate mousse, strawberry, and hazelnut crumble. The menu is for two to share and comes with two glasses of prosecco.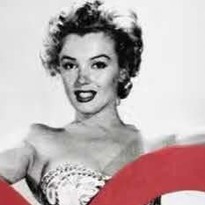 on Thu Feb 14 2019
Valentine's Day Dinner
Goodfellas - 7 Yan'an Dong Lu, near Zhongshan Dong Yi ...

Set menu to impress your date. 1,314rmb per couple for five courses of Italian dishes, including vitello tonnato, lobster soup, giant ravioli or risotto, beef tenderloin or black cod, and a white chocolate mousse, and a bottle of prosecco.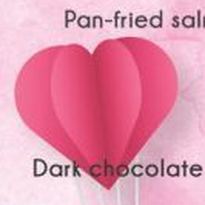 on Thu Feb 14 2019
Valentines Menu
The Fellas - 7/F, 7 Yan'an Dong Lu, near Zhongshan Don...

Valentines on the Bund with The Fellas for 988rmb per couple, including a bottle of prosecco. On the menu: fresh oysters, beef carpaccio, homemade fettucine or black truffle risotto, beef tenderloin or salmon, and a dark chocolate mousse.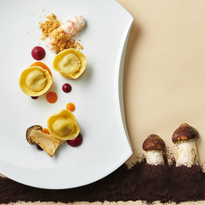 on Thu Feb 14 2019
Valentine's Day
La Scala - 1/F, The Sukhothai, 380 Weihai Lu, near ...

Italian restaurant La Scala offers traditional fare, romantic desserts and sparkling wine in a special five-course dinner. The menu features cocchi vermouth marinated red prawn, San Daniele ham, handmade ravioli, carnaroli saffron rice, pistachio crusted tuna loin, finished with a sweet dessert of rose and honey Chantilly cream with balsamic biscuit and dark chocolate. 1,288rmb (plus 16.6%) for two people including a bottle of prosecco.



♥ Asian Flavors



Because we're in Asia. Kinda?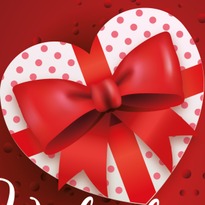 on Thu Feb 14 2019
Valentine's Dinner
Urban Thai 2 - 393 Dagu Road, near Chengdu Bei Lu

Thai fish cakes, Australian mussel salad, tom yum soup, grilled Australian lamb with green curry, deep-fried tamarind fish, BBQ chicken, coconut pudding and more on the nine-dish sharing menu at Urban Thai 2, including a bottle of sparkling wine or two fresh coconuts to start. 488rmb per couple.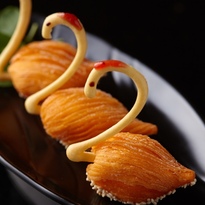 on Thu Feb 14 2019
Valentine's Day Dim Sum
VUE Dining - Hyatt on the Bund, 31/F, 199 Huangpu Lu, ...

For those who prefer small bites to a lavish feast, enjoy a dim sum banquet at VUE Dining featuring double-boiled pigeon soup, crab dumplings, swan puffs, baked king prawns, and braised Wagyu beef short rib. 412rmb per adult.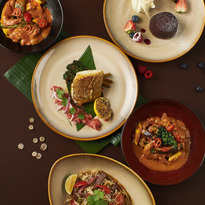 on Thu Feb 14 2019
Valentine's Day
URBAN Café - 1/F, The Sukhothai, 380 Weihai Lu, near S...

A special Southeast Asian menu for Valentines Day to spice things up for 468rmb for two people. No word on the specific dishes but considering this is at The Sukhothai hotel, expect something pretty close to what you'd get in the tropics.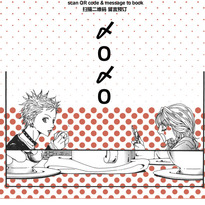 on Thu Feb 14 2019
Valentine's Dinner
Xime - 1/F, 989 Changle Lu, near Changshu Lu

XIME serves a Japanese Valentine's dinner created by chef Jun Nishio & Sam Norris. Five course dinner with winter ingredients, comes with two glasses of prosecco. 698rmb for two.



♥ Kiss Someone and Get Free Stuff



Cash for cooties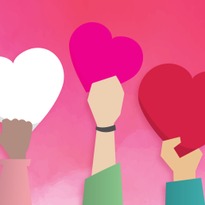 on Thu Feb 14 2019
Valentine's Day
Moka Bros (Xiangyang Bei Lu) - 1/F, 108 Xiangyang Bei Lu, near Xinle Lu

FREE smoothies all day on February 14th. Whether you are part of a committed relationship, happily single or perhaps just miserably alone, all you've gotta do is grab a pal, partner or significant other and head to Moka Bros on February 14th. Kiss your partner for 10 seconds and receive one free medium smoothie of your choice (to share of course).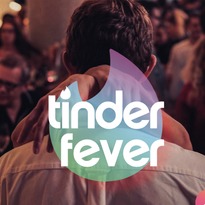 on Thu Feb 14 2019
Tinder Fever
Le Cafe des Stagiaires (Found 158) - B1/F, 158 Julu Lu, near Ruijin Yi Lu

Show your Tinder Match screen or kiss your partner to get two complimentary glasses of prosecco. Buy a bottle and get a chocolate lava cake. Intern LYFE.



♥ One Is The Sexiest Number



Though some people prefer 11.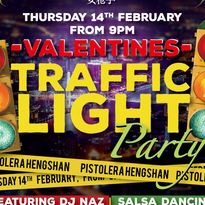 on Thu Feb 14 2019
Traffic Light Party
Pistolera (Xuhui) - No. 2, 838 Hengshan Lu, near Tianping Lu

Single? Not single? Maybe single? If your love life is full of crashes, wrong turns, and dead-ends, it's time to start paying attention to the traffic lights this Valentine's Day. You'll get a red, yellow, or green bracelet as soon as you arrive. Brake when you see someone wearing red (not looking for anything), but step on the gas when you see green (single and ready to mingle). No guesswork, no wondering. 100rmb including two drinks.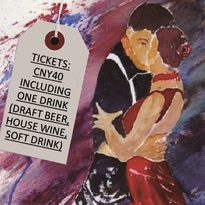 on Thu Feb 14 2019
Salsa Party
Pentalounge - Pentahotel, 1525 Dingxi Lu, near Changning...

The Valentines edition of this weekly salsa party is not just for couples, but everyone who likes to fall in love. And who doesn't like that? 40rmb including a drink.





Click here to see every single thing SmartShanghai.com has listed for Valentine's Day in Shanghai.

This is a place for show life about china, If these articles help you life better in china, Welcome to share this website to your friends, Or you can post questions about china life in FAQ, We will help you to find the right answer.