Whether you are a seasoned pro looking to refine your skills, a complete beginner eager to learn, or just a person who just wants a few games with your friends after a long day, there's a table and little white balls waiting just for you.
***
Red Double Happiness Ping Pong Hall
(红双喜乒乓球馆)
135 Pingxingguan Lu, near Minhe Lu View ListingTaxi Printout
Tables: 10 and two private rooms
Vibe: Athletic shirts and knee supports
$ per hour: 30 (must book two hours)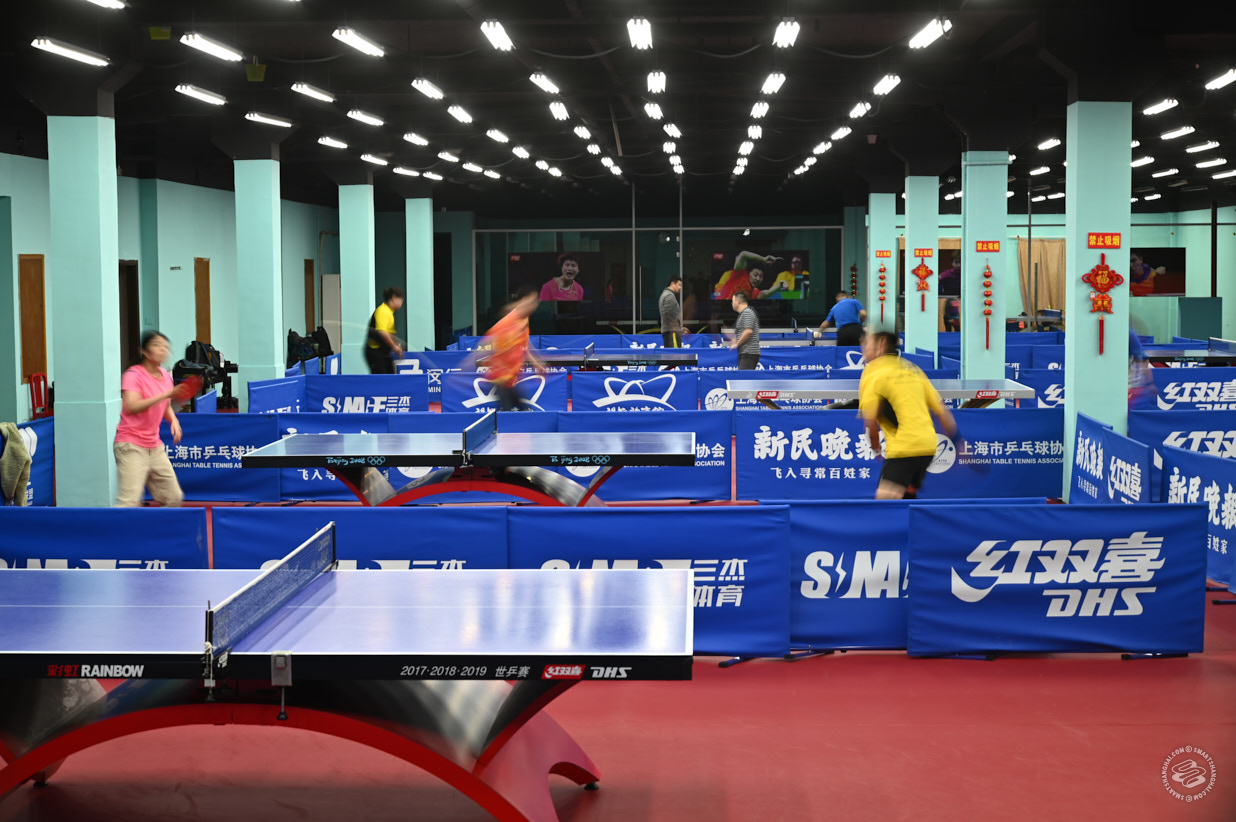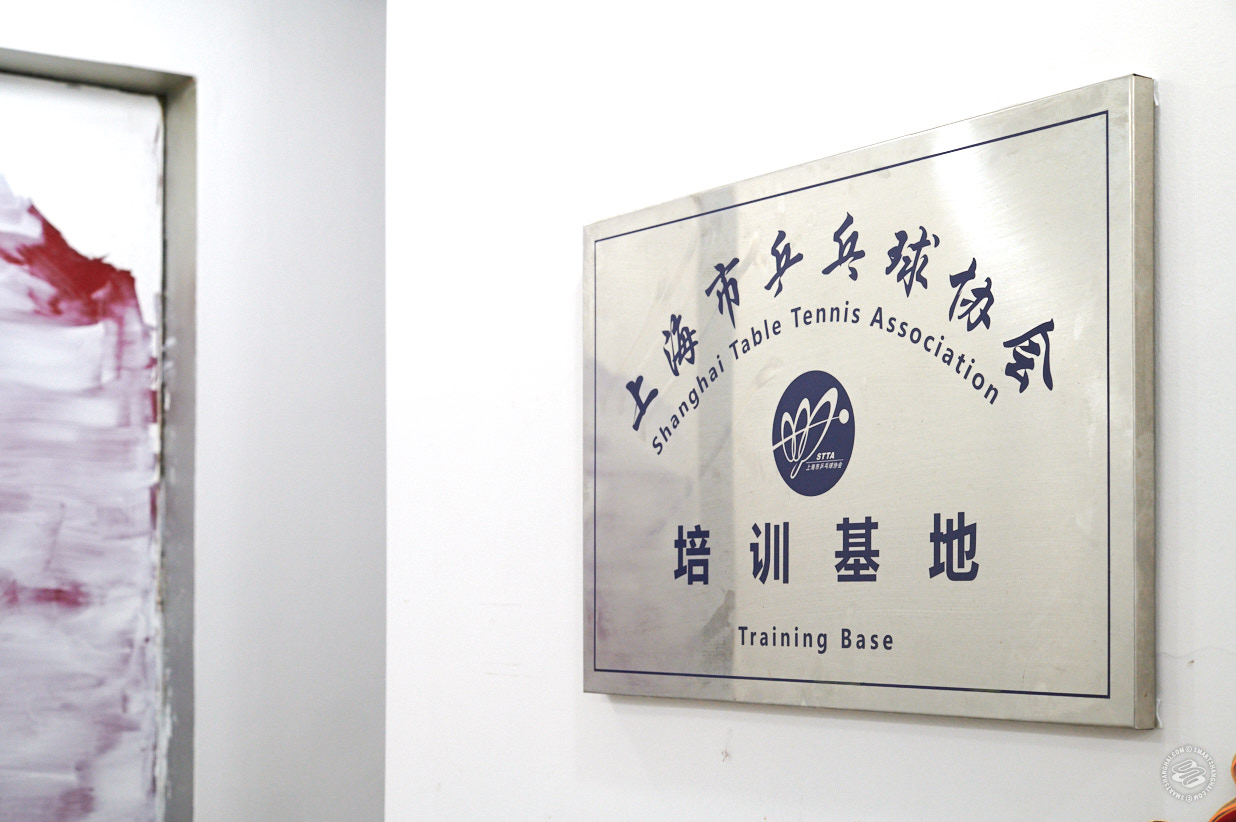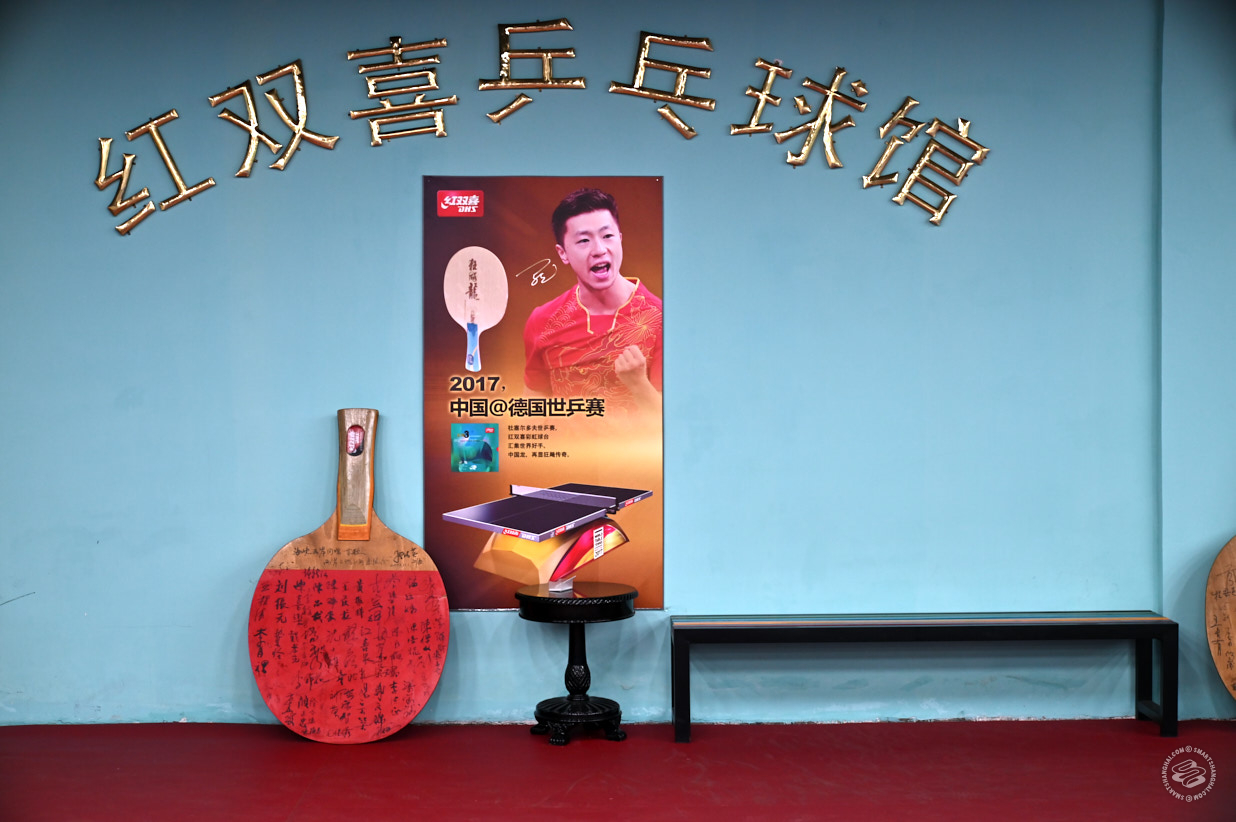 红双喜 — Red Double Happiness or DHS — is the biggest name in ping pong, and the company is from Shanghai. This is their ping pong hall, which also doubles as a certified training facility for the Shanghai Table Tennis Association. There are giant paddles leaning against the wall with signatures of ping pong athletes who have been here before. Serious stuff. Goes without saying everything here is branded 红双喜 including the special balls.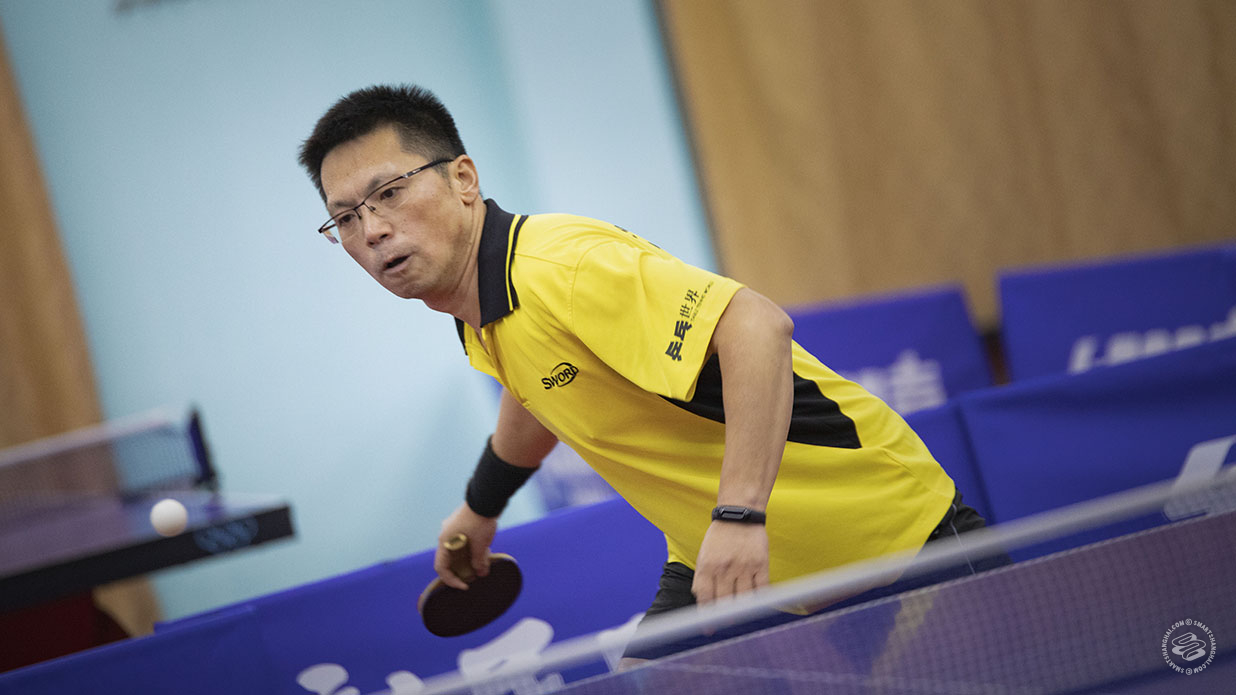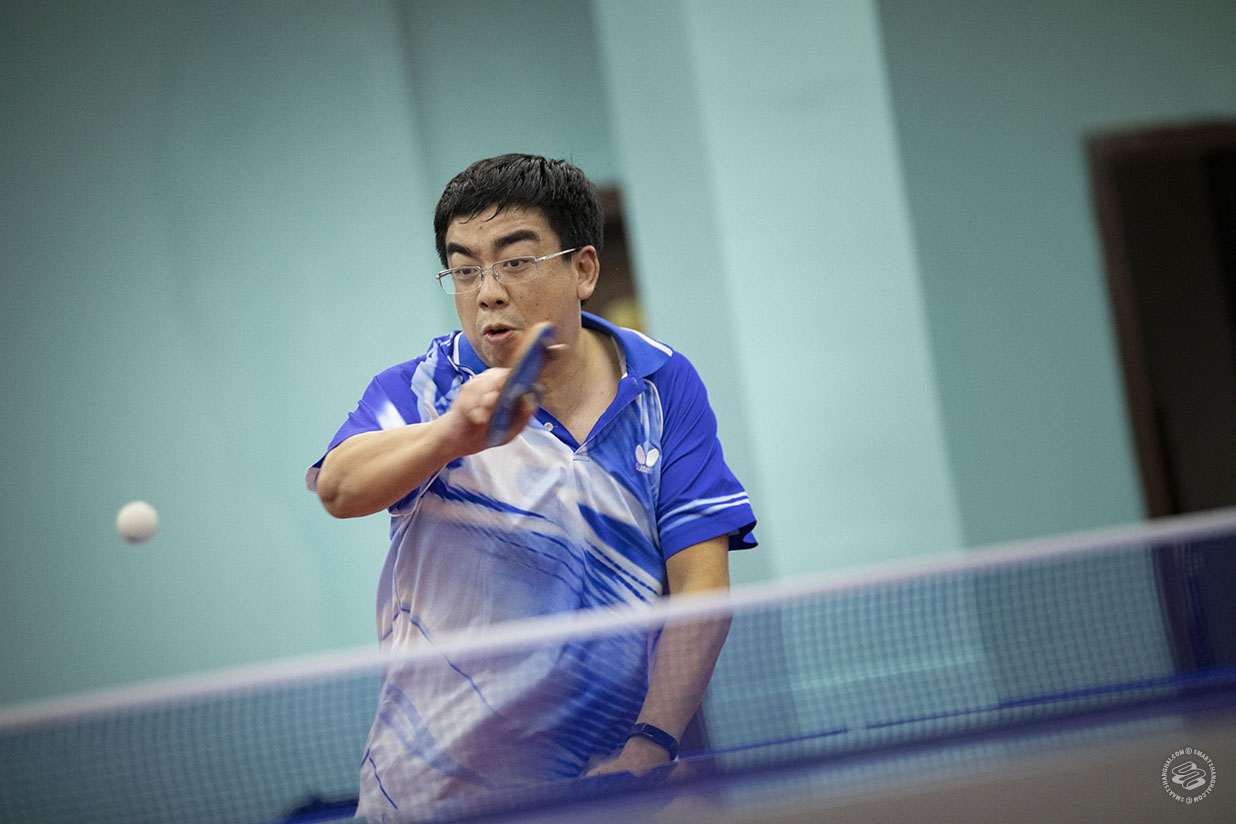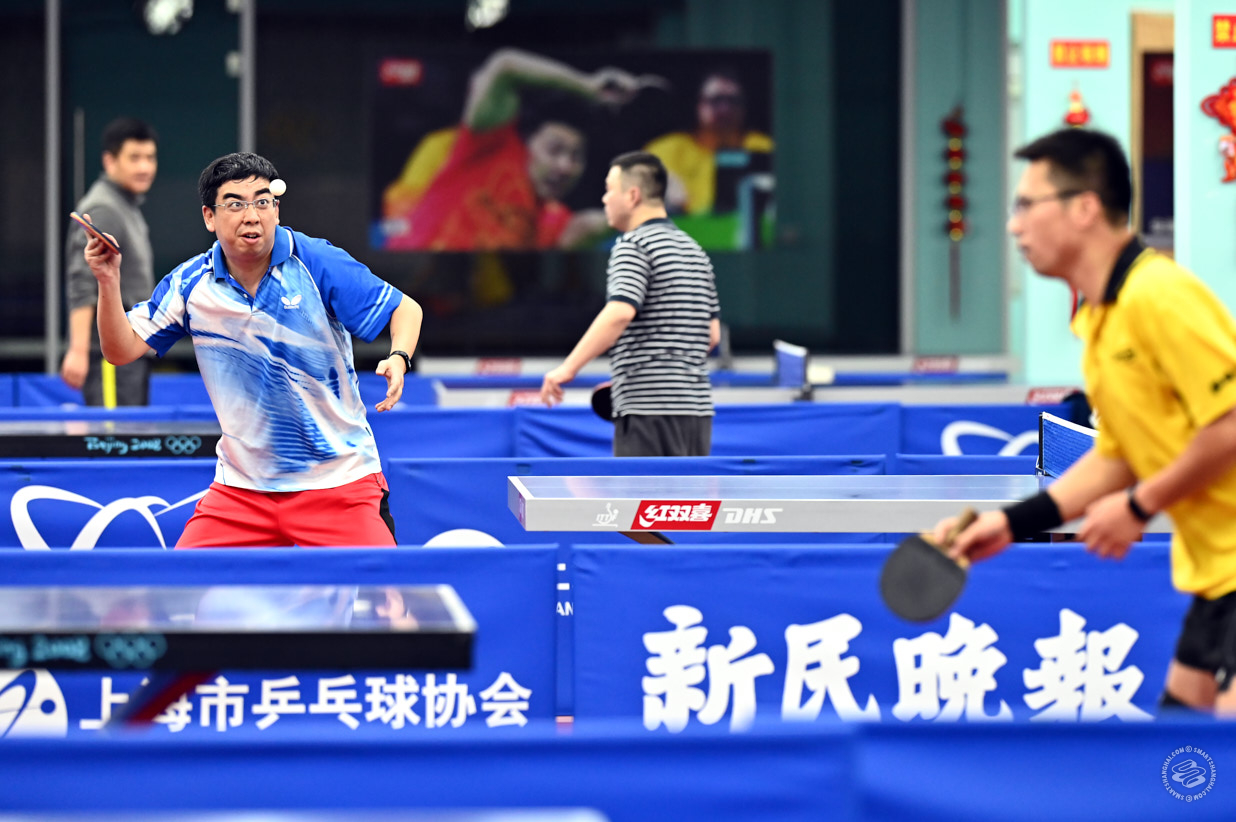 The vibe here is fantastic, if you are deep into ping pong or generally nostalgic Chinese spots. It's utilitarian, which is to say, everything is focused on the pong. The tables are separated by moveable dividers, so there's not a lot of running to fetch balls, and the non-central location means it only draws those serious about the sport. This is intermediate to advanced level ping pong by people wearing performance athletic shirts and knee braces.
Huangpu Worker's Stadium Ping Pong Hall
(黄浦区工人体育馆乒乓球馆)
2/F, Worker's Stadium, 1288 Waima Lu, near Lujiabang Lu View ListingTaxi Printout
Tables: 16
Vibe: Community sports mecca
$ per hour: 30-50rmb depending on time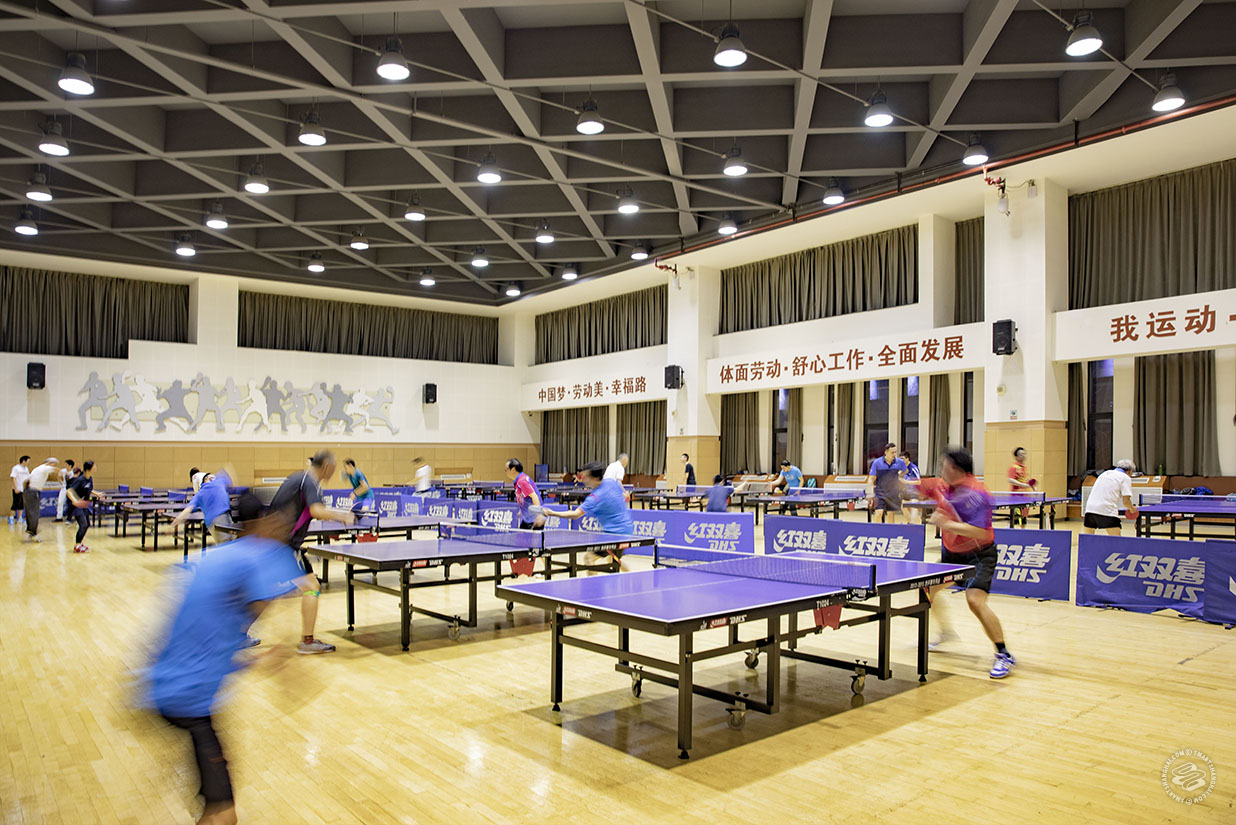 The Huangpu Worker's Stadium is built almost directly under the neon corkscrew of the Nanpu Bridge, in an area that used to be crammed-together houses but has since been redeveloped into public utilities. Usually these Worker's Palaces or Worker's Stadiums are musty old relics of a time when the government provided everything, including a place for workers to relax and entertain themselves. Not this one. Built five years ago, it's a sprawling building with all kinds of modern facilities including what is probably the best ping pong hall in the city.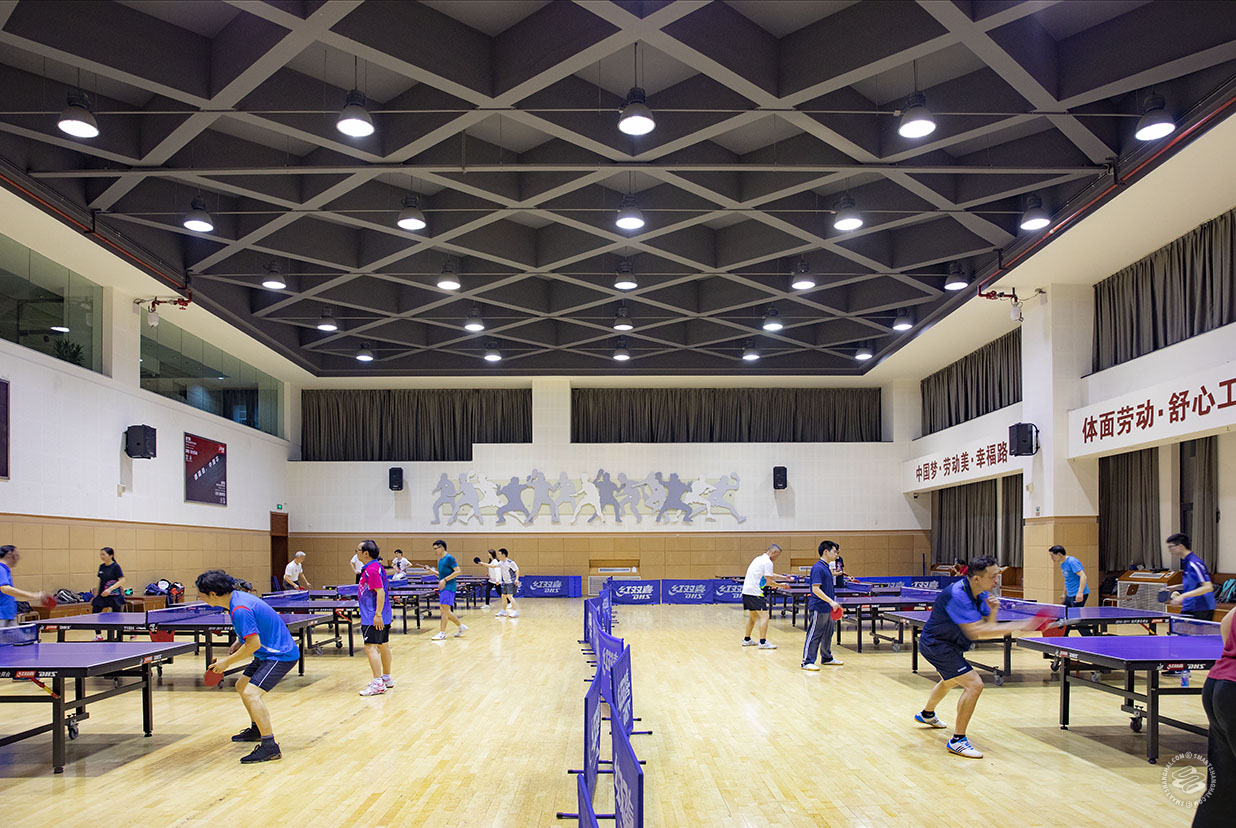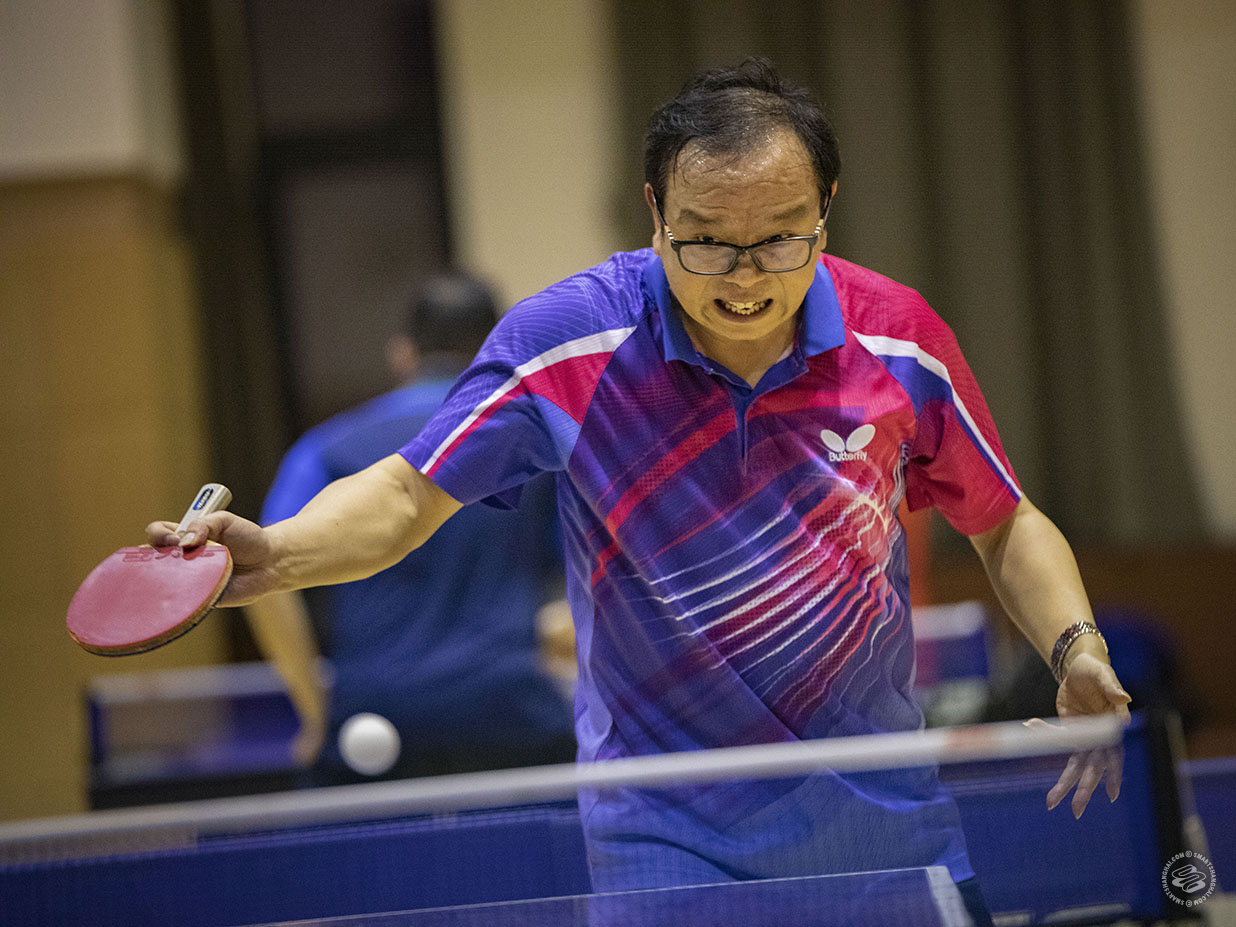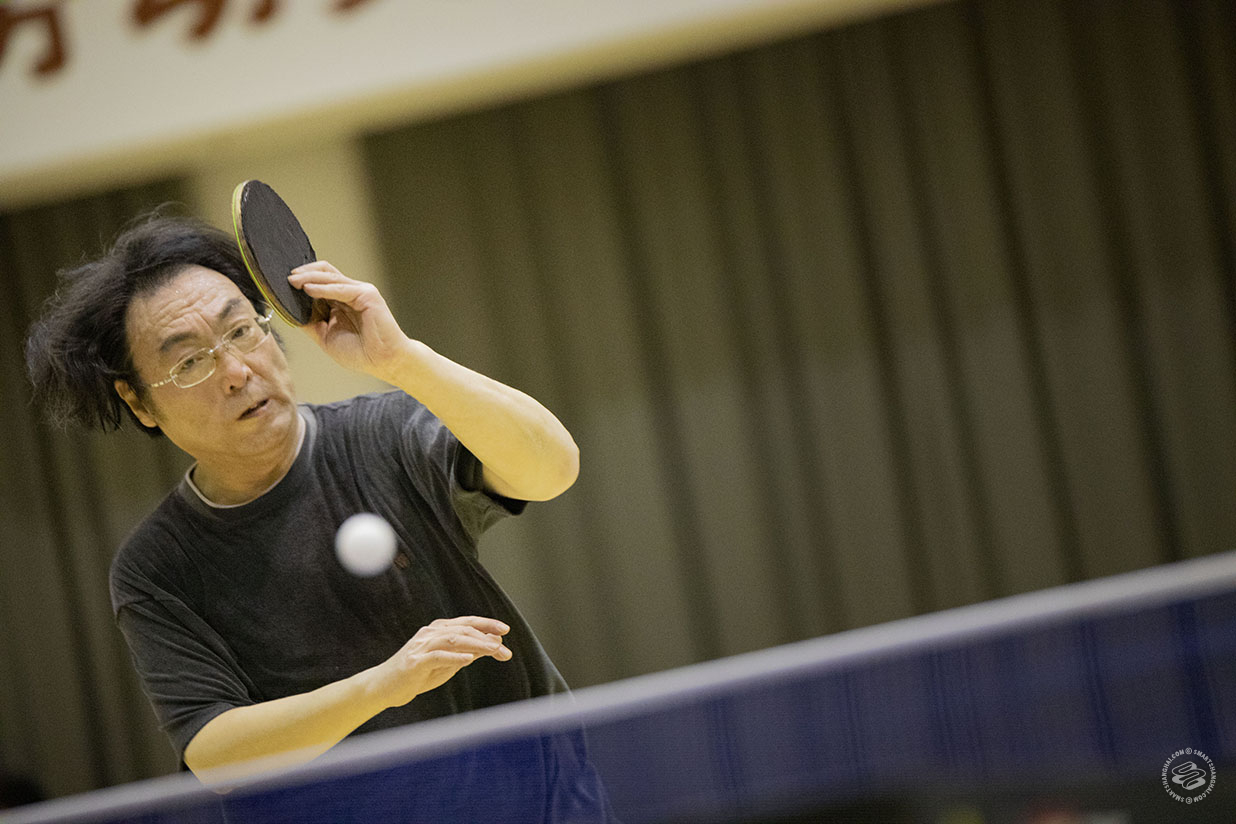 "Ah, fuck!" a guy in a neon orange athletic shirt shouted as we entered the oversized gymnasium and threw him off his game. (Sorry, grandpa!) The massive space, for a ping pong hall, is bright and airy, with a triple or 4x height ceiling, wood floors and soft barriers between the two lines of eight tables. On a drizzly Tuesday night at 8.30pm, it looked completely packed to us but the attendant promised us it was a slow evening. How it gets busier, I don't know.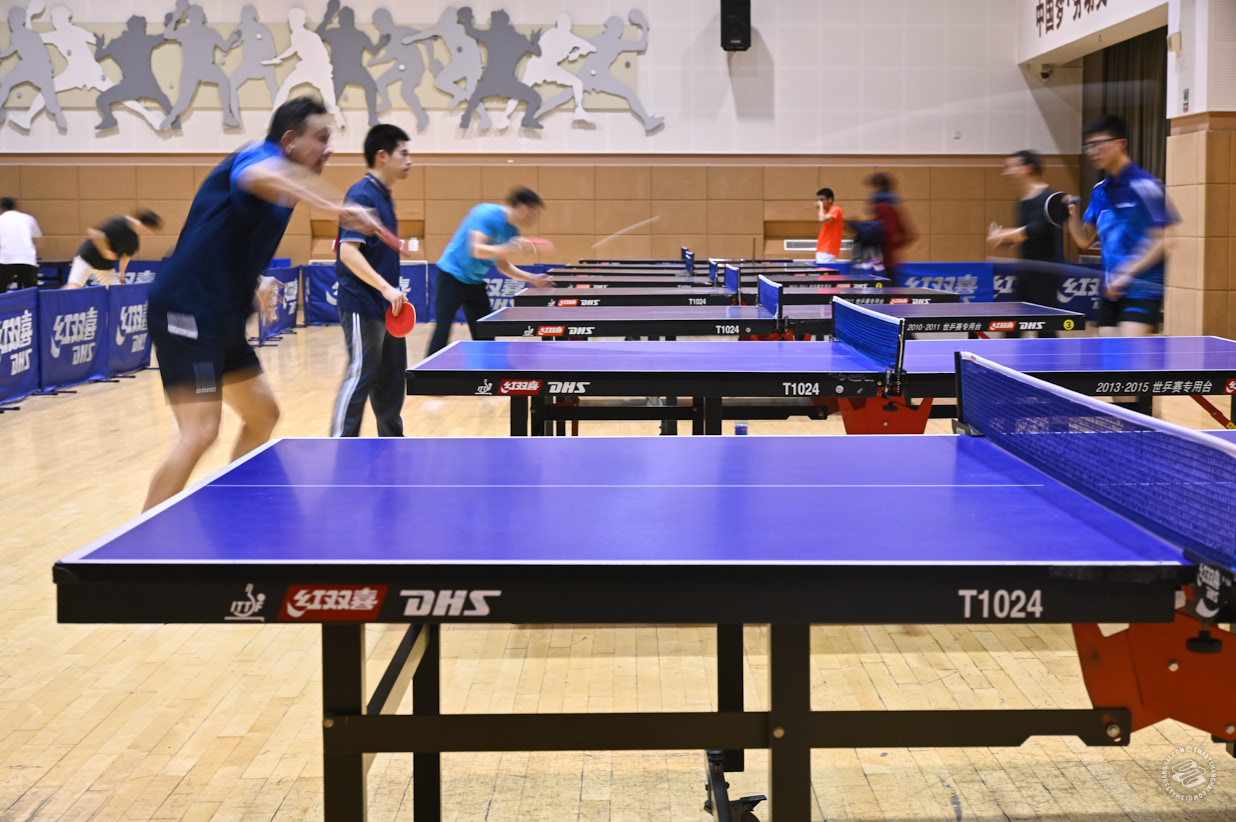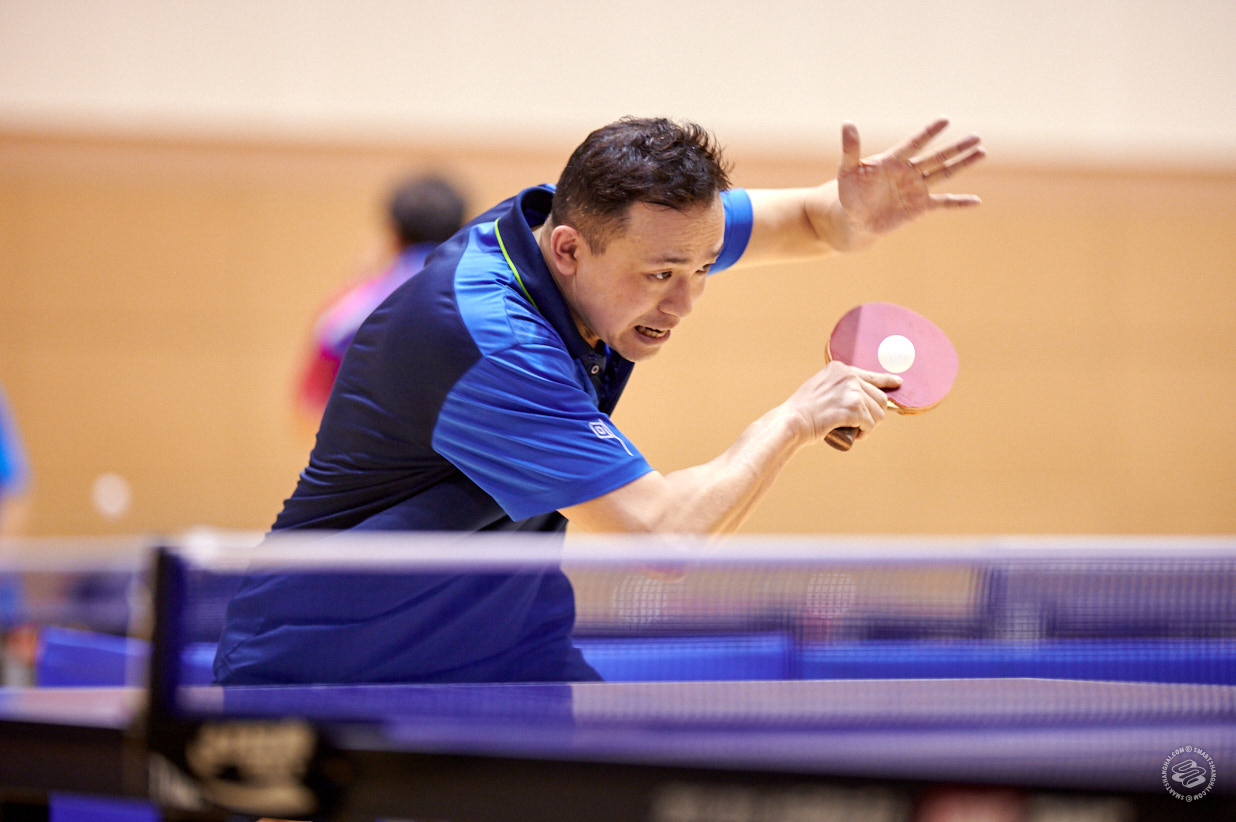 The vibe was excellent, with a real broad mix of people playing the world's greatest game, from young guys dancing around the table to get into position for smash forehands to grandmas and grandpas with wicked slice serves and impressive dexterity. The view when you come out, of the spans of the Nanpu Bridge framed between the back of the building and a row of trees, is icing on the cake. This one is a real winner.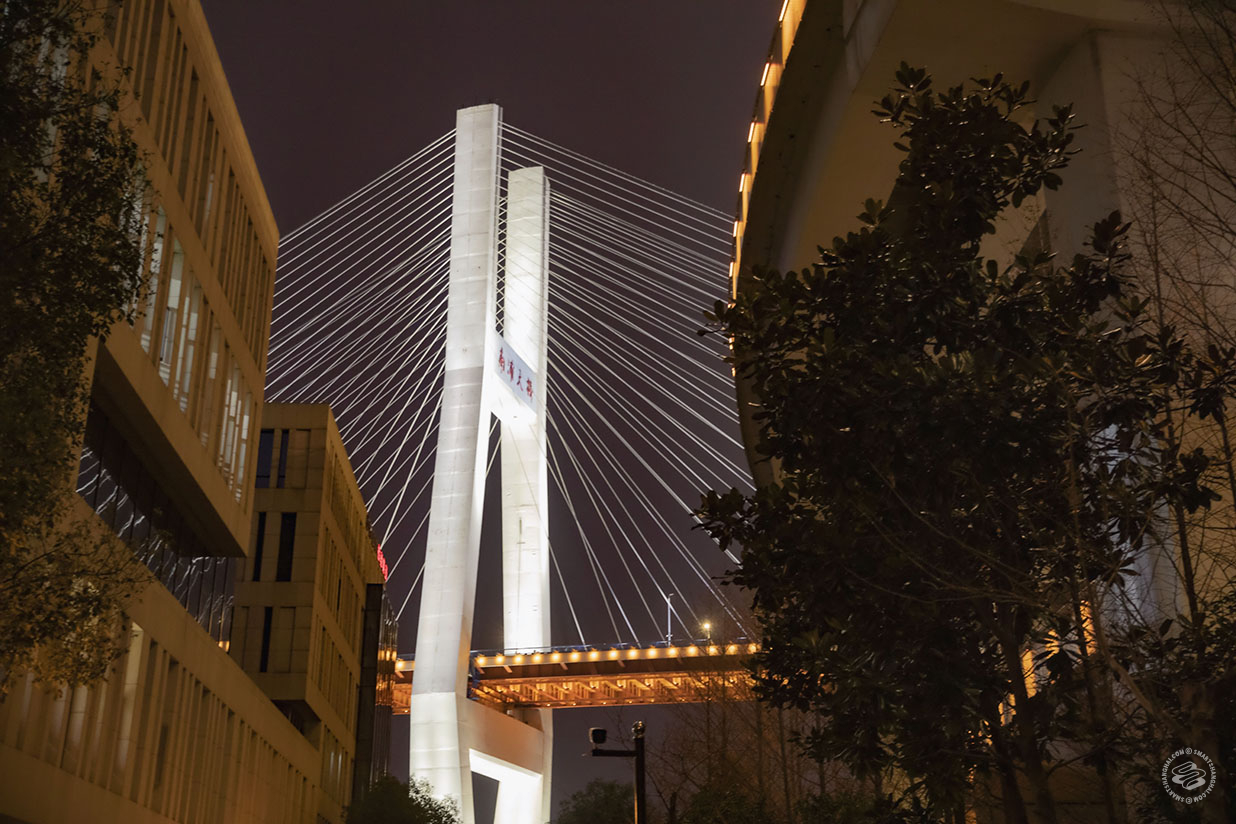 Tang Wei Yi
(唐薇依乒乓馆)
2/F, 888 Changde Lu, near Changping Lu View ListingTaxi Printout
Tables: 7 and a VIP room (of course)
Vibe: Faded Glory
$ per hour: 15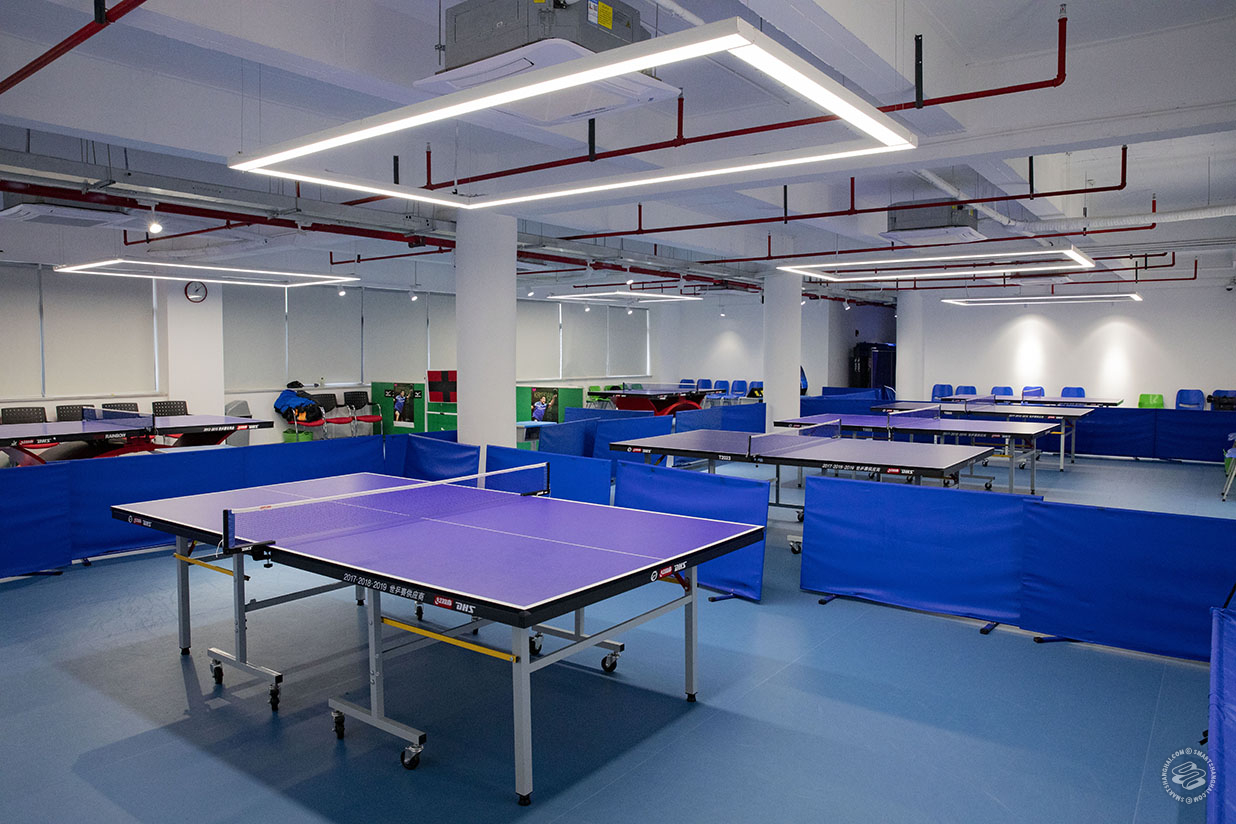 Tang Wei Yi was a three-part chain until very recently, with a really very excellent facility on Nanyang Lu, just opposite The Blind Pig. It was popular with ping pong athletes (serious) doing hard training and beginners just out for fun, and there was room for all. But rent got them and they closed their prime site at the end of 2018.
The remaining two sites (plus other golf, swimming and rock climbing venues) make up the Champion's Union (冠军联盟), which have recently carried out upgrades in order to encourage youth participation and involve local schools. The main ping pong site, and the one you should go to, is on the second floor of the Jing'an Worker's Cultural Palace, opposite the Changping Lu metro (the third location, if you can call it that, has one single table). It's not the biggest, especially compared to the Nanyang Lu location, which had humongous blow-up ping pong balls hung from the ceiling, but it's still a viable option. Their WeChat account (ChampionUnion) has prices for lessons plus information about the other sports listed above.
Zhang De Ying Ping Pong Centre (Puxi)
(张德英乒乓中心)
Luwan Sports Centre, 128 Zhaojiabang Lu, near Jiashan L... View ListingTaxi Printout
Tables: About 20
Vibe: Dim
$ per hour: 40rmb (or 38rmb on weekdays 1-5pm)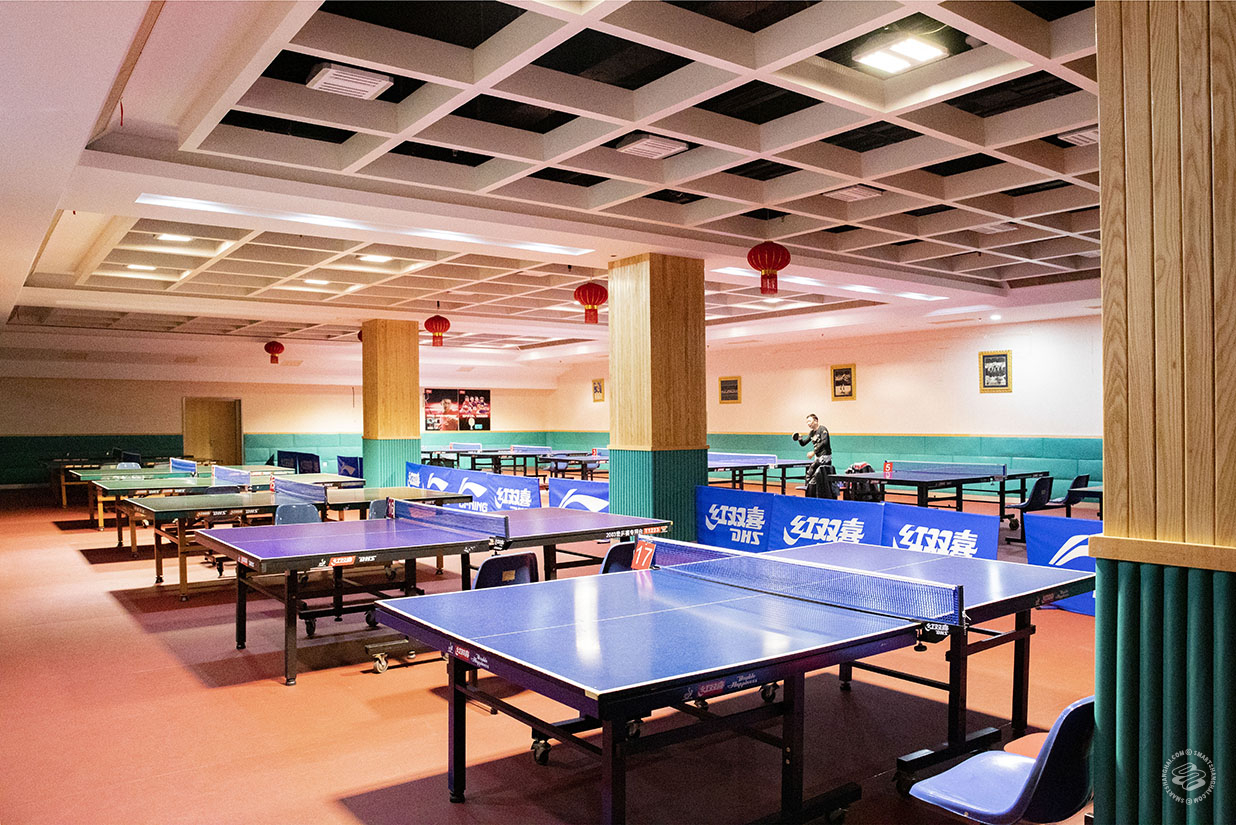 Zhang De Ying is quite convenient for those who use the Metro — a 10-minute walk from Jiashan Road to Luwan Stadium. The ping pong hall is on the right of Hao's Bowling complex. Staff only turn lights on directly above a table if it's in use, giving the whole hall a dusty, old-school feeling, especially with the low ceilings.
I visited at 4.30pm on a Thursday and only one out of the 20 tables were being used, so if you decide you need to blow off steam here on a weeknight, it's unlikely you'll be kept waiting. Playing here does not make you feel like you're training at the same location as champions but it ticks most of the boxes.
Changning Worker's Culture Palace Ping Pong Hall
(长宁区工人文化宫乒乓球馆)
3/F, Green Business Mansion, 1250 Yuyuan Lu, near Anxi ... View ListingTaxi Printout
Tables: Lucky Number 8
Vibe: Relaxed
$ per hour: 10rmb (9am-noon, weekdays), 15rmb (noon-9pm, weekdays), +5rmb on weekends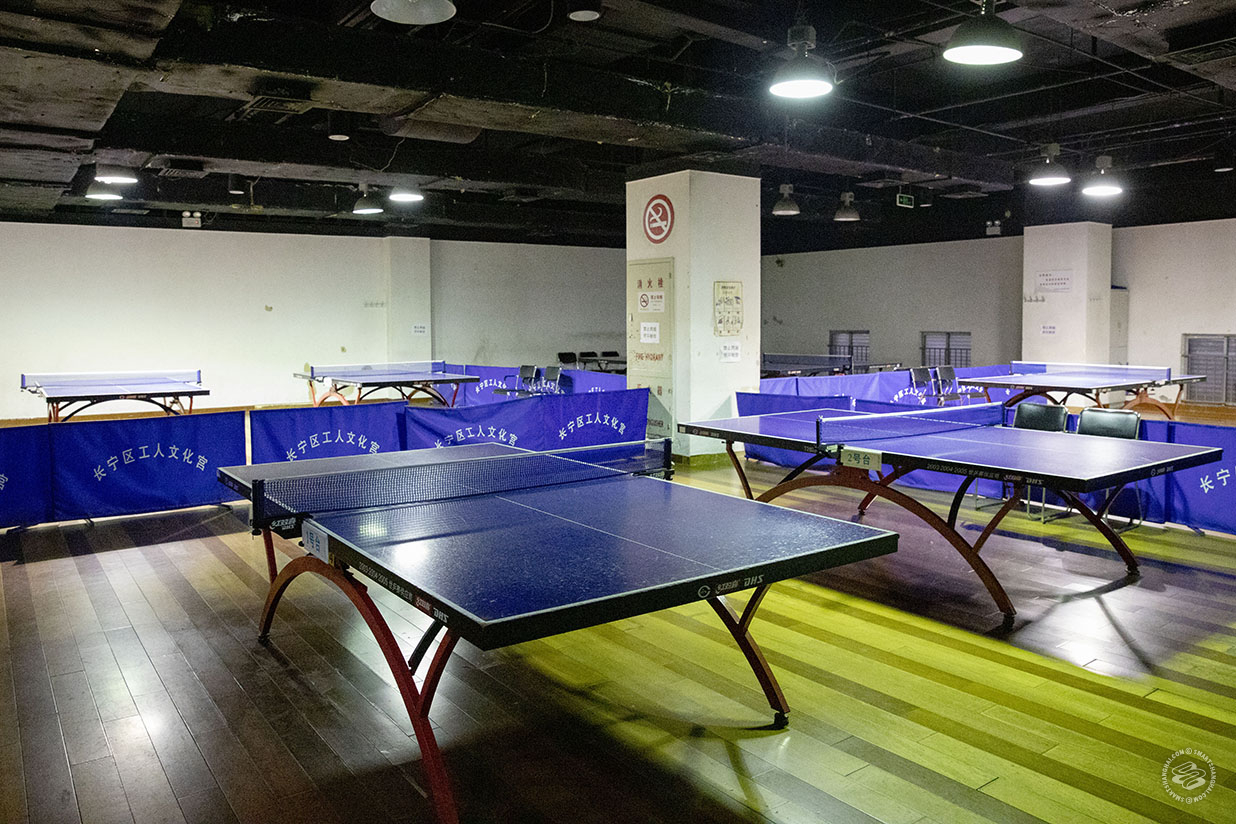 The cheapest one on the list, and my personal favorite. Nestled behind the pool/snooker room on the third floor of the Greenland Commerce building, the Worker's Culture Palace Ping Pong Hall has eight tables. While not spaced as far apart at the two places above, the price and the relaxed vibe make this the perfect spot for a few casual games. The room is not very well-lit — notice a pattern here? — which may frustrate the wannabe pros, but, hey, it can also be used as an excuse for why you're losing so badly.
Boyuan Ping Pong Training Club
(伯远乒乓球培训俱乐部)
2/F, Hongkou Stadium Training Hall, 444 Dongjiangwan Lu... View ListingTaxi Printout
Tables:10-15
Vibe: Training
$ per hour: 260rmb for an hour lesson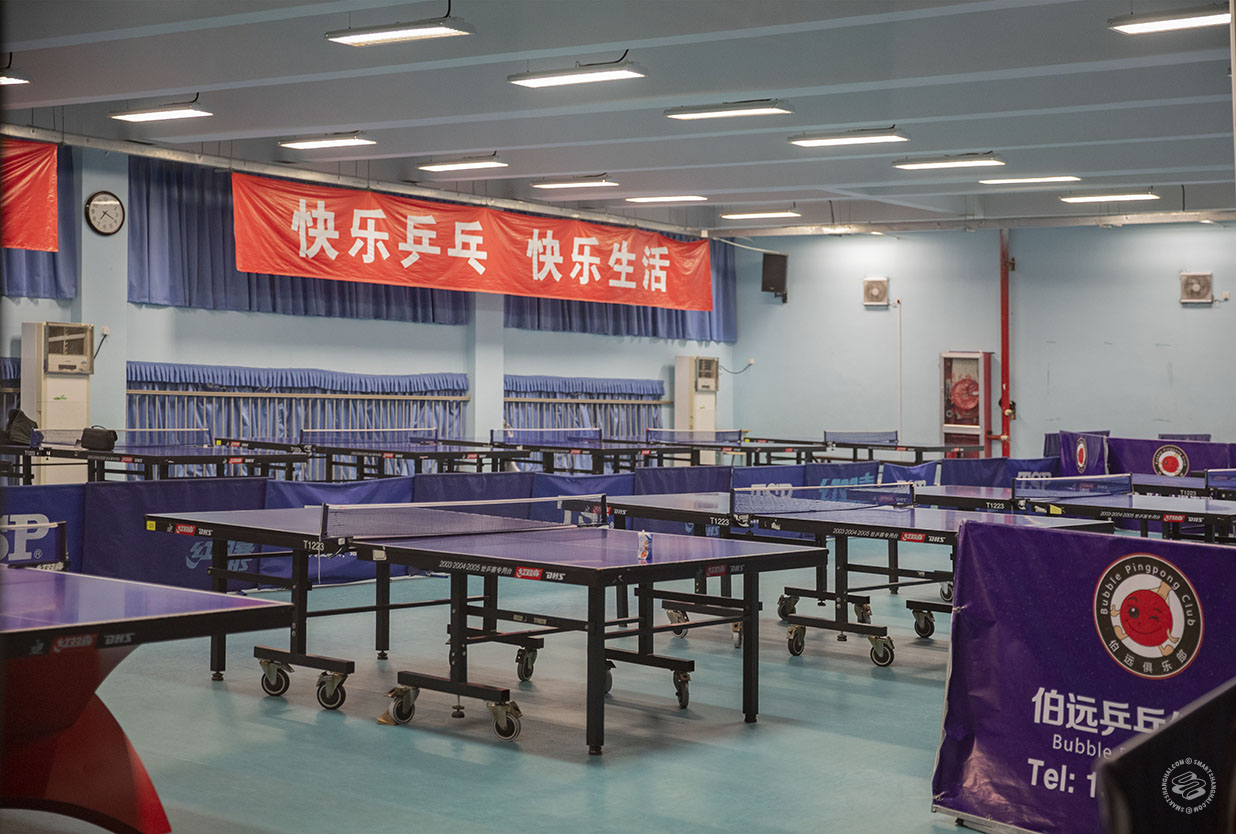 Boyuan is much more of a specific training facility that holds lessons and competitions than a ping pong hall that you can turn up and play at whenever you want. If you're looking for a coach and lessons, however, this is the place. For the Mandarin-savvy, it would be worth a phone call or a trip down there to book lessons. They also have a WeChat account (BYpingpang) and a mini program which is all in Chinese. Some offers are available on Dianping, such as a 1-hour adult lesson for 150rmb.
For the non-savvy, Boyuan may seem a bit inaccessible. If you're just looking to smash but you don't own ping pong shoes (a sign you're not serious enough), then maybe go elsewhere.
Zhang De Ying Ping Pong Centre (Pudong)
(张德英乒乓中心)
2/F, 9 Yushan Lu, near Yuanshen Lu View ListingTaxi Printout
Tables: 20+
Vibe: Not the busiest
$ per hour: 40rmb
Next to Pudong's Yuanshen Stadium, the second Zhang De Ying is the biggest place on the list, with over 20 tables. When entering the building, go up to the second floor and walk along the balcony overlooking the badminton courts right to the end. The lighting situation is the same as their spot on Zhaojiabang Lu - only turned on while the table is being used, which again doesn't make you feel like you are in a seriously professional environment. Nevertheless, it's definitely a solid option if you live east of the river.
This is a place for show life about china, If these articles help you life better in china, Welcome to share this website to your friends, Or you can post questions about china life in FAQ, We will help you to find the right answer.